Products You May Like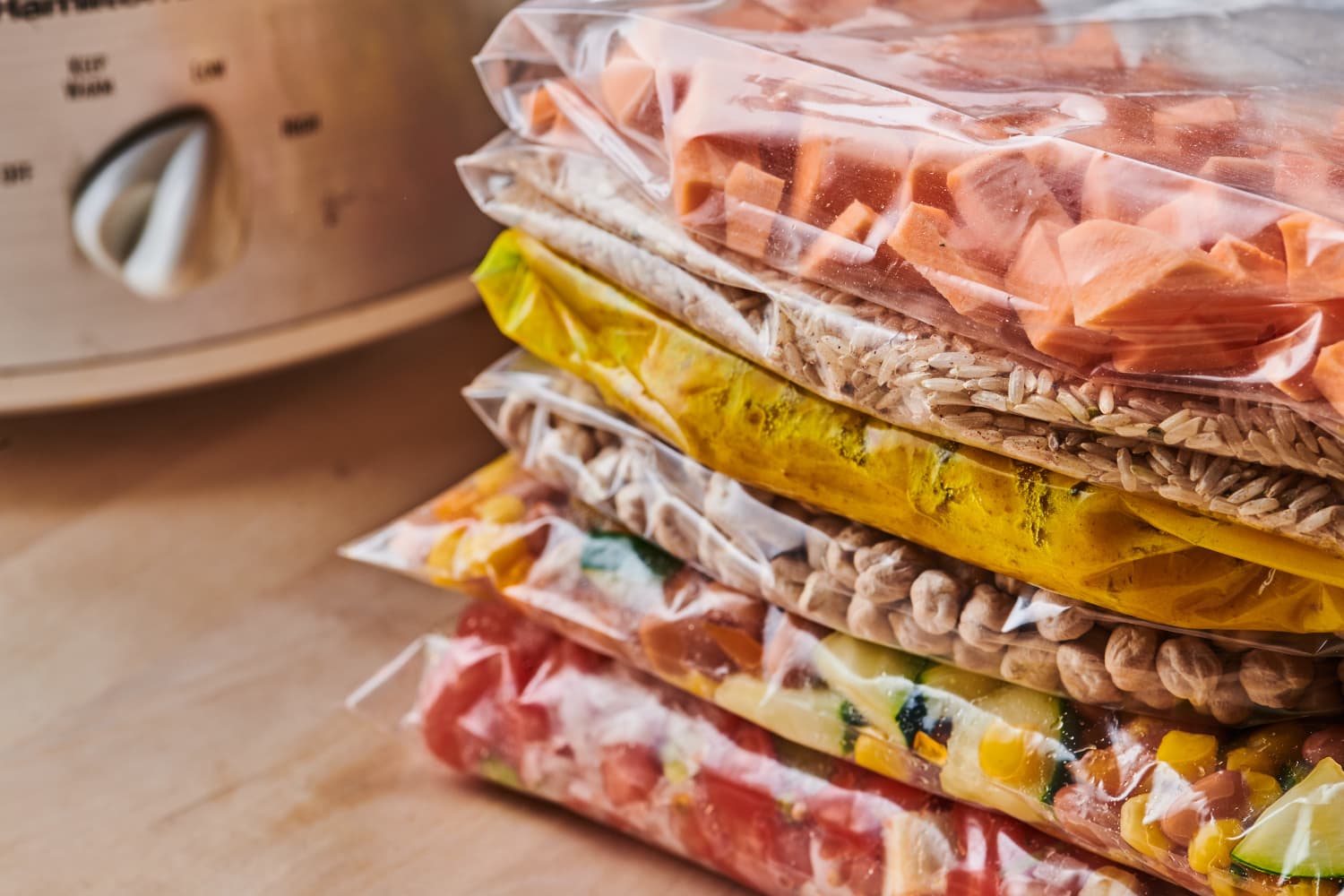 We independently select these products—if you buy from one of our links, we may earn a commission.
After nine very long months of balancing work-from-home situations, school in all its various and changing forms, cooking more than ever, and now the anticipation of upcoming holidays, our plates (and houses!) have been full. But the one thing that can create a sense of calm amidst all of that chaos is a meal plan. A weekly meal plan can save us from the dreaded 4 p.m. panic of "What's for dinner?" but it also takes time to choose recipes and plan your prep. That's why we've assembled over a month's worth of easy slow cooker meals to serve all throughout the winter.
Shop, serve, and slow cook these meal plans as written or mix and match meals to suit your family's tastes. What you're guaranteed is a variety of family-friendly dinners that come together with hands-off slow cooking while you log on to virtual school or manage meetings from home.
1. A Week of Easy Plant-Based Slow Cooker Dinners
This one-week meal plan relies on the slow cooker to make make plant-based eating extra-easy. Each of these five plant-based dinners (like, burrito bowls and stuffed peppers) requires little to no upfront prep work and leans on the slow cooker for the heavy lifting. There's a good chance you'll have some leftovers, which can be repurposed into lunch throughout the week or stashed in the freezer for another week.
Get the plan: A Week of Easy Plant-Based Slow Cooker Dinners
2. How I Prep a Week of Easy Slow Cooker Meals for Two
3. A Week of Plant-Based Meals from the Slow Cooker
Your slow cooker makes easy, hands-off work of cooking plant-based staples like beans, rice, and a huge array of vegetables. Whether you follow a plant-based diet or you're trying to eat less meat, this slow cooker meal plan makes it easy with favorites, like golden chickpea soup, veggie burrito bowls, and caponata pasta. And if you want to get jump start, it also includes a one-hour step-by-step meal prep guide.
Get the plan: A Week of Plant-Based Meals from the Slow Cooker
4. A Week of Cheap and Healthy Slow Cooker Dinners
This plan leans on inexpensive pantry staples that feel healthy and nourishing. Serve filling and protein-packed golden chickpea soup swirled with Greek yogurt and a squeeze of fresh lemon one night and an Italian-inspired chicken and broccoli bowl another night. Round out the week with make-ahead slow cooker-stuffed cabbage rolls, chicken posole, and hearty black bean chili.
5. A Week of Slow Cooker Mediterranean Diet Dinners
The slow cooker is one of the best tools for getting meals based on the Mediterranean diet on the table. The diet — based on seafood, produce, and healthy fats — includes many of our favorite slow cooker dinners. The veggie-packed slow cooker minestrone makes enough for dinner one night a lunch later in the week. The gentle heat of the slow cooker makes the most tender salmon — it takes time, but the flavor is worth it! Finish this week's plan with citrusy lemon and artichoke chicken from the slow cooker and a hearty, vegetarian chili for cool autumn evenings.
6. 5 Healthy Slow Cooker Dinners to Make Before Summer Ends
This slow cooker meal plan leans on the last gasp of fresh summer vegetables for a week of wholesome and affordable dinners. Ratatouille is an end-of-summer staple, and if you're still avoiding your stove the slow cooker is the way to go. Use the final harvest of your patio-grown basil for slow cooker pesto chicken. If your neighbors are still dropping off zucchini, peppers, and tomatoes, use the veg in curried vegetable and chickpea stew or slow cooker veggie burrito bowls.
7. A Week of Back-to-School Slow Cooker Dinners