Products You May Like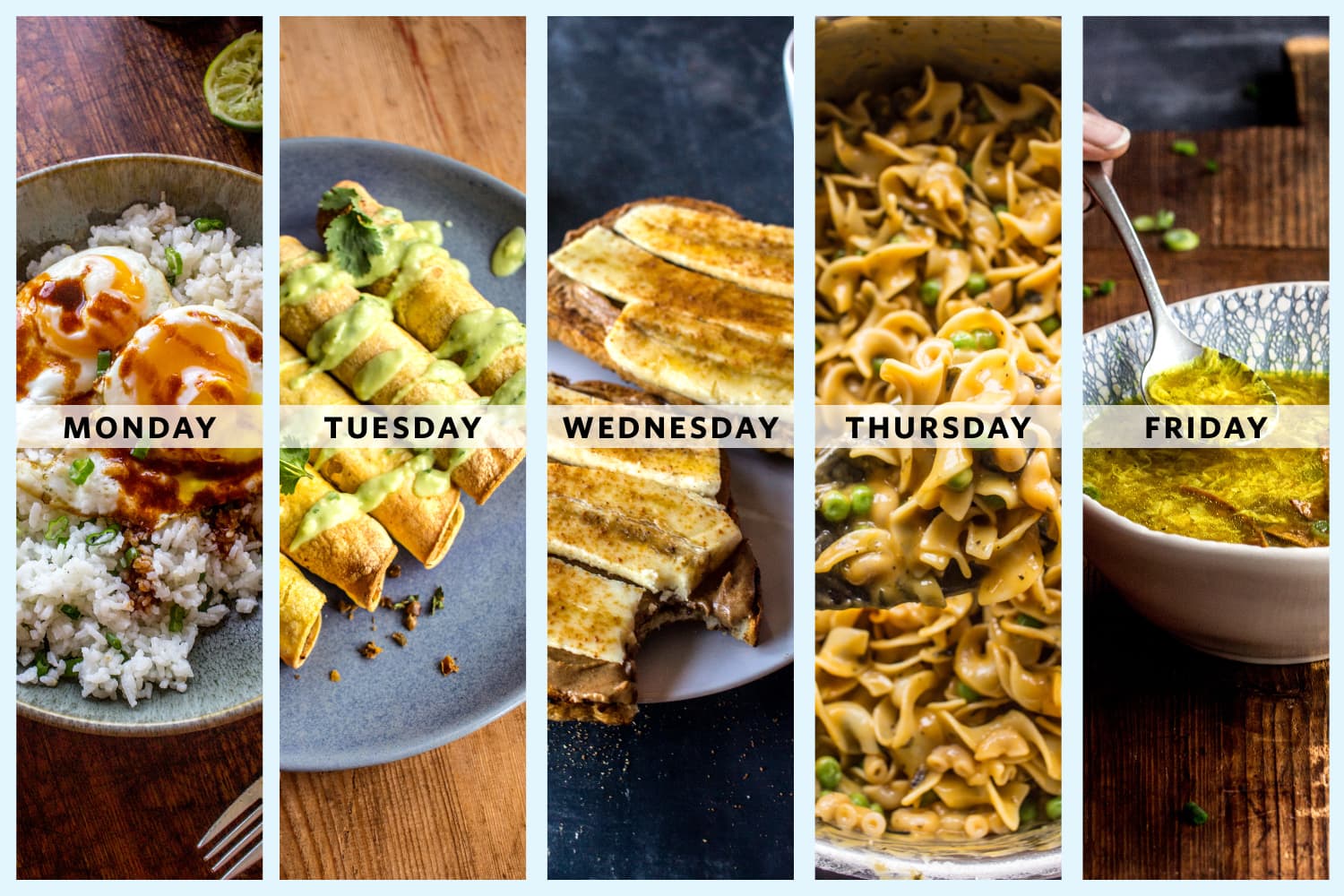 We independently select these products—if you buy from one of our links, we may earn a commission.
Jerrelle Guy, the force behind Chocolate for Basil, is one busy lady. In addition to baking up a storm on her site and for her cookbook, Black Girl Baking (which was nominated for a James Beard Award!), Guy contributes recipes to The New York Times, and runs her own food photography studio with her partner, Eric Harrison. In fact, their photography and styling are what made our Cookbook Club pick of the month, Jubilee, so gorgeous.
Though she spends her days cooking and photographing food, she doesn't get a free pass on figuring out what's for dinner. Just like the rest of us, Jerrelle has to tackle that problem at the end of every day. Being hard-pressed for extra time these days, she leans hard on dinners that are just as easy as they are super budget-friendly. Here, Jerrelle shares a week's meal plan with us, and tells us how she and Eric do it.
5 Cheap and Easy Meat-Free Dinners
For us, trying to launch a startup business has been hard, both on the mind and on the pockets! We're just one year in, and we've already picked ourselves up from a number of failures — too many to count, actually. One of the most obvious lessons that took time to sink in is how to budget wisely and get the most value using what we have in ways that nourish us without making us feel deprived. It's a delicate balance. And of course, this practice extended into our kitchen as well. What we learned has inspired this budget-friendly, resourceful, vegetarian, weekly meal plan we are excited to share with you!
Monday: Spicy Rice Bowl with Egg
Eric and I are always coming up with variations on a typical grain bowl to graze on. They're comforting and so versatile that you can swap out or add absolutely anything and it still tastes good. For this one, we kept things pretty classic using a quick fried egg punched up with an easy, spicy 3-ingredient sauce, and a little lime.
Get the recipe: Spicy Rice Bowl with Egg
Tuesday: Lentil Taquitos with Avocado Crema
Since we've moved back to Texas (with our cat, Christopher), we've stayed stocked up on corn tortillas. They're necessary for literally everything we crave from breakfast tacos to migas to enchiladas to these lentil taquitos! We found the lentils on sale this week, put them in the food processor with spices for the filling, then air-fried the taquitos!
Get the recipe: Lentil Taquitos with Avocado Crema
Wednesday: Cinnamon Toast with Almond Butter and Banana
Thursday: Seaweed Casserole
This is a fish-free spin on the classic tuna fish casserole. It achieves that same salty flavor using seaweed all while still providing a great protein substitute packed with vitamins and minerals for an end of the week reboot.
Get the recipe: Seaweed Casserole
Friday: Turmeric Egg Drop Soup
Meal planning isn't always easy — especially if you're just getting started. But we're firm believers that it's the secret to stress-free weeknight dinners. We want to help you find inspiration and ease some of the pain points that come with getting dinner on the table night after night, whether you're cooking one or a family of four or five. Every week we share a new meal plan solution specifically customized for you from reader requests or from a guest contributor, for Next Week's Meal Plan!
New to meal planning? Start here.
Click below to get more tips, insights, and ideas from our Meal Plan Club crew and readers like you.