Products You May Like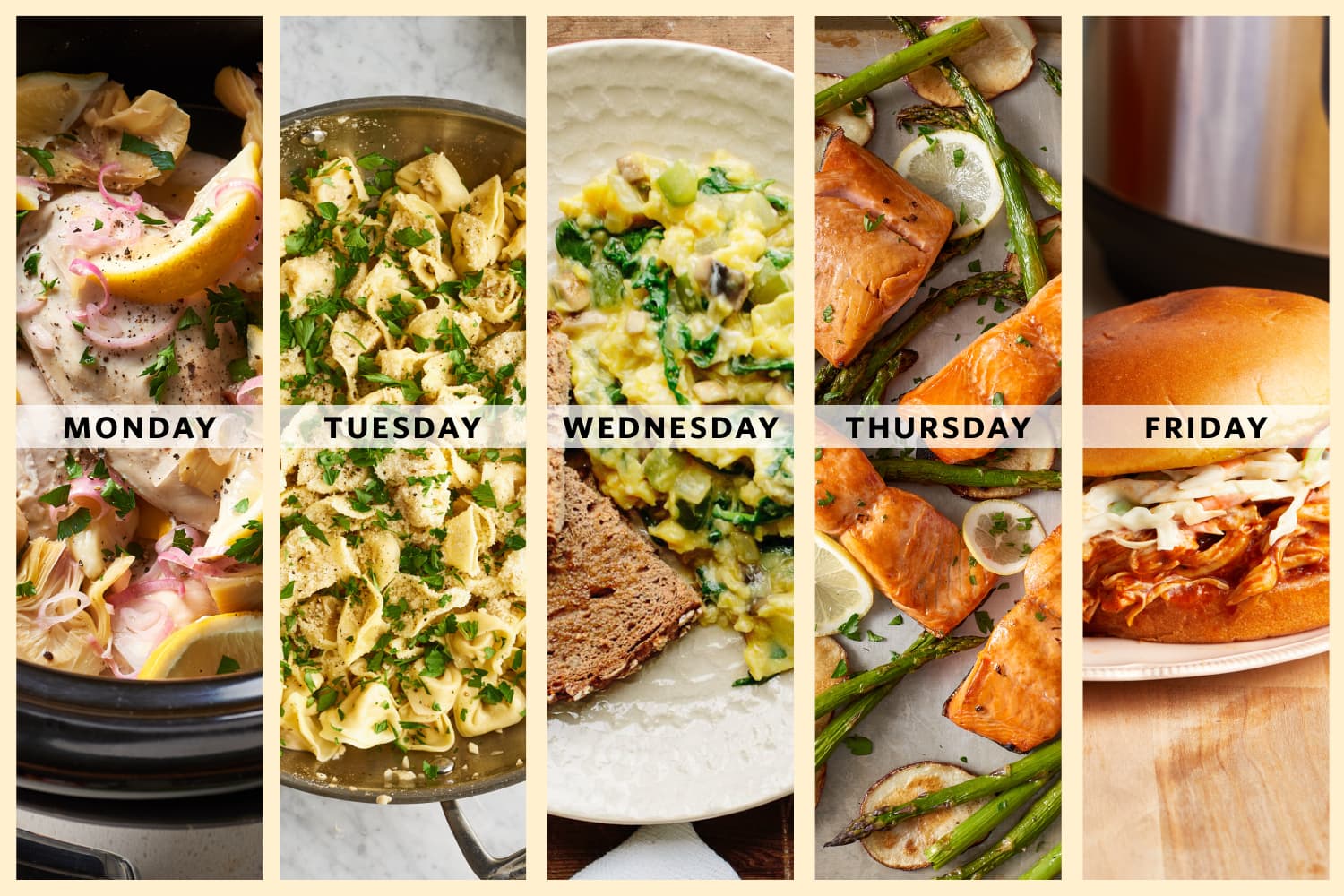 This week is looking to be a busy one for me, which means I'll have less time and effort to devote to dinner. Yet I still really want some delicious meals that feel bright and springy. So with that in mind, I'm really leaning into minimum-effort, maximum-reward dinners. That means a lineup of recipes that are either just a few ingredients, have little to no prep, call for a single piece of cookware (hello, sheet pan supper!), or rely on the slow cooker or Instant Pot to do the heavy lifting. I'm also loading up on seasonal favorites, like lemons, asparagus, artichokes, and herbs, to bring springy vibes to the dinner table.
Here are the five impossibly easy dinners I'm cooking this week.
Monday: Slow Cooker Spinach and Artichoke Chicken
Tuesday: 15-Minute Garlic-Butter Tortellini
Wednesday: Scrambled Eggs With Green Peppers & Mushrooms
Lately when I don't feel like cooking, scrambled eggs have been the default. I have some bits and bobs of veggies in the crisper that need to be used up, so tonight I'm using them for a loaded egg scramble. I'm using this recipe as a template, and while it calls for bell pepper and mushrooms, just about all veggies are fair game.
Get the recipe: Scrambled Eggs With Green Peppers & Mushrooms
Thursday: Sheet Pan Crispy Salmon and Potatoes
Friday: Instant Pot BBQ Chicken Sandwiches
I'm ending the week as easy as it started, and tonight I'll be leaning on my Instant Pot to do the heavy lifting for dinner. I'll toss some boneless chicken thighs and barbecue sauce in the pressure cooker, then shred the meat for sandwiches.
Get the recipe: Instant Pot BBQ Chicken
New to meal planning? Start here.
Click below to get more tips, insights, and ideas from our Meal Plan Club crew and readers like you.
Meal planning isn't always easy — especially if you're just getting started. But we're firm believers that it's the secret to stress-free weeknight dinners. We want to help you find inspiration and ease some of the pain points that come with getting dinner on the table night after night, whether you're cooking one or a family of four or five. Every week we share a new meal plan solution specifically customized for you from reader requests or from a guest contributor, for Next Week's Meal Plan!