Products You May Like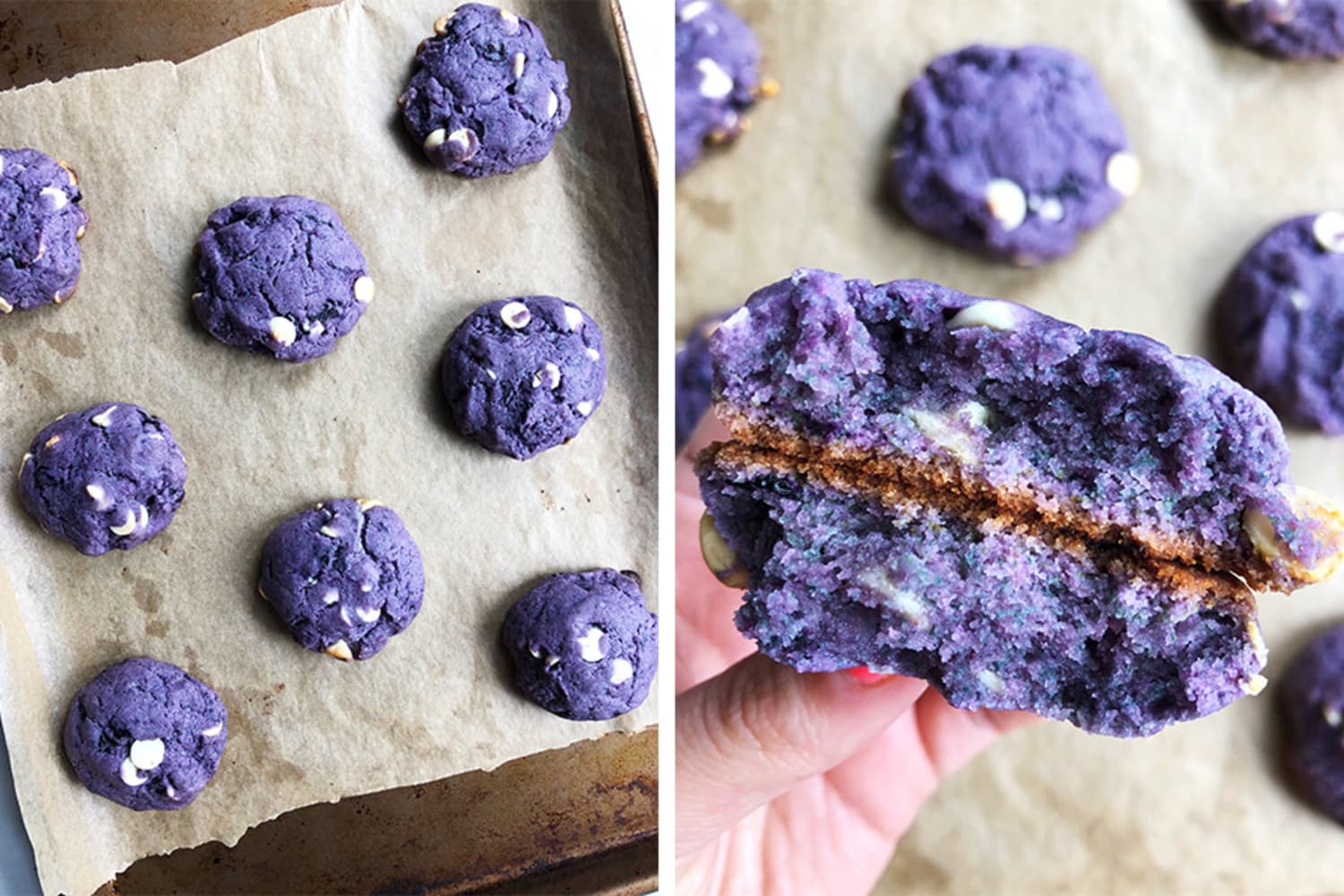 Have you ever fallen in love with a cookie at first sight? That's exactly what happened to me when I stumbled upon Justine Snacks' blueberry cookies on TikTok. I mean, look at them! How could you not be captivated by their bright violet hue? Once I realized they were in the scope of my baking capabilities (read: painfully easy), I had no choice but to give 'em a go.
How to Make the TikTok-Famous Blueberry Cookies
This cookie recipe is about as simple as any run-of-the-mill homemade cookie: You cream together the wet ingredients, add the dry ingredients, throw in some chocolate chips, chill the dough, and bake. Because they're vegan, you'll use vegan butter and no eggs. But the one addition that really sets them apart is thawed frozen blueberries. Justine says she specifically calls for frozen blueberries because "when you thaw frozen blueberries, they become soft, jammy, and sweet, and are the perfect addition to the wet ingredients."
When I thawed my frozen blueberries in the microwave they seemed watery, so I was apprehensive to add them to the batter — but I took a leap of faith. The blueberries turned the batter a delightful blue color, which looked even prettier after I added a handful of white chocolate chips. Next, I gave the batter a quick chill in the freezer before rolling them into balls and baking them.
These. Were. Amazing. I'm honestly shook that I haven't attempted to make blueberry cookies before today. Blueberry-flavored desserts are very nostalgic for me — growing up, I always loved a good blueberry muffin, blueberry buckle, or blueberry doughnut — and I still sometimes treat myself to a blueberry munchkin at Dunkin'. These cookies had that exact same blueberry flavor.
The cookies also had a lovely light and fluffy texture, and I even liked the white chocolate chips even though normally those aren't my favorite. I've never baked with vegan butter so I wasn't sure what to expect, but it creamed up nicely and I didn't run into any issues. And to my surprise, the bright blue color of the batter was barely altered after baking.
There are plenty of recipes that look good on TikTok but don't taste right, and this was not one of them. My roommate and I could not stop eating them. You have been warned.
3 Tips for Making TikTok's Blueberry Cookies