Products You May Like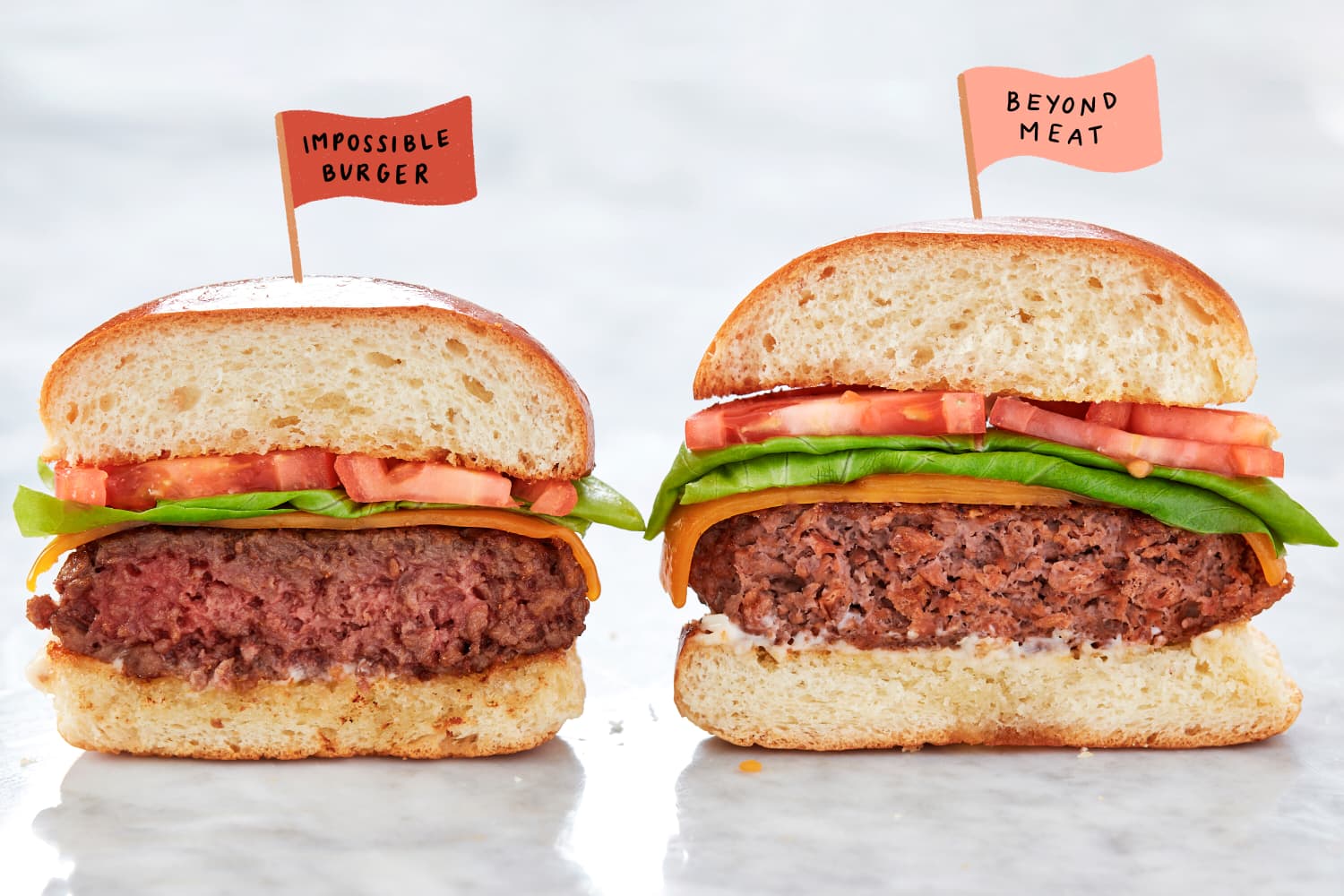 We independently select these products—if you buy from one of our links, we may earn a commission.
For a variety of reasons, a lot of us are aiming to eat less meat these days — particularly when it comes to red meat. But the craving for a juicy burger is hard to resist, which is why faux ground beef is gaining in popularity everywhere and popping up in restaurants, fast food joints, and home kitchens.
Beyond Meat, one of the biggest and most known companies, introduced its reformulated Beyond Beef plant-based ground "meat" (as well as pre-formed Beyond Burger patties) in grocery stores a few summers ago. Made with pea, mung bean and rice proteins, it aims to have the look, feel, and taste of ground beef.
Buy: Beyond Meat, $8.29 for 16 ounces at Target
Its biggest competitor is Impossible Burger, another plant-based alternative that strives to be the closest mimic to ground beef, except it's made with soy. It even "bleeds" thanks to something called heme, made by taking the DNA from the roots of soy plants, injecting it into yeast, and fermenting it.
I've had Beyond Burgers and Impossible Burgers in restaurants at different times, but I hadn't been able to try them side-by-side. Now with both faux meats available to home cooks, I could finally put them head-to-head in my own kitchen.
For my first test I made burgers, because a great beef-like vegan burger seems to be the Holy Grail. Plus, while you can do a lot with spices or sauce, it's hard to disguise a bad burger patty. I made 1/2-inch-thick quarter-pound patties from each and they were easy to form, though a bit sticky. Both looked pretty convincing as ground beef, but Impossible Burger was far more believable. The texture was looser and the red color was spot-on. Beyond Beef looked more like pâté. However, Beyond Beef contained a full 16 ounces in its package, while Impossible Burger only has 12 ounces. (That size difference is reflected in their respective prices, however.)
I cooked the patties in 1 tablespoon of oil in a carbon steel skillet over medium-high heat. Both crisped and browned, but Impossible Burger performed a bit better in that department. However, it had a tendency to stick to the pan even though it was very well oiled, while Beyond Meat didn't.
The biggest question, though, was how would they taste? I tried the burger patties plain and found that Beyond Beef tasted very similar to the Boca Burgers I ate as a teenager when I dabbled in vegetarianism. Considering they're made from entirely different ingredients, this came as a surprise.
Impossible Burger tasted the closest to real beef. That's not to say it's actually beefy in flavor, but more like the familiar kind of burger patty you'd get in a school cafeteria, complete with a hint of char-broiled flavor. Its looser, nubby texture was more convincing too, whereas Beyond Beef looked more solid and uniform and felt more firm.
I then tried the patties on a bun, classically dressed with ketchup, mayo, mustard, lettuce, tomato, pickles, and cheese. All fixed up, both patties tasted good, but the Impossible Burger definitely seemed the most "real." It can't stand in for a beefy, juicy restaurant burger made with premium, house-ground beef, but it can stand in for a fast food burger no problem.
Both brands tout their ability to sauté into crumbles for tacos, casseroles, meatballs, and the like, so I gave that a try. I cleaned my skillet, set it over medium-high heat with 2 teaspoons of oil, and sautéed each separately. Both performed just like lean ground beef, though Impossible Burger still wanted to stick a bit. As with the patties, the Impossible Burger still tasted the most like ground beef.
For my final test, I added the sautéed crumbles to jarred pasta sauce, to see how they'd hold up. The Impossible Burger crumbles melded with the sauce far better, offering a texture and flavor nearly identical to ground beef.
The bottom line? Honestly, they're both great options. If you're a meat eater looking for the most realistic alternative to ground beef, though, go with Impossible Burger.
Have you tried both of these options? Which one do you prefer?