Products You May Like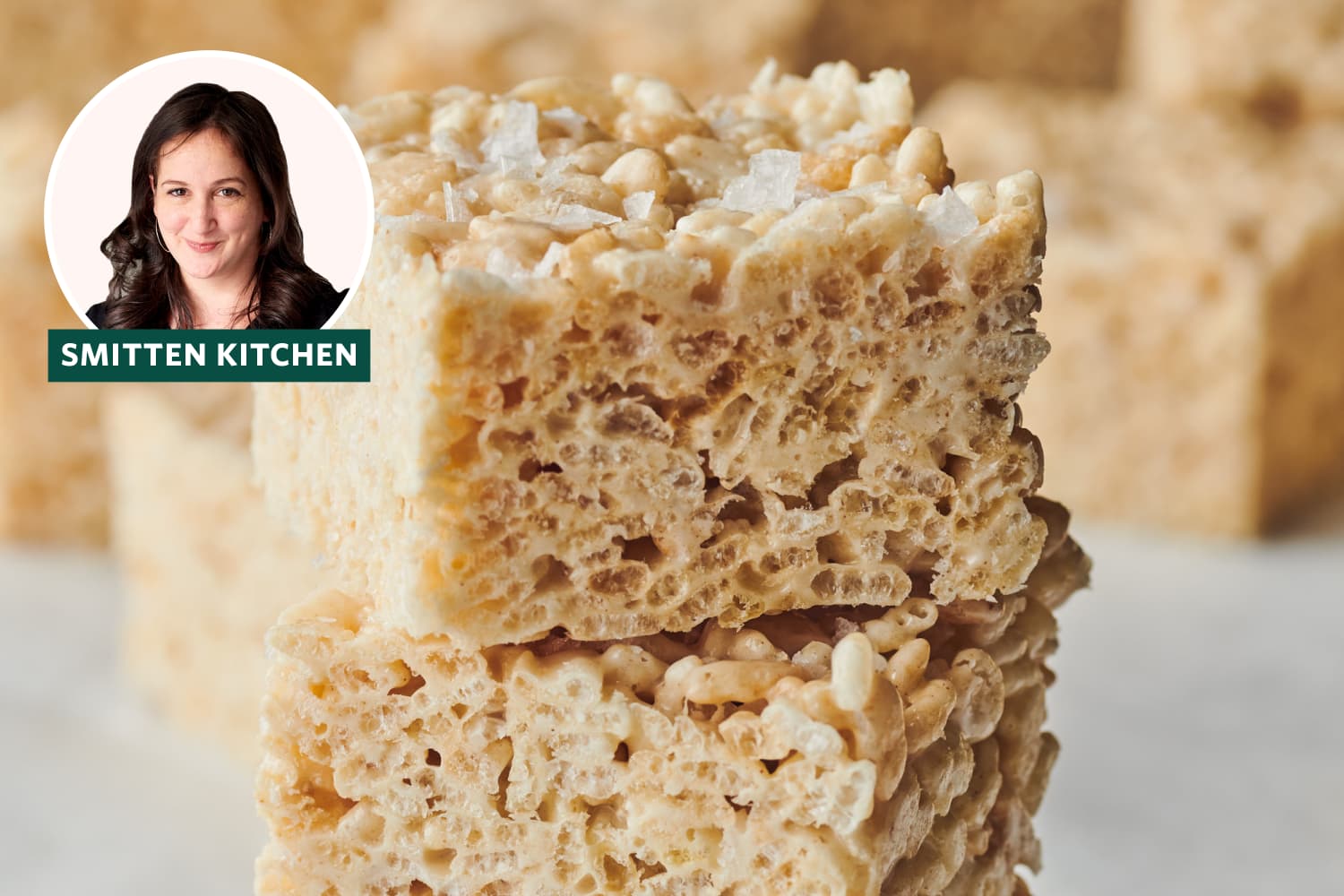 When I mentioned I'd be testing several popular Rice Krispies treats recipes to find the very best one, a lot of people — IRL, on the Kitchn team, and on the internet — were quick to tell me how much they adore Smitten Kitchen's recipe. And I agree! I've actually been making it for years; in fact, I brought a pan of the treats to a friend back in 2007 (!!) and she still talks about them to this day.
Needless to say, I knew from the get-go that this recipe would be a contender. What makes Deb's treats so intriguing and appealing is that they're made with brown butter (and a generous sprinkle of sea salt). Here's how these popular treats stacked up to their competition.
How to Make Smitten Kitchen's Salted Brown Butter Crispy Treats
Before making the treats, coat an 8×8-inch square cake pan with butter or nonstick cooking spray. Then, in a large pot, brown unsalted butter over medium-low heat. As soon as it browns, remove the pot from the heat and stir in the marshmallows. The residual heat should be enough to melt them, but if not, return the pot to low heat and stir until the marshmallows are melted and smooth. With the pot off the heat, stir in the cereal and coarse sea salt.
Quickly spread the mixture into the prepared pan and use a piece of wax or parchment paper to firmly press into the edges and corners. Cool completely, then cut into squares.
My Honest Review of Smitten Kitchen's Salted Brown Butter Crispy Treats
These extra-thick and crispy treats taste special, and are the perfect easy no-bake dessert if you're looking to impress. While Deb's recipe includes all the same ingredients you'd find in classic Rice Krispies treats, they're anything but basic. Rich and nutty brown butter has the power to make anything taste fancy, and these Rice Krispies treats are no exception. Plus, it takes five extra minutes, max.
And then there's the coarse sea salt. She uses a heaping 1/4 teaspoon, which balances the sweetness, and every so often you get a pop of salty flavor which keeps you going back for more.
The only reason these treats aren't receiving a perfect score? The marshmallow-to-cereal ratio is on the moderate side, and they left me craving just a little more gooey-ness.
If You're Making Smitten Kitchen's Salted Brown Butter Crispy Treats, a Few Tips
Have you made Smitten Kitchen's Salted Brown Butter Crispy Treats? Tell us what you thought!