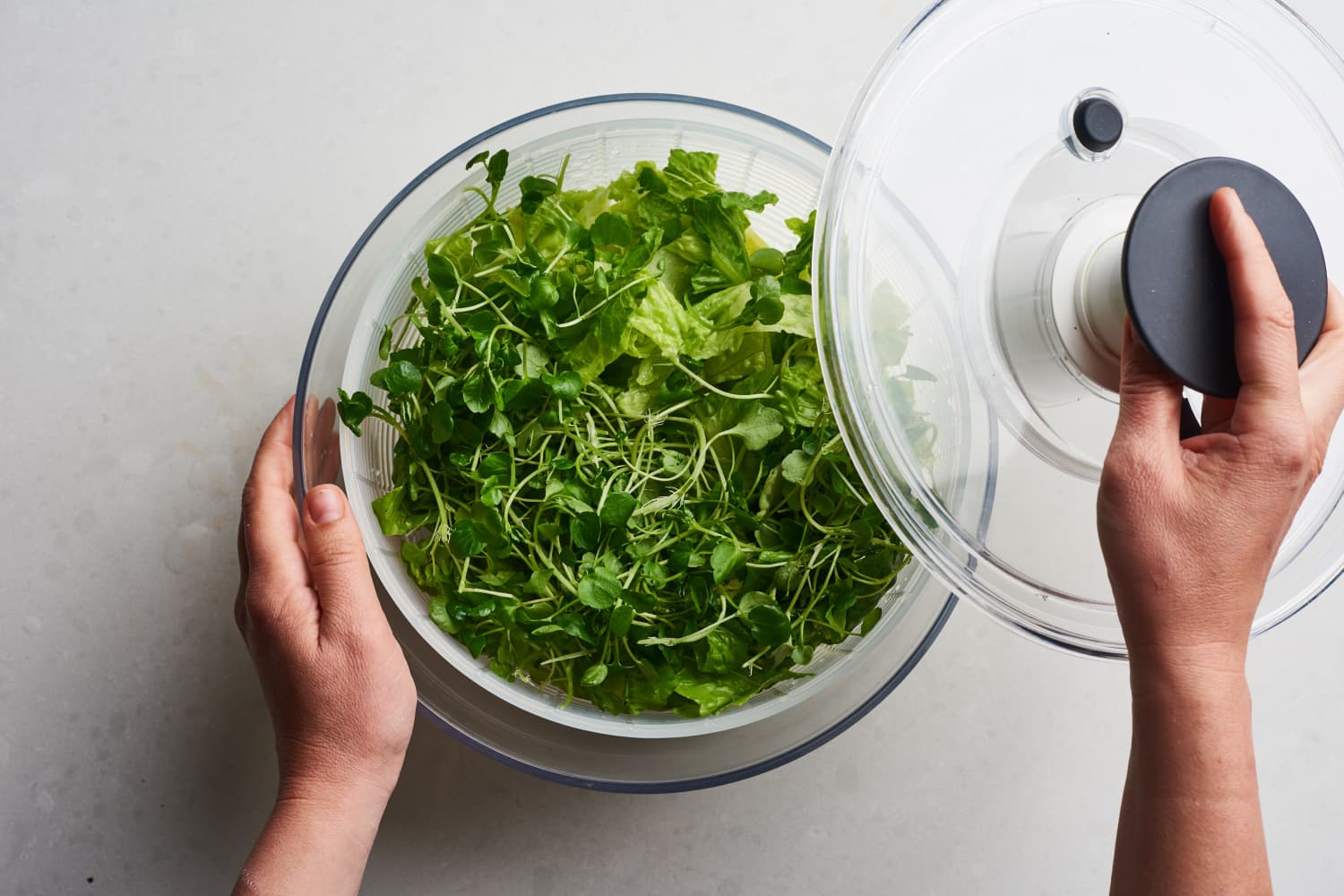 We independently select these products—if you buy from one of our links, we may earn a commission.
Believe it or not, a salad spinner is a kitchen essential. (In fact, we included it on our official list of Kitchn Essentials!) Even for the biggest minimalist out there; even if you can count the number of kitchen tools you own on two hands! If you don't have a salad spinner, we honestly believe you need one.
Using a salad spinner the very best way to wash and dry your greens (and you need to wash and dry your greens). But lest you think this is a one-trick pony, a salad spinner comes in handy for about 18 other different kitchen tasks. Store your greens right in it in the fridge, rinse and drain beans in it, use the dome to cover cakes or proof bread — the list really does go on.
But, of course, not all salad spinners are created equal. Here are some of the best salad spinners out there, plus our two cents on the one to get — once and for all.
1. OXO Good Grips Salad Spinner
The Best Salad Spinner, According to Wirecutter and Cook's Illustrated
Wirecutter loves the OXO Good Grips Salad Spinner and has loved it since 2014. The testers have put in 25 hours quizzing salad experts and trying 31 different models, and this is still the winner. It's easy to use, easy to wash, and can handle everything from delicate herbs to hardier greens. They also note that it's big enough to handle a whole head of lettuce, but it's one of the more compact versions on the market.
Cook's Illustrated is known for putting tools through rigorous and methodical testing, and their latest review of seven different salad spinners is no different: They put baby spinach, sturdy kale, spring greens, and sandy leeks through the wringer and also found the OXO model to be the best. They noted that it's easy to use (with one hand!), easy to clean up, and gets greens the driest. They recommend the larger spinner, but they also tested and recommend the smaller version from OXO.
2. Zyliss Swift Dry Salad Spinner
The Best Salad Spinner, According to Serious Eats
Serious Eats named the Zyliss Swift Dry Salad Spinner as their clear winner. "This was one of those rare cases in which one candidate clearly rose above the rest for its space-efficient design, solid construction, and minimal-effort drying mechanism," they said. Reviewers noted the powerful pumping mechanism and the unique ridged basket, which increases the surface area, allowing for more air without a really big bowl. The result? Super-dry salad greens in significantly less time than other models.
3. Cuisinart 3-Quart Salad Spinner
One of the Best-Selling Salad Spinners on Amazon
Besides the aforementioned OXO Good Grips Salad Spinner, this model by Cuisinart is one of the best-selling salad spinners on Amazon. Reviewers call this salad spinner a "game-changer" and have given it an average of a 4.5-star rating. It's easy enough for kids to operate and has a hole in the top so you can add water without taking the lid off. One satisfied customer noted that it's not just for washing and drying salad greens (she also uses it for washing bras!).
Kitchn's Thoughts on the Best Salad Spinner
We're with Wirecutter and Cook's Illustrated on this one. We love the OXO Good Grips Salad Spinner because it's just so efficient at getting greens dry. It's also not an eyesore, which means it's a great multitasker: We use it to rinse and spin greens, to store greens in the fridge, and to serve salad (right out of the bowl!).
Do you have the OXO salad spinner? Are you Team No Salad Spinner? Discuss in the comments below!