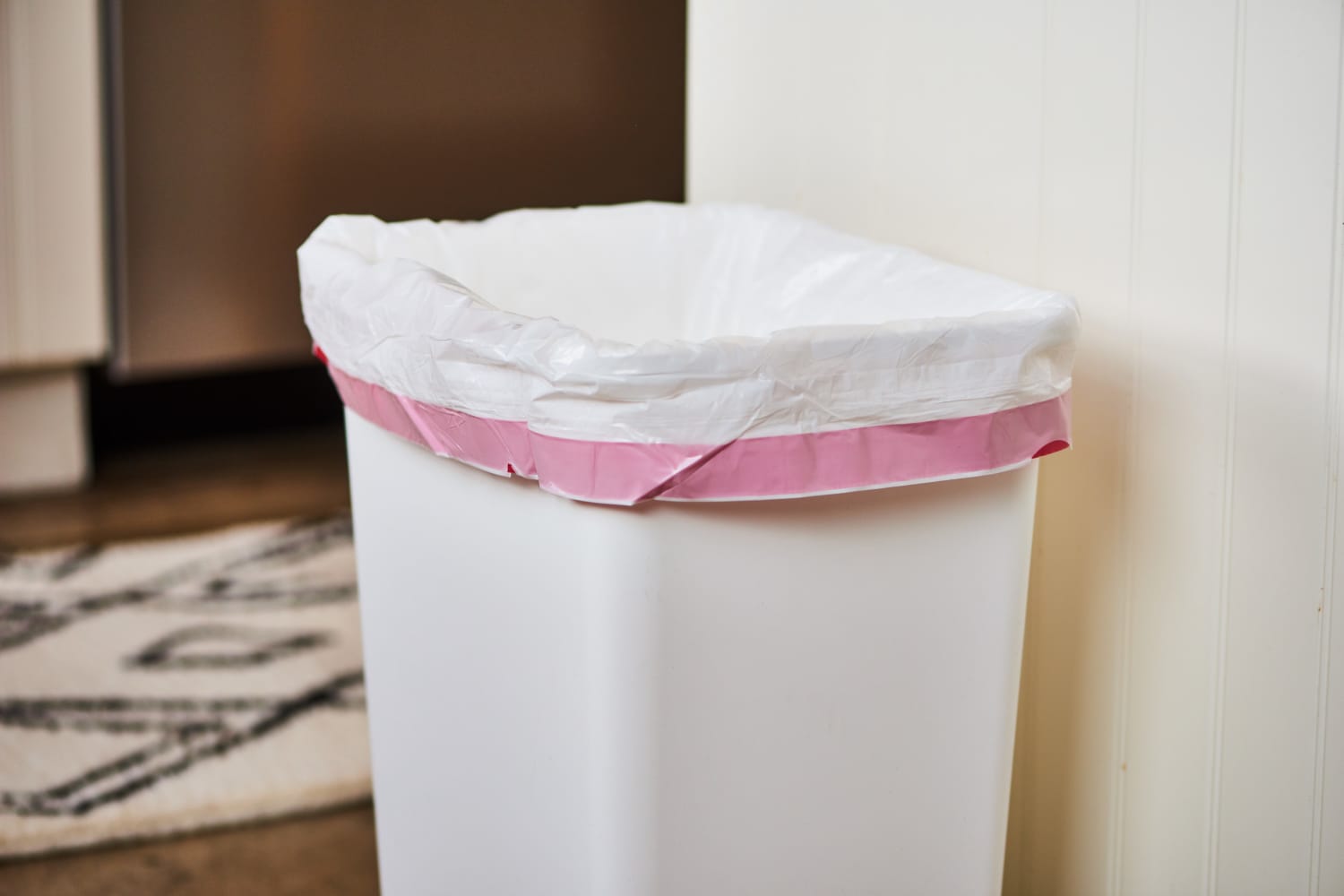 We independently select these products—if you buy from one of our links, we may earn a commission.
Trash duty is no one's favorite chore. It's stinky. It's leaky. It's annoying. It's, well, gross. It has to be done, though. Likely, at least a few times a week. And so we've gathered up all of our very best tips to help make the task even just a little better. We have ideas that will get things smelling a little more fresh, make it easier to replace the bags, and more. Ready to talk trash? Let's go.
1. Drill holes in the can or the liner.
Ever go to pull out a bag, only to spend the next five minutes fighting with the can to release it? It's science, but basically this happens because there's a vacuum that's trying to keep your bag in place. Instead of dealing with this, simply drill some holes toward the bottom of your can or liner. These holes will allow air to flow and help your bag slide right out when you pull it.
2. Keep bags from falling in with an upside-down hook.
No matter how well you put a bag in, it's almost sure to slide into the can eventually. And then, if the people in your household don't realize it, you'll end up with quite a mess on top. Prevent that from happening by attaching a Command hook to the side of your can. Stick it on there upside-down and then loop the drawstring around the hook.
3. Sprinkle some baking soda at the bottom of the can.
5. Stop fluffing out your bag before you put in the can.
This one was making the rounds on TikTok a month ago or so. The idea is simple: Instead of fluffing out your bag to get air into it before you put it in the can, just put the opening around the can or liner and push the bag down into the can. You have to see the video and then your mind will be blown.
6. Store your bags in a reusable bin.
Yes, your trash bags come in a holder. Also yes, that holder is a flimsy box that tends to get broken down over time. Instead, we like this tip from Ida Levy: Take the entire roll of bags out of the cardboard box. Then, drop them into a plastic bin and pull the last bag out from the middle and thread it through the bin's handle. This way, you can pull out a new one just like it's a tissue.
7. Or store them at the bottom of the can.
If you struggle to remember to replace the bag once you've taken the full one out, this tip could really help you. (Ditto if you also struggle to find even the smallest bit of storage space!) Simply toss your bags into the bottom of your trash can. They can sit and wait there, under the bag you're currently using, and then you can just grab one when it's time to re-line the can.
Handy with a screwdriver? Then consider mounting just a very little bit of hardware to a wall or the side of a cabinet and you can use it as a trash bag dispenser. Here's how to do it.
9. Give it a good cleaning from time to time.
When was the last time you cleaned your trash can? While it may seem unnecessary (I'm literally just putting trash in here!) things can get pretty gross in there. And that can attract pests and leave a lingering smell. Don't worry — it won't take you that long. Here's how to do it.
Do you have any smart tips and tricks to share when it comes to trash and trash duty? Leave them in the comments below!