Products You May Like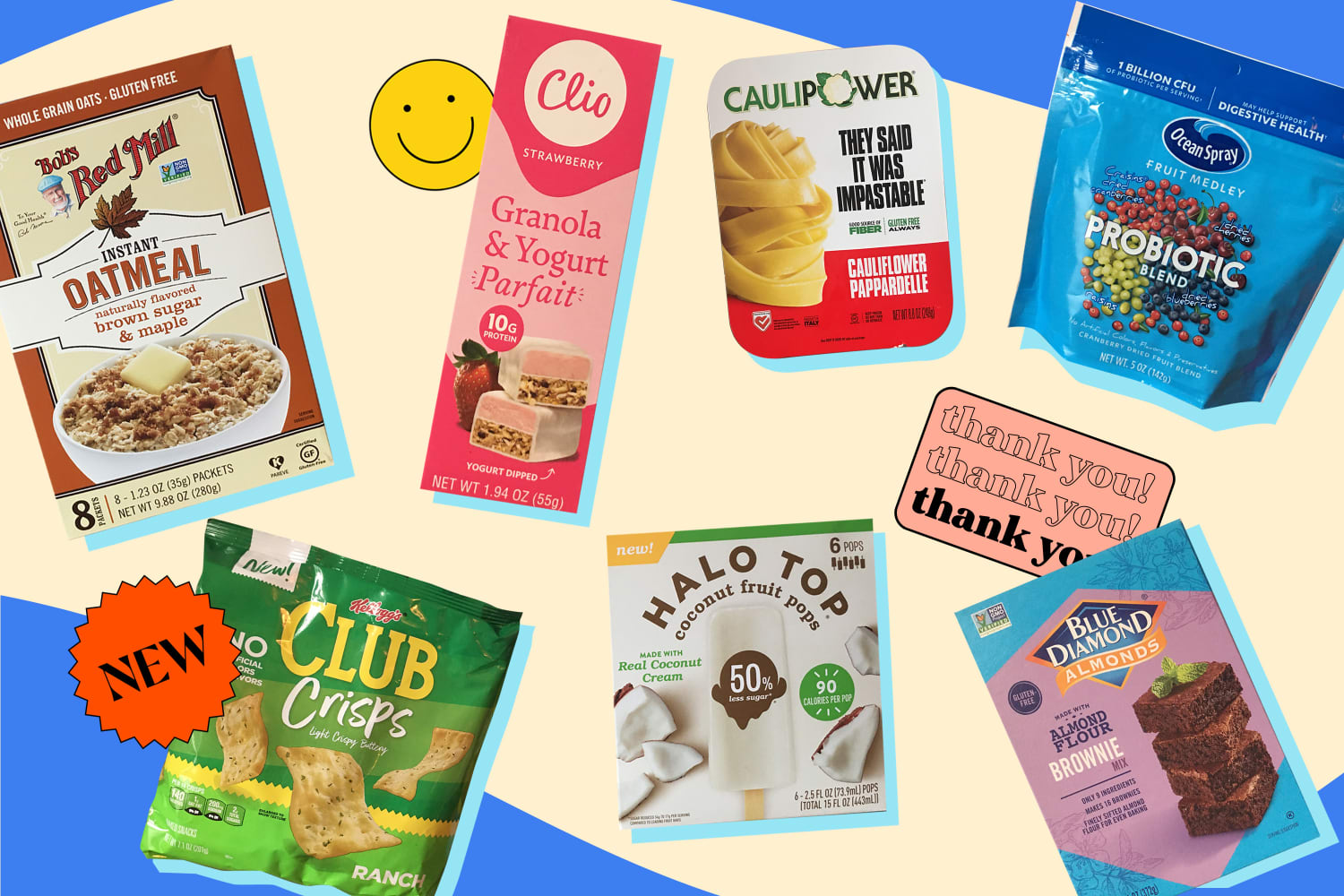 We independently select these products—if you buy from one of our links, we may earn a commission.
In true form, the month of April has brought about new beginnings big and small, in the form of fresh blooms, a plethora of vaccine appointments, and a brand-new lineup of grocery products. A very nice trifecta, if you ask me.
Among the contenders? Cauliflower-based frozen pasta, pool-side Popsicles, grain-free cookies, almond flour baking mixes, and more. Here's what I'm most excited about.
1. Bob's Red Mill Oatmeal Packets
The convenience of instant oatmeal is unmatched, and Bob's Red Mill has leveled it up even more. This easy-to-prepare breakfast option consists of whole-grain oats, flaxseed meal, and a fraction of the sugar you'll find in similar products. Right now, these instant oatmeal packets are available in three flavors: Apple Pieces & Cinnamon, Brown Sugar & Maple, and Classic Oatmeal.
2. Clio Granola & Yogurt Parfait
Speaking of convenient breakfast options, these bars are pocket-ready for all of your future on-the-go needs. Find these in the refrigerated aisle in two flavors: Strawberry and Coconut. Both bars are delicious, but the strawberry Greek yogurt bar with cranberry almond granola edged out the coconut in my book.
3. Kellogg's Club Crisps
The original Club cracker is pretty perfect as is: flaky, buttery, and just the right amount of salt. Fans of the OG will be as shocked as I was to learn of this new development: a thinner, crispier, baked "crisp" that's more chip-like than its cracker counterpart, which comes in ranch and sea salt flavors. I kept going back for more — and you probably will too.
4. Ocean Spray Fruit Medley
These dried fruit blends are what I'd dub the perfect road-trip snack. I loved the tropical vibes of the Craisins mixed with dried mangos, dried pineapples, and banana chips. I'm already dreaming about a future getaway.
5. CAULIPOWER Cauliflower Pasta
These bite-sized cookies made with nut flours and oils, eggs, and dates, actually taste pretty darn good. They're crunchy and fun-sized — just the thing for when you're craving a little taste of something sweet.
Known for their pints of low-calorie ice cream, Halo Top just released their first fruit-based ice pops. Available in five flavors (Strawberry, Coconut, Lime, Pineapple, and Mango), these pops contain 50 to 65 percent less sugar than other options in the freezer aisle. Hot (er, cool?) tip: Go for the coconut.
8. Blue Diamond Baking Mixes
Which of these are you most excited about?