Products You May Like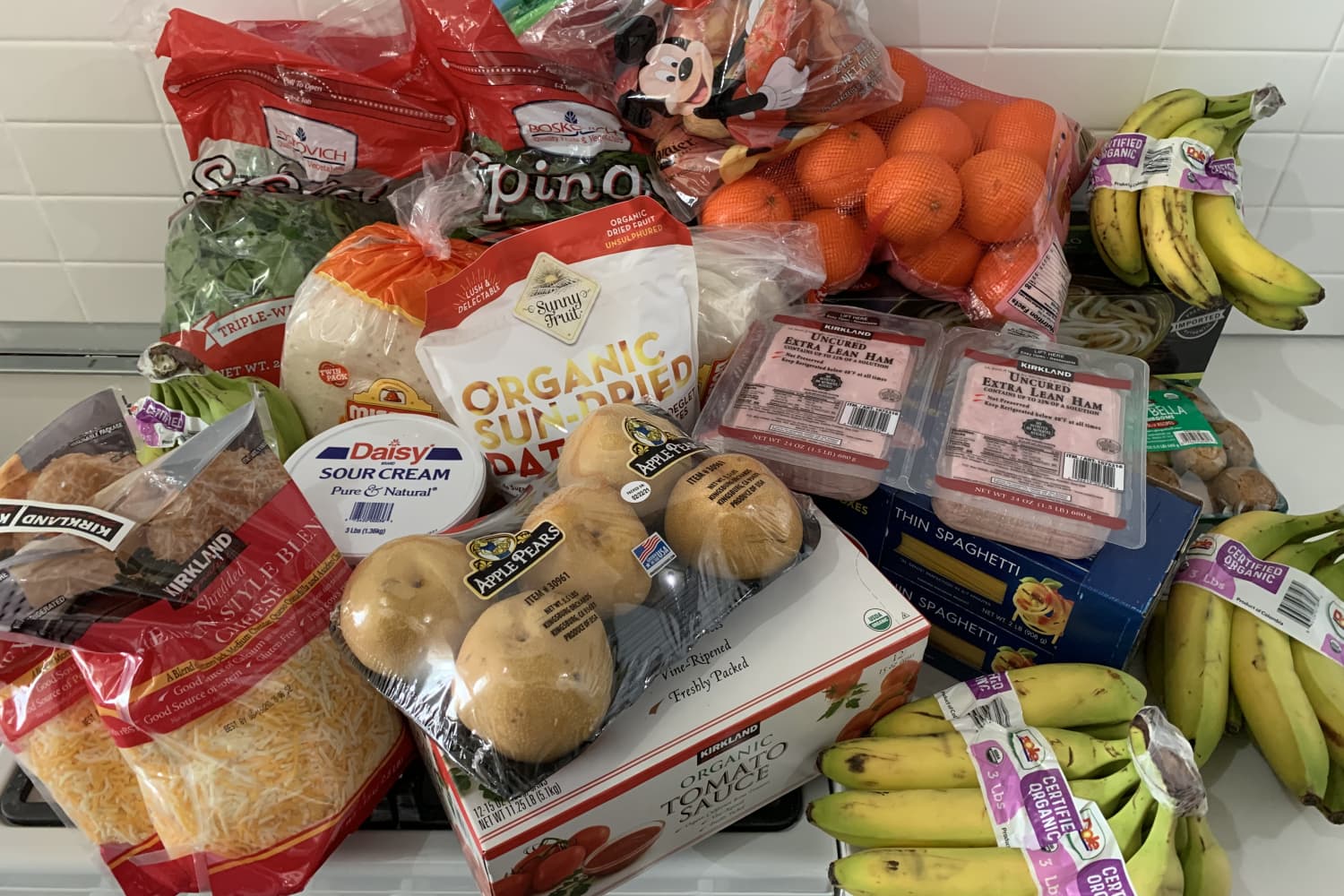 We independently select these products—if you buy from one of our links, we may earn a commission.
Name: Claire*
Location: Washington, D.C.
Number of people in household: 1; Just me and my dogs
Age: 36
Occupation: I am a consultant but was recently laid-off from my job.
Grocery shopping for how long? As long as possible. Between the pandemic and being unemployed, I'm working hard to avoid both waste and superfluous trips to the store. I know that with this big shop (plus weekly fresh produce purchases that I'll keep around $10), I'll be set for six weeks.
Where did you shop? Whole Foods, Trader Joe's, and Costco
Did you get your groceries delivered or did you go to the store? I ordered a grocery delivery from Costco
How much did you spend? $164.01
Dietary restrictions? None. I'm sensitive to dairy, but I can't resist cheese. I also don't eat much meat.
How did you choose where to buy groceries?
At the beginning of the pandemic, I would load up on as many groceries that I could carry at either Whole Foods or Trader Joe's to avoid making multiple trips. (I don't have a car and walk to grocery stores.) When I learned that Costco is available through Instacart, I decided to try their bulk delivery service. I'm not usually an Instacart shopper, but I was enticed by promo codes and thought I'd check it out. I was pleasantly surprised to see that Costco is financially feasible for me.
What time did you shop and what was it like?
It was odd to adjust to grocery shopping during a pandemic, but it's been a while now so it's become the new normal for me. When I shop in-person, I try to go during core business hours to avoid people. However, on Sunday evening, I felt like baking something easy at home so I walked to Whole Foods and picked up a box of yellow cake mix. It was busier than it typically is during the workday, but I felt OK shopping in-person. (I refrained from interacting with employees or other shoppers and opted for self check-out.)
I'm not the best at meal planning. I try to keep a few staples on hand so I can easily assemble protein shakes, smoothies, and one-pot wonders. I'm already stocked up on pantry items like rice and beans for easy, inexpensive dinners. After this most recent shop, I made at least 40 breakfast burritos to keep in the freezer. I also portioned out and froze certain items immediately, including five pounds of spinach and bananas. Otherwise, I tried to pick out fruits that will keep for a while.
How much did you spend?
Total Spent: $139.82 (including tax and tip, but no service fee per a promotional offer)
$24.19 (I used a gift card)
What couldn't you find?
Cocoa powder for baking and mussels.
What do you plan on making?
How is this different from how you normally shop?
I usually shop frequently, whenever I think about what I'd like to eat. In my previous life (in the before times), I traveled frequently and did most of my socializing at restaurants. I definitely didn't eat at home as often as I am now. It's been helpful to shop in bulk and eat this way while contending with the pandemic (and my unemployment). I'm finding that I feel a lot better eating food that I prepare for myself. I'm also more aware of what I have on hand, so food doesn't go to waste nearly as frequently as it did before. But I do look forward to amazing restaurant meals in better times.