Products You May Like
If you're a big fan of fancy yet simple seafood dinners, you're going to want to put this Shrimp Scampi on your meal plan! Buttery, garlicky shrimp tossed with linguine is not to be missed.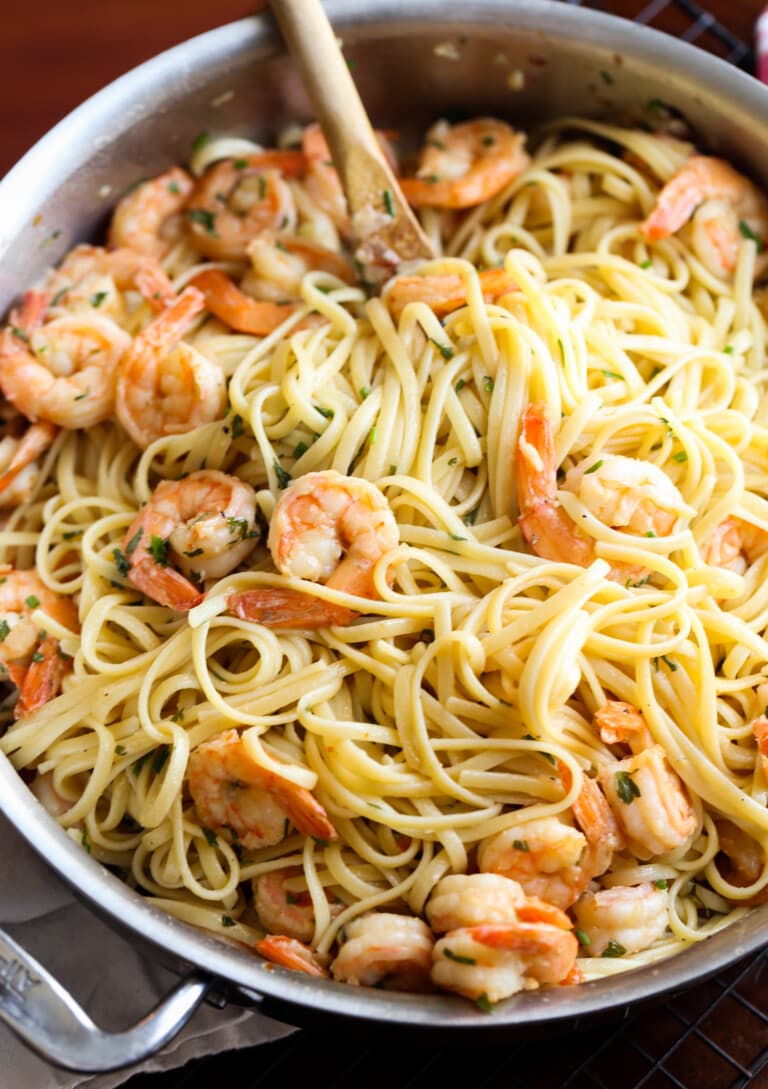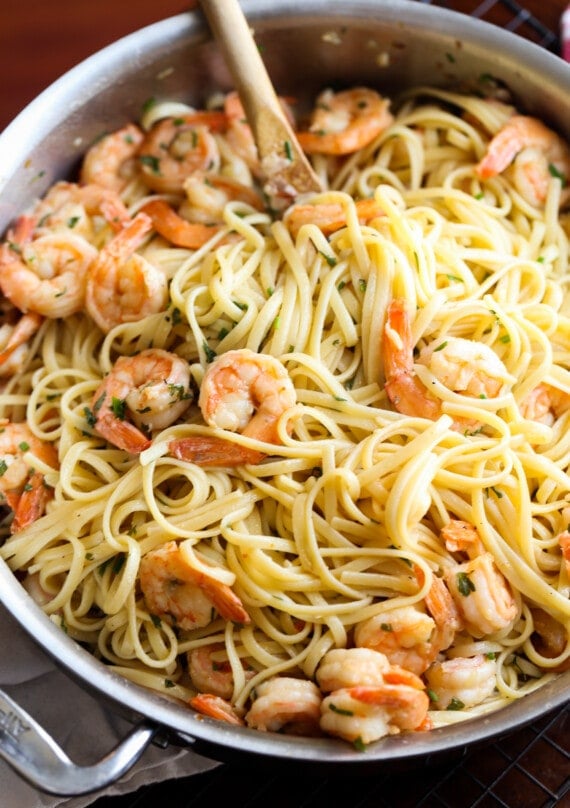 Classic Homemade Shrimp Scampi
This classic Shrimp Scampi recipe is cooked in a buttery garlic sauce, and served over delicious linguine noodles. My kids love it, my husband loves it, I love it…it's just an all around winner of a pasta dinner!
PLUS, it's done in under 30 minutes, and can be served as a casual comfort food dinner, or an elegant meal for guests. Whatever you've got going on, this shrimp and pasta will satisfy everybody's appetite – and have them asking for seconds, too!
So many times have I had a Scampi recipe that is too oily, or too bland…after a lot of testing, I nailed the perfect recipe!
What is Shrimp Scampi?
The name Shrimp Scampi is actually a little misleading. The original Italian dish was made with scampi, which is a type of Mediterranean lobster, and was/is usually served with pasta. Shrimp Scampi is the Americanized version, which uses only shrimp and no lobster – but to keep it confusing, we kept scampi in the name. 😉
Note: The garlic butter sauce, made with chicken broth instead of white wine, is perfect for dipping – so go ahead and slice up some bread!
Recipe Ingredients
Other than the obvious, shrimp and pasta, what do you need to put this meal together? Not too much more… just a couple of seasonings and ingredients for the sauce:
Pasta: Linguine is traditionally used, but you could also use angel hair or spaghetti in a pinch.
Butter: Salted or unsalted. Although, if you use salted, slightly reduce the amount of kosher salt used later.
Olive Oil: Extra Virgin Olive Oil is my go-to for this recipe.
Onion: I used a yellow onion, finely chopped.
Garlic: Minced, for the delicious garlicky flavor!
Shrimp: You'll need 24 medium cooked shrimp, deveined, cleaned, and with the shells removed.
Seasoning: I like to use kosher salt, fresh pepper, crushed red pepper, and fresh lemon juice.
Chicken Broth: Feel free to use either regular or low sodium chicken broth.
Garnish: A little bit of fresh parsley, chopped.
How to Choose Shrimp
I generally buy medium-sized frozen shrimp to make this recipe, already peeled and deveined – this cuts down on the prep work. If you're going to buy fresh shrimp, be sure to avoid picking shrimp that smells like ammonia, or shrimp that has black spots on the head and body – needless to say, these are bad signs.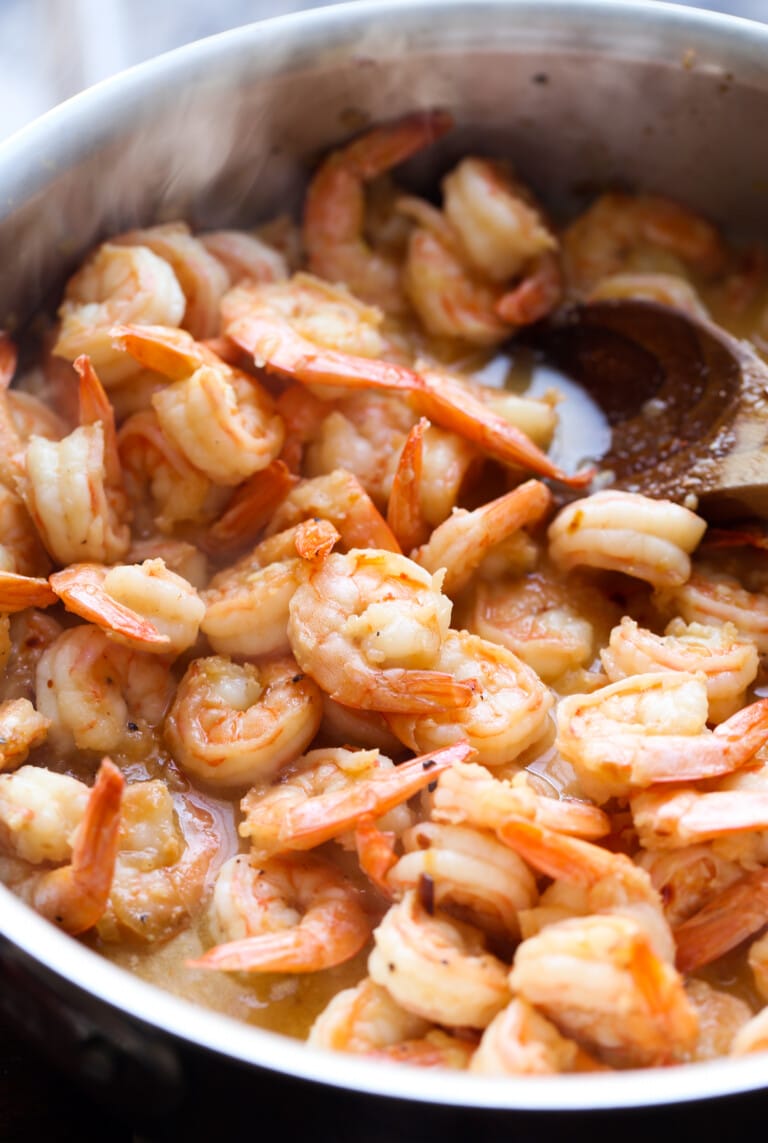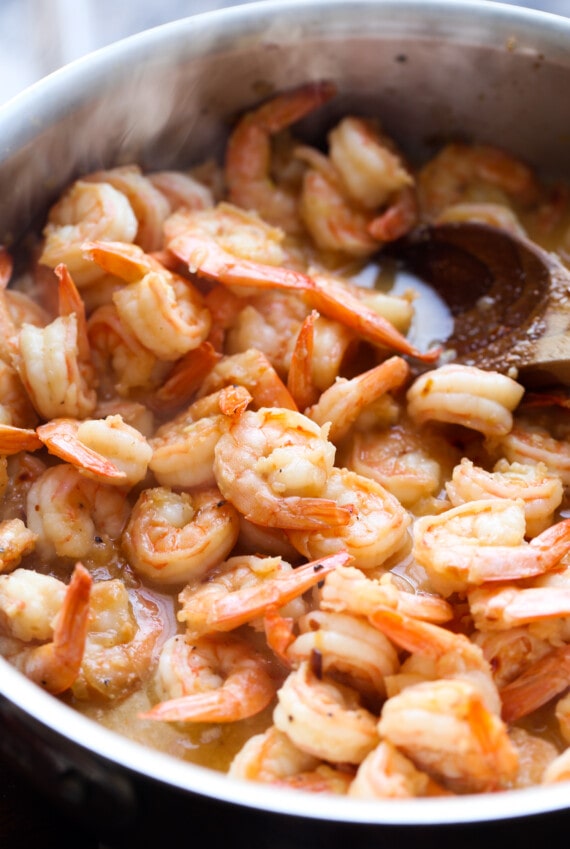 How to Make Shrimp Scampi
Obviously the first reason I love making this dinner is because it's SO. GOOD. But, I also love shrimp scampi because it lends itself so well to multi-tasking! Once the pasta is boiling on the stove, you can immediately get started on preparing the shrimp, and before you know it, dinner is on the table.
Cook the Pasta: Cook the linguine according to package directions.
While the Pasta is Cooking: Heat 5 tablespoons of butter and olive oil into a large skillet on medium heat. Add in the onion and cook for 5 minutes, or until softened. Then stir in the garlic and cook for an additional minute.
Prepare the Shrimp: Add the shrimp into the pan, season with salt, black pepper, and crushed red pepper and cook for 4 – 6 minutes or until pink and cooked through.
Make the Sauce: Stir in the lemon juice and chicken broth, bring to a boil and then reduce heat to low.
Combine with Pasta: Add the cooked pasta into the skillet along with the remaining 3 tablespoons of butter. Use tongs or a spoon to coat the pasta in the shrimp mixture.
Add Parsley: Garnish with fresh parsley, add more salt and pepper if desired and serve immediately.
Tips for Success
Need some extra tips on how to make the best shrimp scampi? You're in the right place:
Buy Deveined Shrimp: This way you don't have to spend time doing it yourself, and you can get right to cooking!
For Making It Ahead: Prepare the linguine and the shrimp and butter sauce separately, refrigerate the two components, and add them together when you're ready at dinnertime.
Shrimp Size: If you like bite-size shrimp, buy medium shrimp, but if you like bigger shrimp, buy extra-large. (They're not actually that big!)
If Using Wine Instead of Chicken Stock: Stick to dry white wines, not sweet ones – something like pinot grigio.
Tails vs No Tails: It's up to you! If you don't like the tails on, I recommend taking them off before you start cooking.
What Goes with Shrimp Scampi?
This shrimp and pasta dish is pretty filling, but there are a couple of things you could serve with it if you want to:
Bread: Choose a crusty bread to toast and serve with this meal so you can sop up that buttery sauce!
Salad: A green salad is a great side to serve with this somewhat carb-heavy dinner.
Rice: If you don't want to make pasta you can serve shrimp scampi over rice, or even zucchini noodles.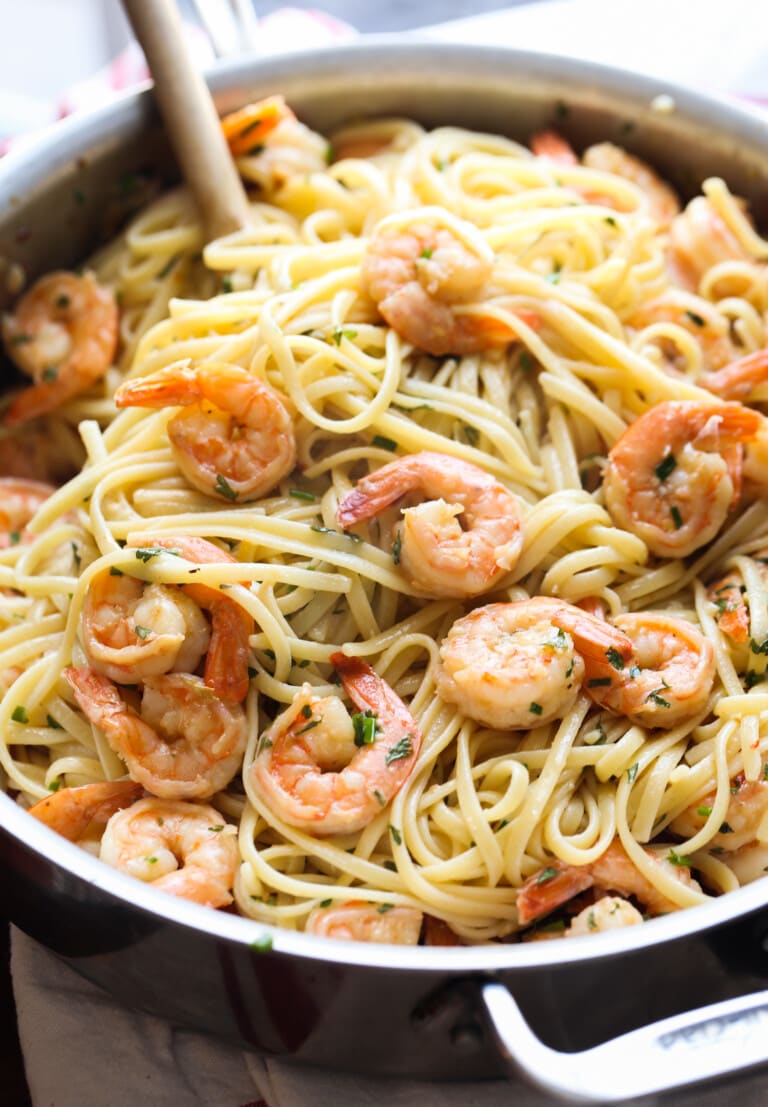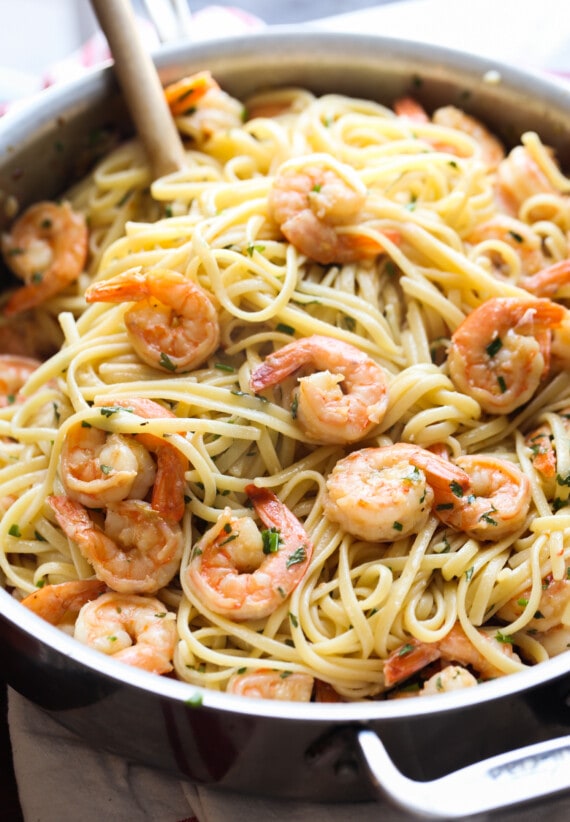 How to Store and Reheat Leftovers
You can refrigerate shrimp scampi for up to 2 days in an airtight container, or freeze the shrimp without pasta for 1-2 months.
To reheat, add some of the sauce (and maybe some extra butter and olive oil) to a pan on medium heat. Once it is hot, add the shrimp in and cook until they reach the desired temperature. You can also just microwave it if you want to.
Shrimp Scampi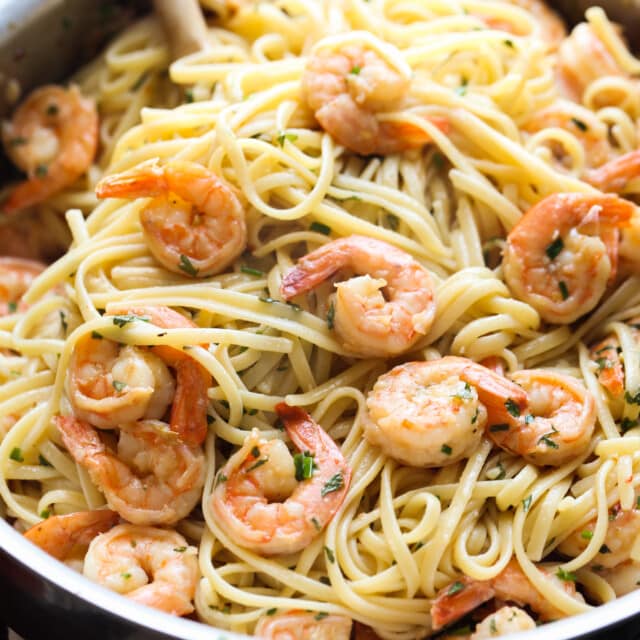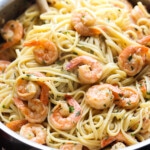 ---
Description:
If you like easy seafood dinners or classic Italian cuisine, you will love this homemade Shrimp Scampi! Who can resist garlicky shrimp, tossed in a butter sauce with linguine?
---
Ingredients:
1

pound linguine pasta

1/2 cup

butter, divided

2 tablespoons

olive oil

1/2 cup

finely chopped yellow onion

4

cloves garlic, minced

24

medium raw shrimp, deveined, cleaned, shell removed

1 teaspoon

kosher salt

1/2 teaspoon

fresh pepper

1/2 teaspoon

crushed red pepper

2 tablespoons

fresh lemon juice

1/2 cup

chicken broth

1/4 cup

fresh parsley, chopped
---
Keywords:: shrimp scampi without wine, shrimp scampi pasta, easy shrimp scampi recipe, seafood dinner recipes, Italian seafood recipes, Italian seafood pasta
Want To Save This Recipe?
More Seafood Recipes to Try
Are you a big fan of easy seafood dinners and appetizers? Check out some of these:
PIN for later: