Products You May Like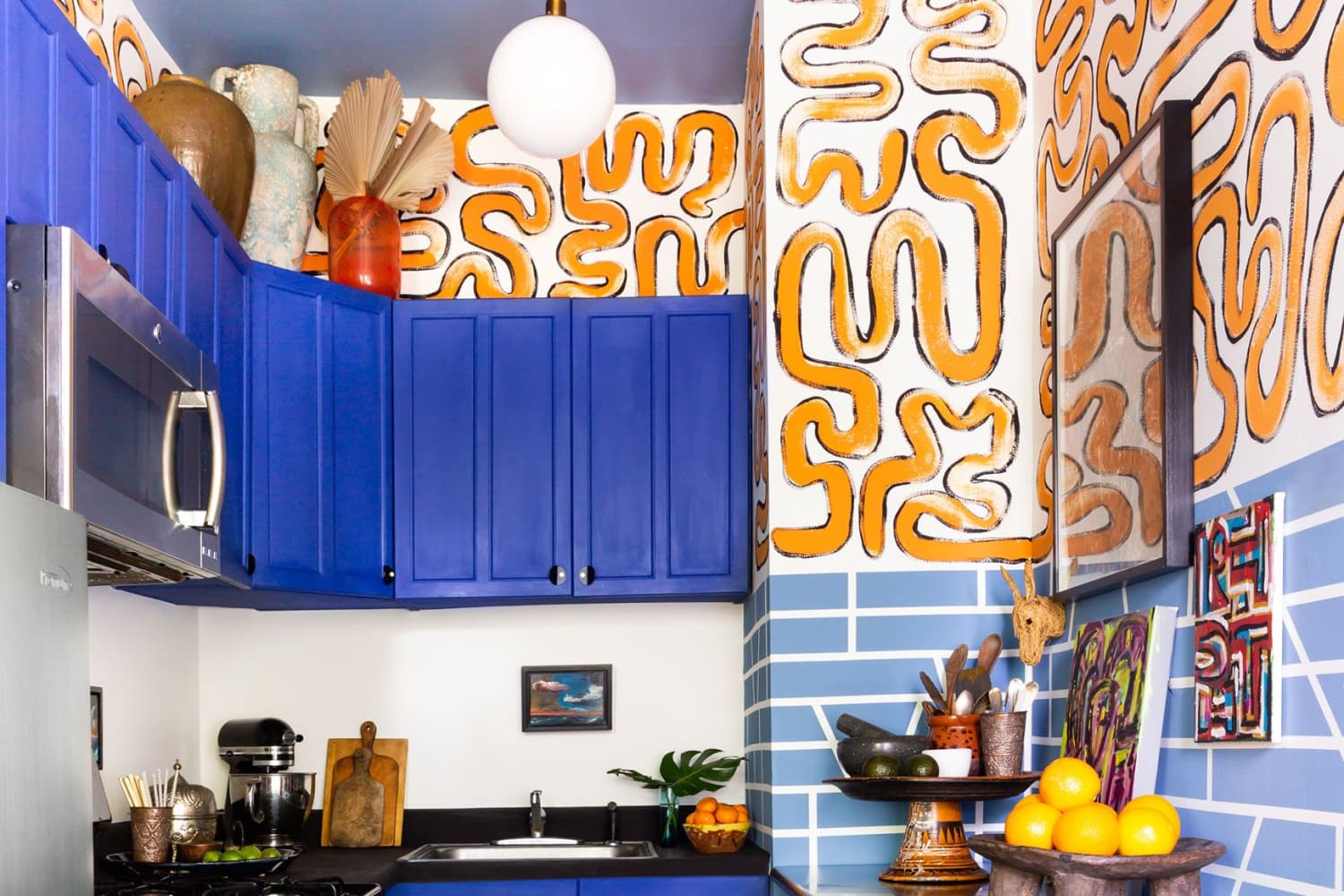 We independently select these products—if you buy from one of our links, we may earn a commission.
If you're fortunate enough to be able to build your dream kitchen, your instincts might be to load it with fancy designer features like a stainless steel range hood, French door refrigerator, and a high-tech convection oven. All new appliances beyond the budget? Trendy and reliable gadgets like a KitchenAid stand mixer, Vitamix, or Smeg toaster feel like the next best thing, often introducing a fun pop of color to your counters. One important aspect of a luxe kitchen though is the decorative elements that surround those cooking contraptions. These kinds of items are equally deserving of some of your hard-earned cash but tend to get overlooked but can make a big difference and often can cost less than you'd think.
Designer Anthony Gianacakos of Anthony George Home is no stranger to enhancing kitchen projects with pieces that will keep countertops sleek, aesthetic choices consistent, and — perhaps most important of all — your food and drinks palatable (especially if his own bold blue kitchen, pictured above, is any indicator). "My favorite decorative elements in the kitchen are those that are multi-functional," he says. "They not only add character and dimension with their design but are used weekly, if not daily, to assist with basic cooking tasks."
Wondering how to level up on the supporting cast of characters in your own kitchen? Here Gianacakos hones in on eight categories where you could invest maybe just a little more to take your kitchen from drab to all kinds of fab.
1. Glass pitchers and jugs
Whether it's water, lemonade, or wine, there's always a liquid to be poured in the kitchen. Don't create space in your fridge just to hide a plastic pitcher though when you can opt for a sturdy, beautiful glass piece instead. "You can even use a jug to display an arrangement of fresh-cut flowers," adds Gianacakos. Something hand-blown will set you back a pretty penny, but you can find nice glass vessels at big box home stores and vintage shops, too.
Your flour, sugar, and rolled oats will get the star treatment in a set of storage canisters fit for any kitchen counter. Whether it's glass, marble, or wood, chances are likely that your favorite retailer offers a variety of options to accommodate nearly every space and decor style. "They add a lot of look to any kitchen and will never go out of style," says Gianacakos. "I love these heavy marble canisters. They are a classic and feel expensive."
Buy: Marble Canisters, from $49.95 at Williams Sonoma
3. Fun candles and candleholders
Now's the time to invest in that luxurious candle, but be wary of overpowering smells. "You don't want any scents to take away from your wonderful cooking," advises Gianacakos, adding that many high-end jars boast wax shades that offer fun pops of color and are worth the extra bucks. Another idea is to find a unique candle holder that can be used for other purposes. "This simple Drop Candleholder from Design Within Reach is versatile, sleek, and also able to display your favorite candy or snack." It's also only $20! Just add a colorful votive and some candies, and you're good to go.
Buy: Drop Candleholder, $20 at Design Within Reach
Clocks are timeless (pun intended!), and when the digital numbers on your microwave or oven just seem a little too sterile for the environment, a decorative analog is always a sound investment. "I love the idea of a table clock styled among cookbooks," says Gianacakos. "I'd rather stare at something beautiful than a phone timer or appliance while baking." A wall clocks is also a nice way to add another focal point to your room and fill some blank space while you are at it.
You can never have enough lighting, and in this case, more lighting will heighten the presentation of the food and cocktails you're about to serve. "I love lamps, and I think every kitchen counter needs a small accent lamp like this round option from Circa Lighting," says Gianacakos. "When the kitchen isn't in use, think of it as a grown-up night light."
6. Serving and cutting boards
No kitchen is complete without a serving tray and cutting board to either prepare and serve (or both!) the proteins, cheeses, and produce you've gathered to host an epic weekend soirée, when hosting becomes a thing again. "I always lean a cutting board against a backsplash," says Gianacakos. "It obviously helps if it's detailed and even whimsical."
An eye-popping and unique design trend that's catching on quickly is decorative flatware sets that don't belong cooped up in a drawer organizer. "Tradition has people investing in expensive china and crystal, but why not flip the script and invest in utensils that you'll be using daily?" says Gianacakos. "Your dollar goes a lot farther, and you have a great conversation piece for any type of party." Consider something a little less typical and funky, like brass or matte black finish cutlery, or look for a set with fun, rainbow-colored handles.
8. Serving pedestal or cake stand
You've probably been taught that cake stands are meant for, well, cakes, but Gianacakos likes to think outside of the bakery box by using them as statement items to showcase other kitchen staples. "I love to have different heights on my kitchen counter," he says. "I use a cake stand or serving pedestal or both to put my go-to spices, utensils, and serving pieces. Currently, one's a vessel for my favorite sea salt, Maldon."