Products You May Like
PM Modi in Barasat: Didi has never said to have peaceful elections. People of West Bengal can understand her intention. She knows that a huge number of votes are cast for BJP. This is why she is against high voting percentage. Didi knows it's her goons who are creating violence so she doesn't speak of action against them. How will she do it? This is happening under her nose. I want to thank you for your love and want to assure you that I will repay your love with interest.
Mamata Banerjee in Dum Dum: I request Election Commission with folded hands – don't listen only to BJP, listen to all. Don't be partial.
West Bengal Elecyion LIVE: TMC lodges complaint with Election Commission against West Bengal BJP chief Dilip Ghosh over his comment on death of 4 persons in firing by security personnel in Sitalkuchi, seeking legal action against him and for banning him from campaigning for the rest four phases of elections.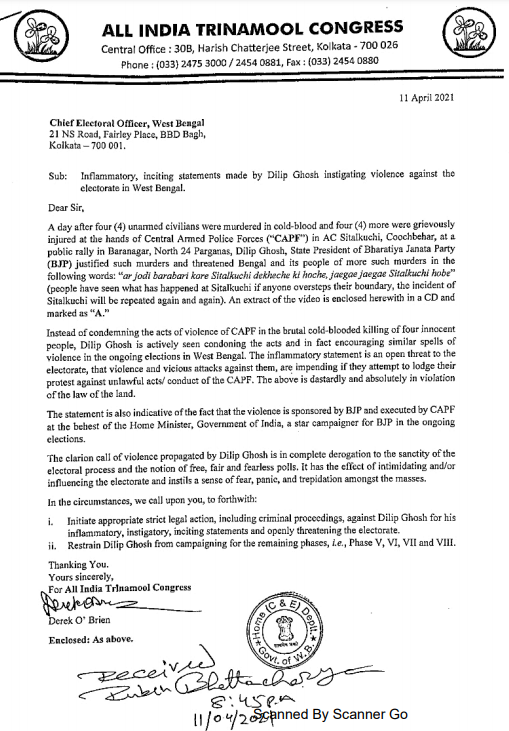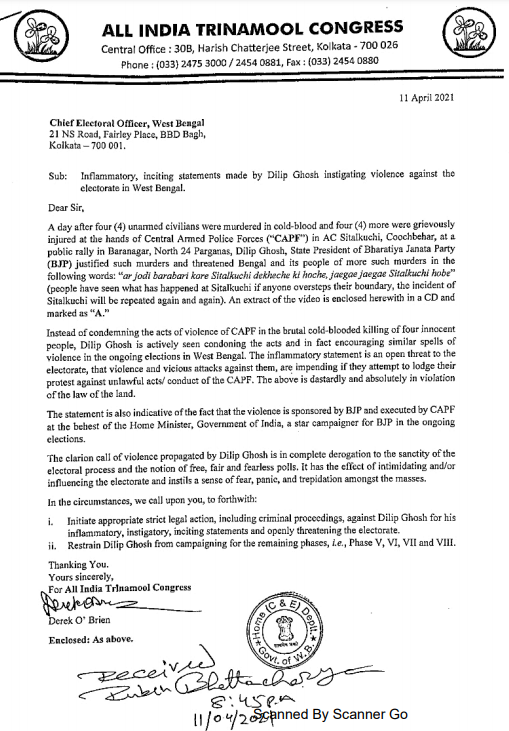 Amit Shah: Fourth phase polls were held in North Bengal. Didi instigated people, told them to gherao CRPF and loot them. People listened to her, weapons were snatched, bullets were fired, 4 people died. Didi had you not instigated them they wouldn't have died. A fifth person also died. A youth, Anand Burman had gone to cast his vote but TMC goons shot him dead. Didi is speaking about the 4 but nothing on Anand Burman. Why? It's because he belonged to Rajbongshi community that is not a part of her vote bank.
Amit Shah: If you listen to Didi's speeches you will find that she talks more about me than she talks about Bengal. Now it's being said 'Amit Shah resign'. I will resign the day people of Bengal ask me to. But you be ready with your resignation on May 2.
West Bengal Election 2021: In an apparent jibe at state BJP leaders, West Bengal Chief Minister Mamata Banerjee today said that those threatening of more Cooch Behar-like killings should be banned politically. She wondered what kind of human beings are politicians who say that there will be more Sitalkuchi-like incidents and that the death toll should have been higher. Four people were killed in CISF firing after they "attempted to snatch the rifles of the central forces" while voting was underway in Sitalkuchi in Cooch Behar district in the fourth phase on Saturday, sparking a political storm in the state. "Some political leaders are threatening of more Sitalkuchi-like incidents, while others are saying that the death toll should have been higher. I am stunned and shocked to see such reactions. What are these leaders up to? They should be politically banned," Banerjee said, while addressing an election rally at Ranaghat in Nadia district. BJP leaders were seen referring to the Cooch Behar killings and threatening that more such incidents may happen if "naughty boys" take the law into their hands and that more than four people should have been killed in the firing. Banerjee alleged that the BJP is killing its own workers and leaders and damaging their vehicles "to bring a bad name to the TMC". (PTI)
Amit Shah in Bengal: Shouldn't the Matuas and Namshudras get citizenship? Didi says they shouldn't, because she's afraid of her vote banks. Her exit on the 2nd of May is certain. We will implement the CAA and provide Indian citizenship to refugees in the region.
West Bengal Election 2021: Amit Shah says recently, Mamata Banerjee instigated some people from North Bengal to 'gherao' CRPF. The people followed on her instigations, leading to a scuffle which led to the death of 4 youths. Who is responsible for these deaths, didi?
Amit Shah: We have decided to increase the daily wages of tea garden workers to Rs 350 per day after we form the government. A mega food park and a tea park will also be set up.
PM Modi in Bengal: Didi's associates have started saying that they will throw out BJP voters! Do you approve of this language and arrogance? Didi has even started instigating her workers against Central forces! Didi, your arrogance will not be tolerated any further!
PM Modi in Bengal: I met a person from Matua community in Bangladesh recently, who said I am India's first Prime Minister who came to seek Harichand Thakur's blessings in Orakandi. Didi didn't like my Orakandi visit. Didi, country can see how you have spewed hatred towards Dalits and underprivileged for 10 years.
PM Modi in Kalyani: Perturbed with fear of losing, Didi and her party are crossing all lines. Her people are abusing SCs, STs, OBCs only because they support BJP. Seeing her defeat, Didi has strategised to stop them from voting and facilitate her goons to rig votes.
Amit Shah: Kalimpong suffered for years. In 1986 CPM oppressed you, over 1200 Gorkhas lost lives. You were not given justice. When Didi came, she took lives of several Gorkhas. You were not given justice. Choose 'Lotus' govt, we will form SIT and send them behind bars.
PM Modi in Bengal: Killing the people of Bengal for their political interests, plundering the people of Bengal to benefit their toola-baaz, betrayal of the people of Bengal to make their syndicate powerful, this is the report-card of Didi's 10 years of work.
PM Modi in Nadia: The overwhelming turnout in the four phases is for Ashol Poriborton. Ashol Poriborton means the development of Bengal, the development of the people of Bengal. Ashol Poriborton means liberation from Didi's misrule, Didi's syndicate, freedom from Tolabas.
Amit Shah in Kalimpong: Misinformation being spread that if NRC will be brought, Gorkhas will be ousted. NRC hasn't been brought yet. But even if it's brought, not even one Gorkha will be ousted. The TMC lies. Not even one Gorkha will be affected.
West Bengal Election 2021: A BJP delegation submitted a memorandum to the ECI regarding violation of Model Code of Conduct by TMC leader Sujata Mondal Khan who referred to the Scheduled Caste community of Bengal as 'beggars by nature' in a highly disparaging insulting statement.
PM Modi in Bardhaman: Didi's people abuse Bengal's SC community and call them beggars. Baba Sahab's soul would be hurt by hearing such bitter words. Didi calls herself 'Royal Bengal Tiger'. Such comments on SCs cannot be given by any TMC leader without Didi's will.
PM Modi in Bengal: Didi, if you want to express your anger, I am here. Abuse me all you want. But don't insult Bengal's dignity and tradition. Bengal won't tolerate your arrogance, tolabaaz, cut money syndicate because people want 'asol poribartan' now.
PM Modi in Bardhaman: Didi has made a big mess in the name of governance in Bengal. To celebrate a birthday, ask TMC. If you want to build a house, then give TMC a cut-money. If you want to take ration, then give TMC a cut-money. If you want to take your luggage somewhere, bring your luggage, then give the cut-money to the TMC.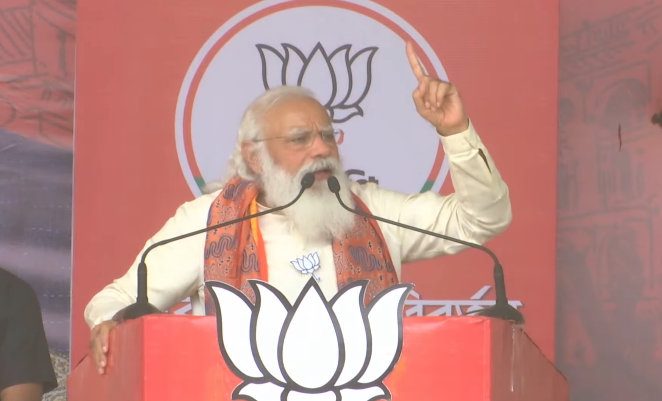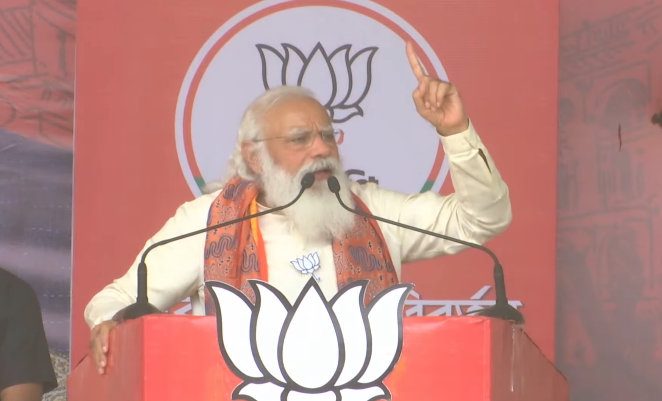 PM Modi in Bardjhaman: In the four-phase election, the conscious people of Bengal hit so many fours and sixes that the seats of BJP have become centuries. Those who were thinking of playing with you have themselved be gamed.
PM Modi in Bardhaman: Didi's bitterness, her anger, her fury continues to grow. Do you know why? I tell you. Because in half of the elections held in Bengal, you have completely defeated the TMC. That is, TMC is completely defeated in half the election.
West Bengal Election: The Trinamool Congress on Sunday accused Union Home Minister Amit Shah of engaging in divisive politics over the death of five people in Cooch Behar district during the fourth phase of polling. Senior party leader and Rajya Sabha MP Sukhendu Sekhar Roy told reporters here that Shah was knowingly "suppressing facts" and giving a communal twist to the incident for electoral gains. Roy said Shah's comments about West Bengal Chief Minister Mamata Banerjee only highlighting the killing of four people in firing by CISF personnel on Saturday and not mentioning the death of another man elsewhere in the district, was untrue and made with a sinister design. "Our CM has referred to the deaths of five people in two incidents in Sitalkuchi and paid tribute to all the five brothers. To our knowledge, the state government will provide compensation to their families," Roy said. Apart from the four people who were killed when CISF personnel opened fire, an 18-year-old voter was gunned down outside a polling booth after clashes broke out between activists of the ruling TMC and the BJP. (PTI)
West Bengal's Covid-19 tally rose to 6,14,896 on Sunday as 4,398 more people tested positive for the infection, while 10 fresh fatalities pushed the state's coronavirus death toll to 10,400. Kolkata reported the highest number of new cases at 1,109 followed by 1,047 in North 24 Parganas district. North 24 Parganas district reported the highest number of fresh fatalities at five, followed by three in the metropolis and one each in South 24 Parganas and Birbhum districts. The state has reported 27,981 new coronavirus cases and 71 fatalities since April 1. As many as 1,773 more people have been cured of the disease in the last 24 hours, while the recovery rate among the coronavirus patients in the state slipped to 94.41 per cent. The state now has 23,981 active cases, while 5,80,515 people have recovered from the disease so far. West Bengal has so far tested over 95.10 lakh samples for COVID-19, including 40,372 in the last 24 hours. (PTI)
West Bnegal Election 2021: Home Minister Amit Shah will hold two roadshows and two public meetings today in West Bengal.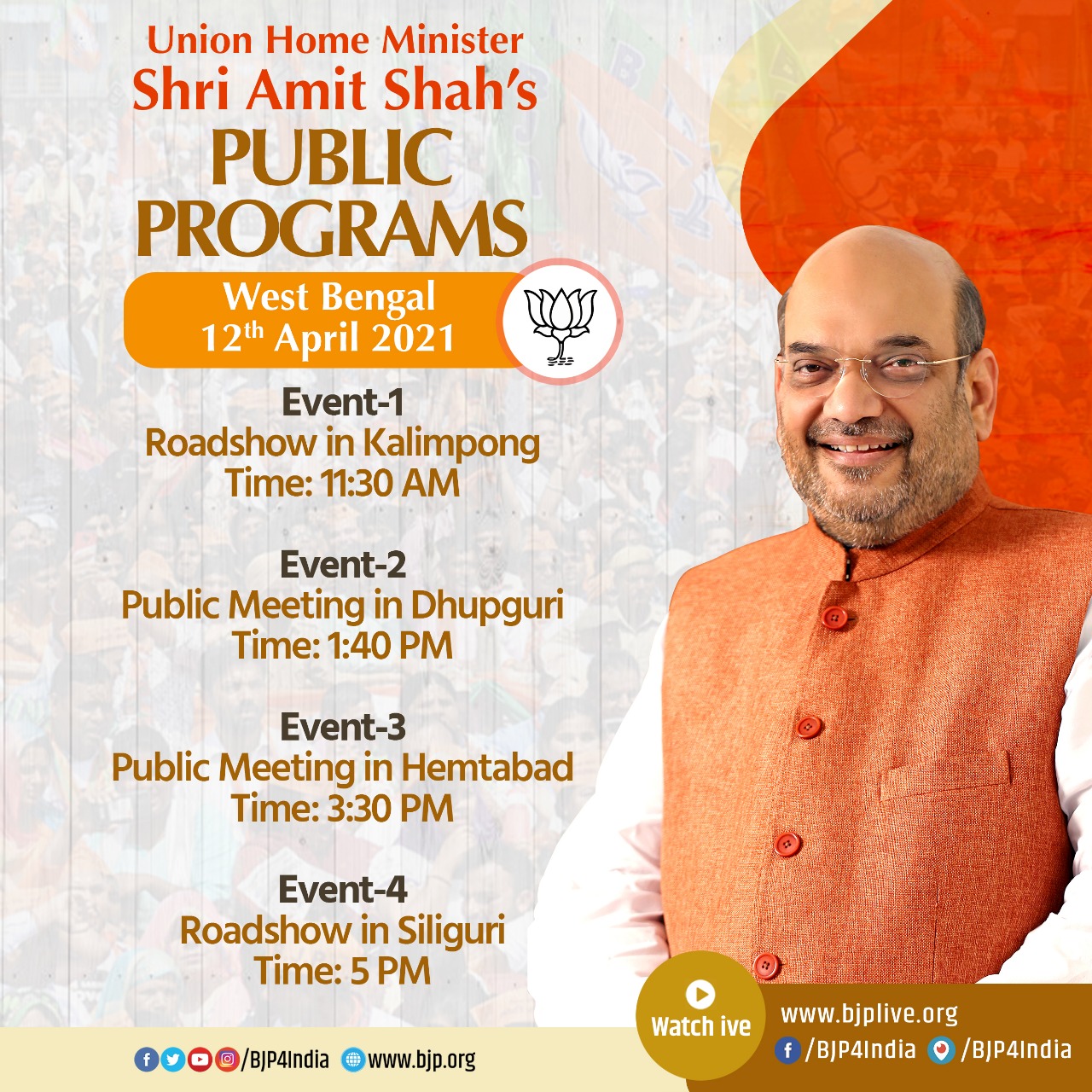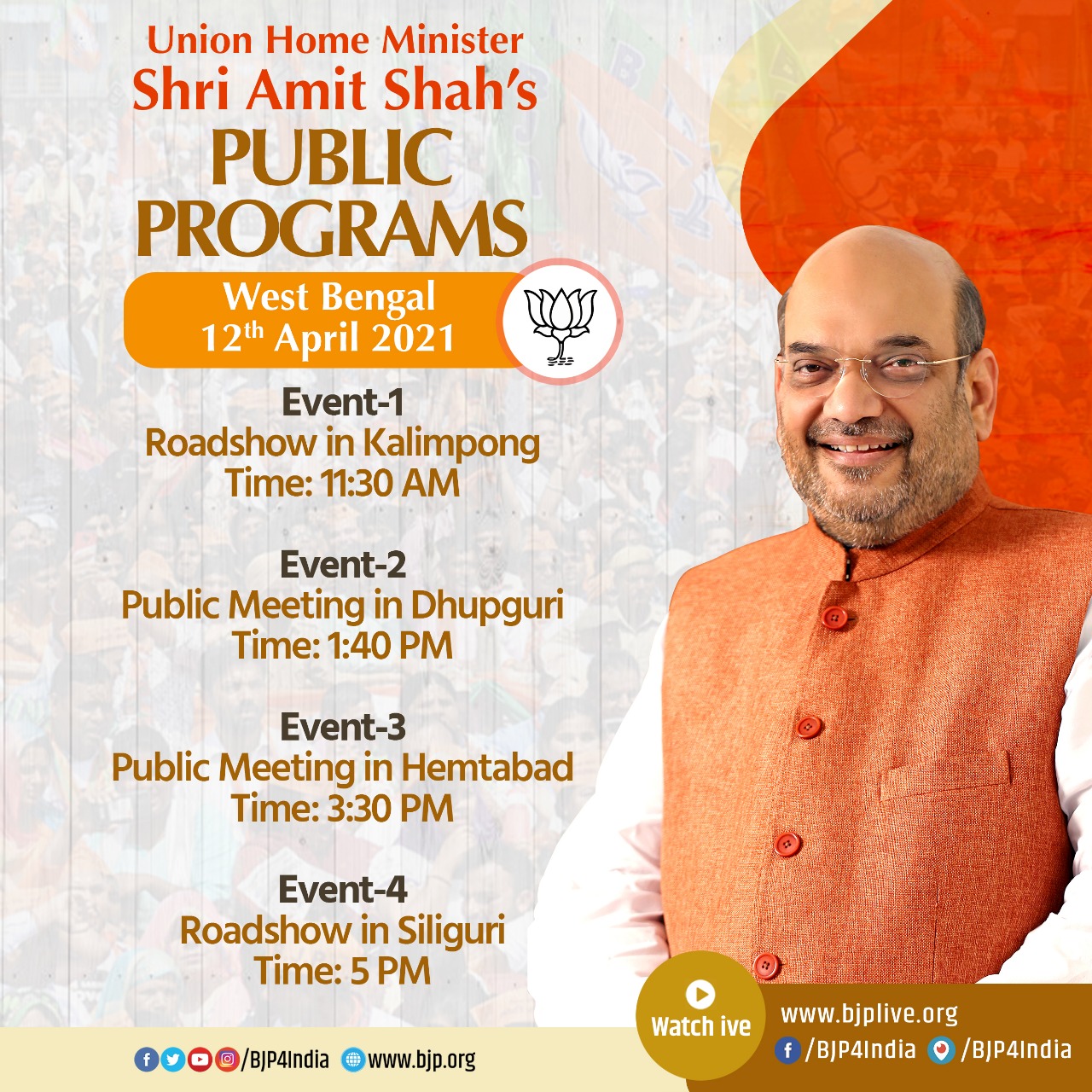 Prime Minister Modi will today address three rallies in West Bengal.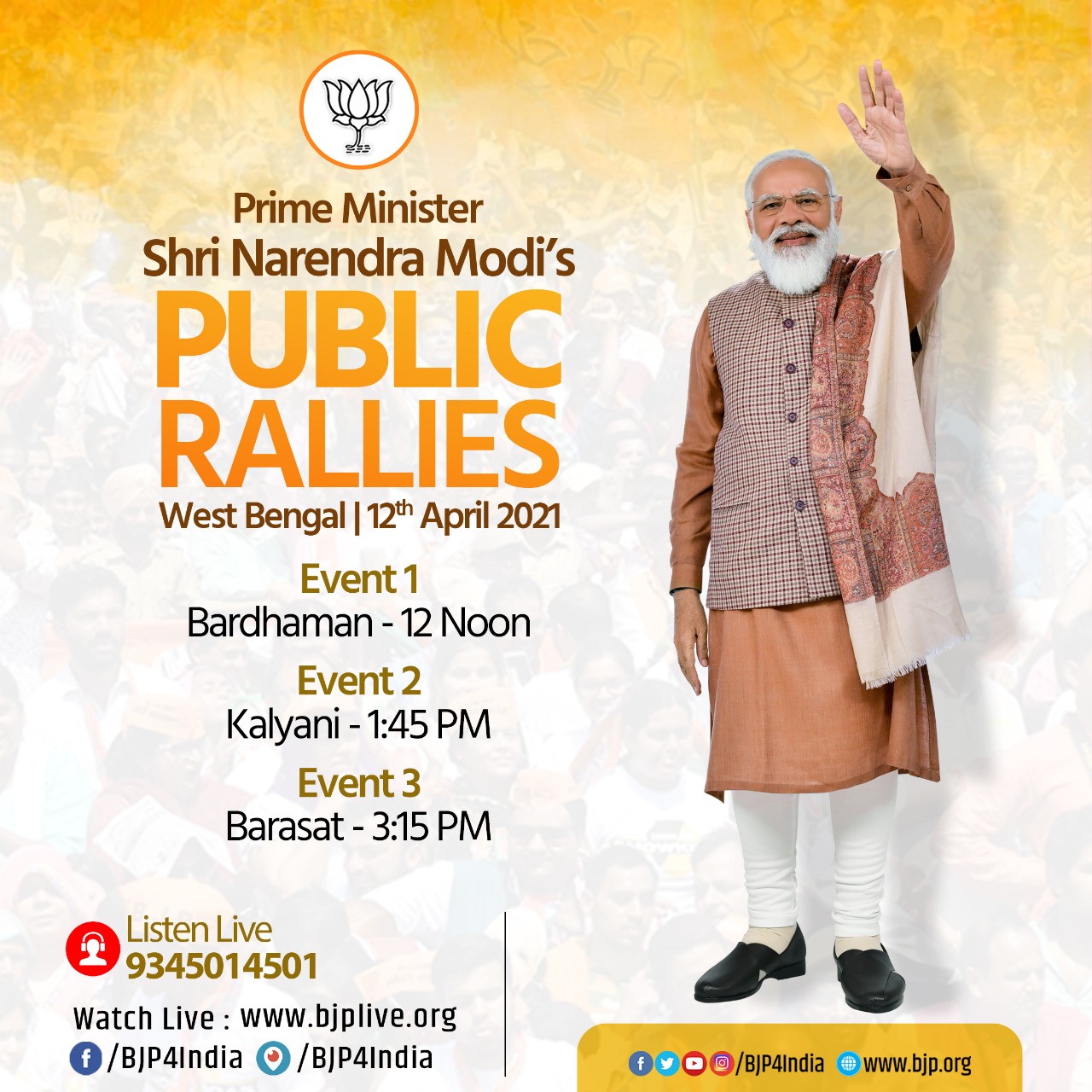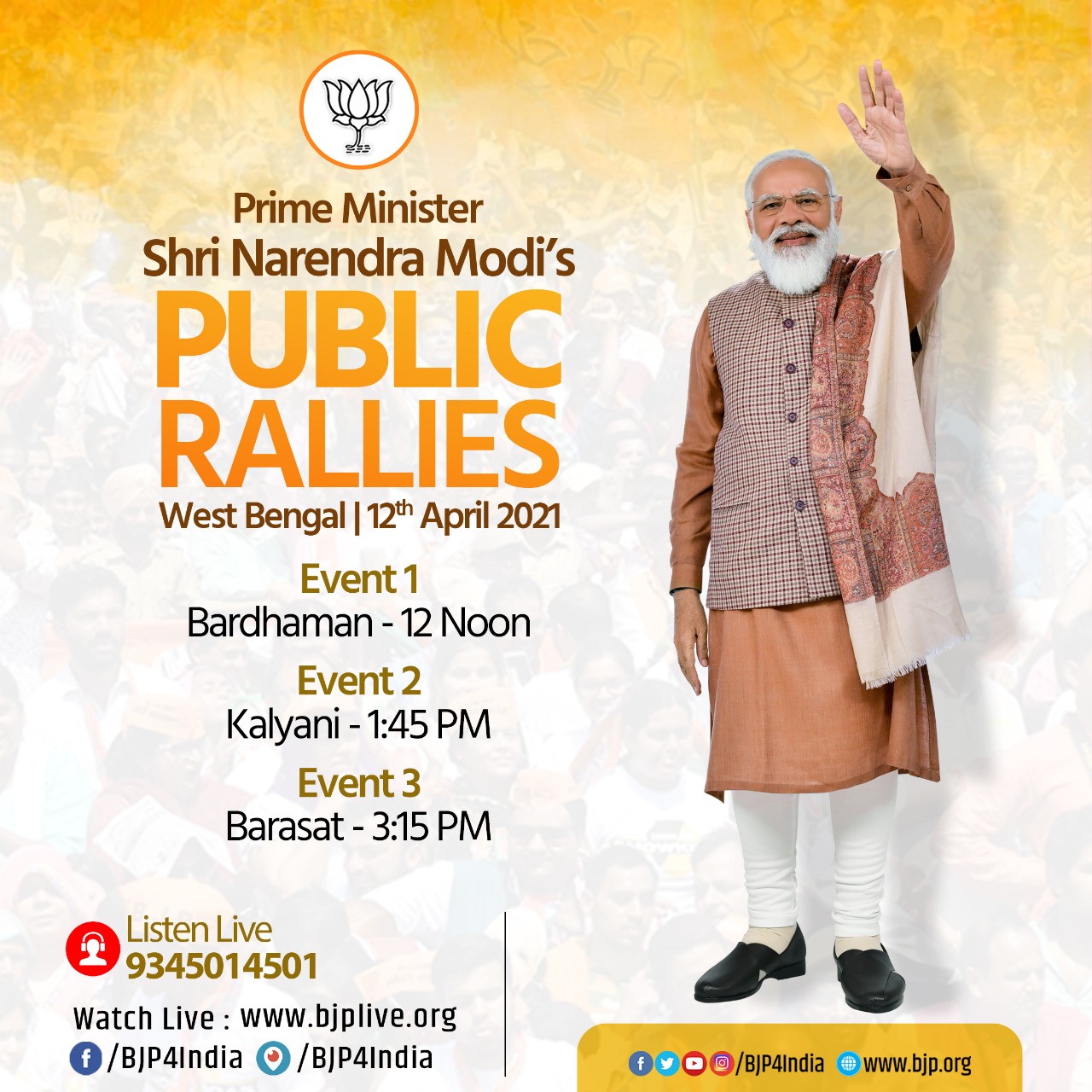 West Bengal Governor Jagdeep Dhankhar yesterday said those in authority must ensure respect for constitutional institutions and central forces engaged in public duty. His comments came just a day after the state slipped into chaos when five people were killed in two different incident of firing (including four in CISF firing) during the fourth
phase of polling
in Cooch Behar. "People in authority must show statesmanship and ensure respect for constitutional institutions and CAPF engaged in public duty," the Governor said in a tweet.
West Bengal Chief Minister
Mamata Banerjee on Sunday described the incident of firing as "genocide" and claimed that the tragedy was the "result of a conspiracy" hatched by the saffron party to intimidate voters.