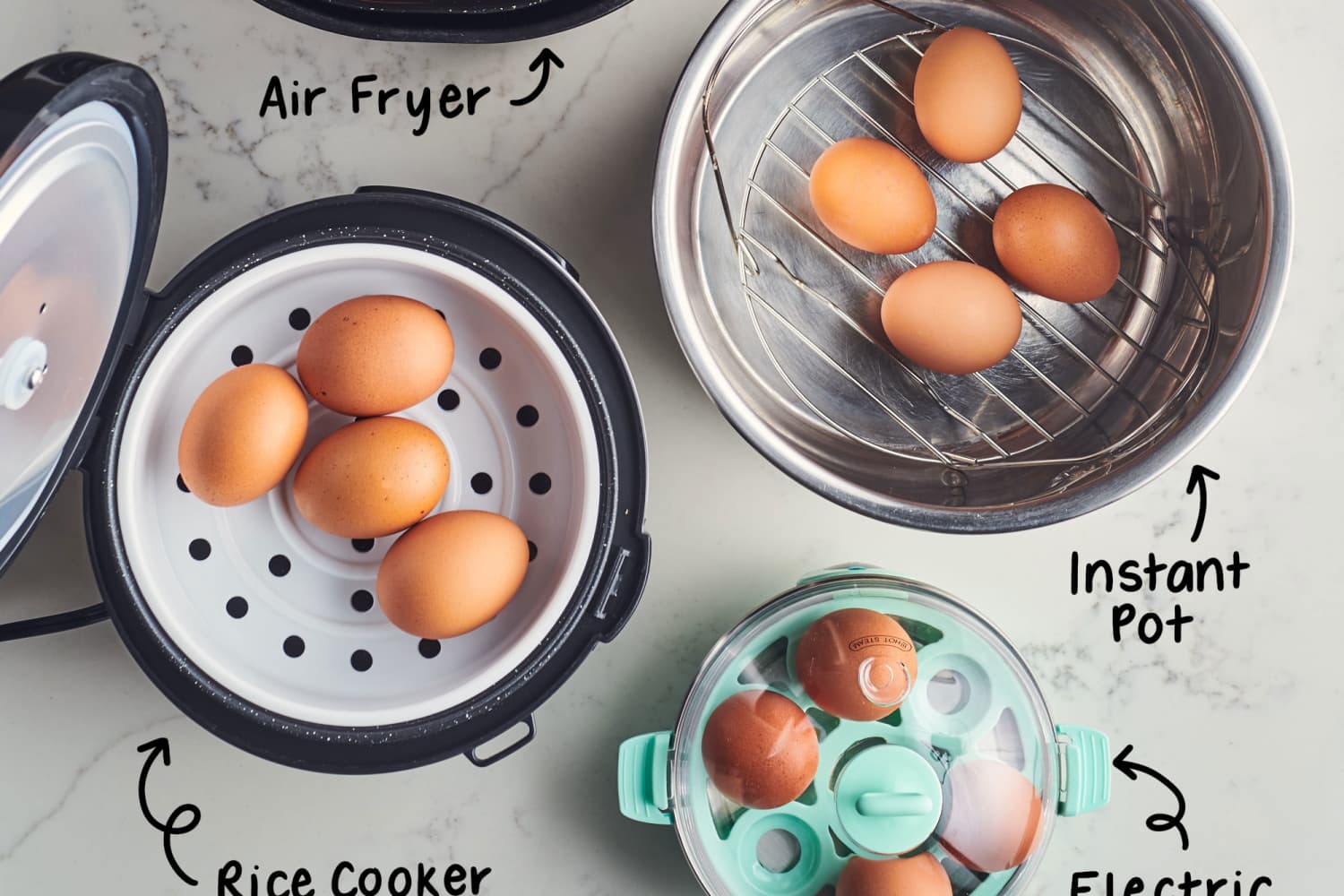 We independently select these products—if you buy from one of our links, we may earn a commission.
My husband hates hard-boiled eggs. So when I told him that I would be making dozens of them to find the very best gadgets and small appliances for making said eggs, he knew it would be his "least favorite" of all the testing I do at home for work. Luckily, I happen to like hard-boiled eggs.
While I've only ever made them on the stovetop (with a saucepan and boiling water), I've been wondering if it's actually worth it to invest in a gadget specifically made for hard-boiled eggs? Are they too extra for even the most ardent of egg enthusiasts? And what about using a rice cooker, or an Instant Pot, or an air fryer?
To find out which gadget worked best, I put them to the test: Making (what else?) hard-boiled eggs in each. Here's what I found out.
How I Tested the Egg Cookers
I grabbed several cartons of eggs (all from the same brand with the same expiration date) and got to it. For the Instant Pot and air fryer, I followed these instructions. For the rice cooker, I tried two methods: steaming and boiling. And for the electric and microwave egg cookers, I followed the manufacturer's instructions. (I'll detail each further below.) I looked at the final egg quality (did they meet my eggs-pectations?), how easy each gadget was to use, and how long they took to hard-boil the eggs.
The ratings: Each method received a rating, with one being my least favorite and five being the best. Like the rest of our showdowns, this one considered the final results, ease, and price. Keep reading — along with the rating, you'll find more detailed notes.
Hard-Boiled Egg Tool: Rice Cooker
Eggs: 3/5
Ease: 4/5
Price: 5/5 if you already own a rice cooker (I used this one, which costs about $35)
Rating: 3/5
There are lots of different methods for making hard-boiled eggs in a rice cooker, but I first tried boiling the eggs, as that seemed the closest to how hard-boiled eggs are usually made. I added water to the cooking pot and followed these instructions, which said they'd hard-boil in 10 minutes. However, the eggs were still underdone (not even soft-boiled) after 20 whole minutes of cooking. So, I decided to try steaming the eggs and used these instructions, placing water in the cooking pot and adding the steamer basket (which some rice cookers come with). I steamed a new batch of eggs for 20 minutes, after which I removed them and placed them into an ice bath. The resulting eggs were slightly runny and soft-boiled, but not hard-boiled. Overall, I thought the rice cooker results were too inconsistent for it to get the top spot.
Hard-Boiled Egg Tool: Microwave Egg Cooker
As someone who didn't own a microwave until very recently (the house we just bought came with one!), I was, shall we say, eggcited to try this cooker. Of course, it's a unitasker, which you may either love or hate. But it's cute, shaped like a large egg, and did actually work. To use it, I filled the base with water up to the indicated level, added the cooking plate, placed the eggs onto the cooking plate, and put the top on. I followed the manufacturer's instructions for cooking time based on the wattage of my microwave, which took about 10 minutes. The eggs came out decently cooked, however, the cooker got really hot and it was tough to grab it out of the microwave, as it doesn't have any handles. It also has a maximum capacity of four eggs, which isn't ideal if you're making a large batch for meal prep or an egg salad.
Hard-Boiled Egg Tool: Electric Egg Cooker
This electric egg cooker comes in some fun colors and costs about $20, which isn't bad if you're a serious hard-boiled egg devotee. It can accommodate up to six eggs and comes with a little water cup with different markings depending on your desired egg doneness (hard, medium, soft); the more you want your eggs cooked, the more water you use. Also, the manual says that the cooker has a thermal sensor that automatically turns off when the water evaporates. It took about 16 minutes for hard-boiled eggs. The eggs were well-cooked, with a slightly jammier center than those from other gadgets. I liked the handle on the lid, which made it easy to lift. The biggest drawbacks for this gadget are that it is a unitasker (which some might dislike) and it emits a very loud noise when it's finished cooking (it doesn't stop until you power off the machine).
Hard-Boiled Egg Tool: Instant Pot
Eggs: 5/5
Ease: 4/5
Price: 5/5 if you already own an Instant Pot!
Rating: 4.6
For this method, I followed these instructions: Placing water in the cooking pot, adding eggs to the steamer rack/trivet, cooking them on low pressure for 9 minutes, and cooling them in an ice bath. The eggs turned out nicely cooked and if you're an Instant Pot fan, you'll probably love using it for hard-boiled eggs, too. My only con is that you have to reach into the deep Instant Pot to retrieve the eggs, so get yourself some good tongs.
Hard-Boiled Egg Tool: Air Fryer
Eggs: 5/5
Ease: 5/5
Price: 5/5 if you already own an air fryer!
Rating: 5
Okay, I loved using an air fryer to make hard-boiled eggs. Which I was not expecting! I followed these instructions: I heated the air fryer to 250°F, added the eggs to the basket in a single layer, and cooked them for 16 minutes. Then, I cooled them in an ice bath. They were perfectly cooked and the shallow air fryer basket made it easy to retrieve the eggs. The basket's large capacity allows me to cook at least eight eggs at a time (way more eggs than I ever need at once). And while it wasn't the quickest of all the methods, I loved that I didn't have to use any water and that cleanup was a breeze.
Do you have a favorite gadget for making hard-boiled eggs? Tell us about it in the comments!