Products You May Like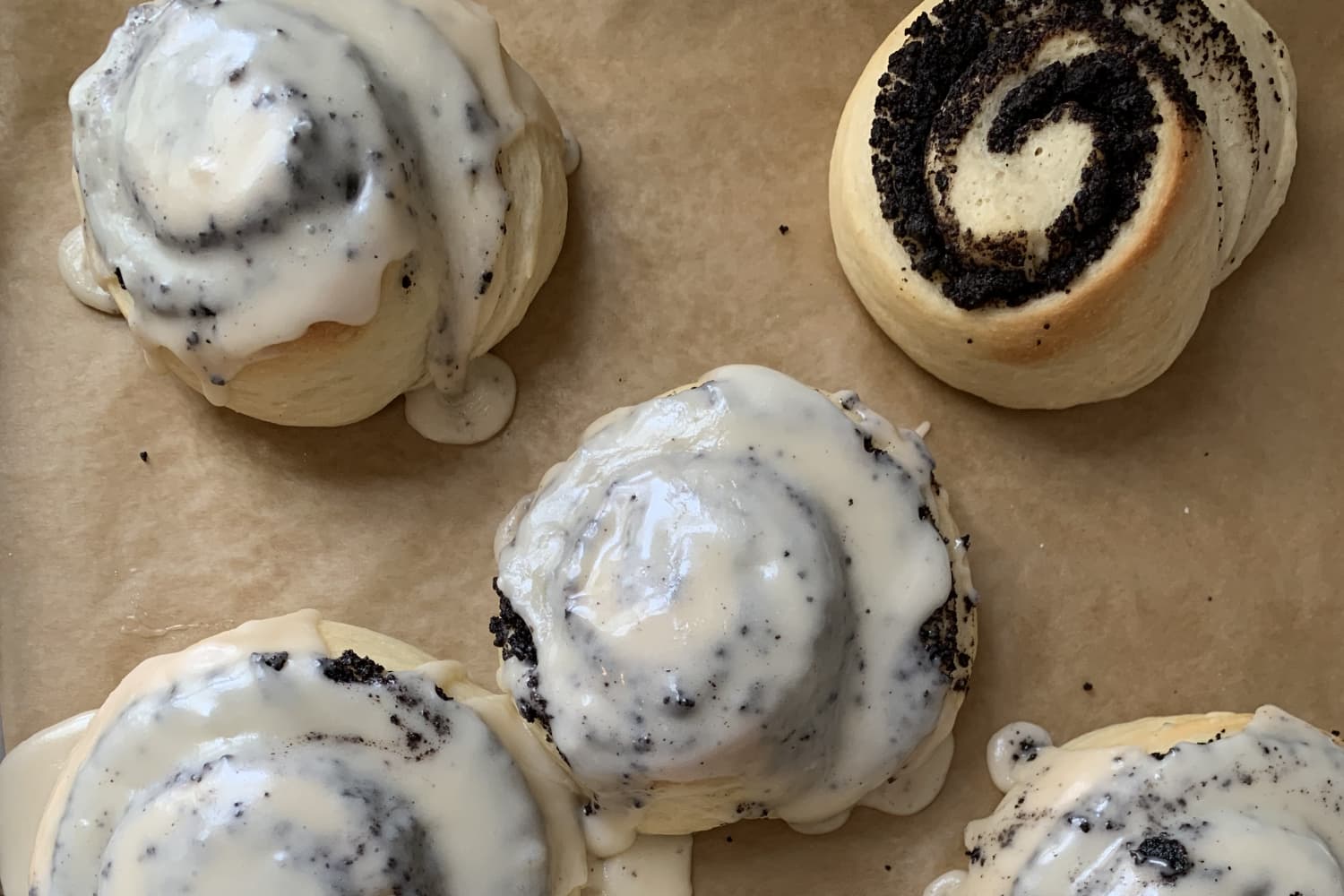 There is nothing more luxurious to me than a breakfast pastry. Scrambled eggs and bacon might provide necessary protein, and overnight oats are fiber-packed and filling. But a breakfast pastry? That's how to chose joy first thing in the morning.
How to Make Cookies and Cream Rolls
Many cinnamon roll recipes are a two-day saga, but this recipe is designed to be made in a few hours (but don't be fooled, it's still a project).
To start, you'll briefly cook a small amount of bread flour and milk in a saucepan until it forms a paste. This method is called tangzhong, which is a Japanese technique that makes the rolls moist for days. Transfer the paste to your mixing bowl and add more milk, bread flour, salt, sugar, instant yeast, and butter. Mix the dough in your stand mixer (or by hand or in a bread machine), cover with plastic wrap, and let rise.
In the meantime, make the filling. Melt some butter, and crumb-ify some chocolate sandwich cookies in your food processor. Then, shape the dough into a rectangle, brush with melted butter, top with cookie crumbs, and roll into a cylinder. Cut the cylinder into eight equal pieces with the help of some dental floss (yes, really). Place the rolls 2 inches apart on a parchment-lined sheet pan, cover with plastic wrap, and allow to rise again.
Bake the rolls at 375°F for 14 to 18 minutes, or until an instant thermometer reads 190°F. Make the icing (butter, vanilla extract, salt, powdered sugar, milk), ice the rolls, and serve immediately.
My Honest Review of Kate Wood's Cookies and Cream Rolls
Maybe it was because it was Friday afternoon. Or maybe it was because I was listening to the Mortal Kombat theme song on repeat for too long. But my mind sort of broke when I bit into these rolls. How do I even begin to describe them? They are both deeply familiar, and somehow elusive. It tasted like an Oreo? But with dough? An Ore-DOUGH? Maybe the best way I can describe it is an un-fried Oreo. Whatever it is, it's freaking delicious.
I was impressed by how fast this recipe came together (especially when compared to other cinnamon roll recipes). As promised, the roll itself was soft and slightly chewy. The recipe was on the verge of being too sweet and too rich, but it managed to play inside the lines. And while I'm normally on Team Cream Cheese Frosting, I love how this simple icing melted and encased the rolls.
What I enjoy about this recipe the most, however, is how smart it made me feel. It's packed with so many tips and tricks (and most of that brilliance comes from the original King Arthur recipe.) I knew some of them already, but I'm going to list them all out to honor the ingenious nature of this recipe.
4 Tips for Making Cookies and Cream Rolls
Have you made these cookie and cream rolls from Kate Wood? Let us know in the comments.