Products You May Like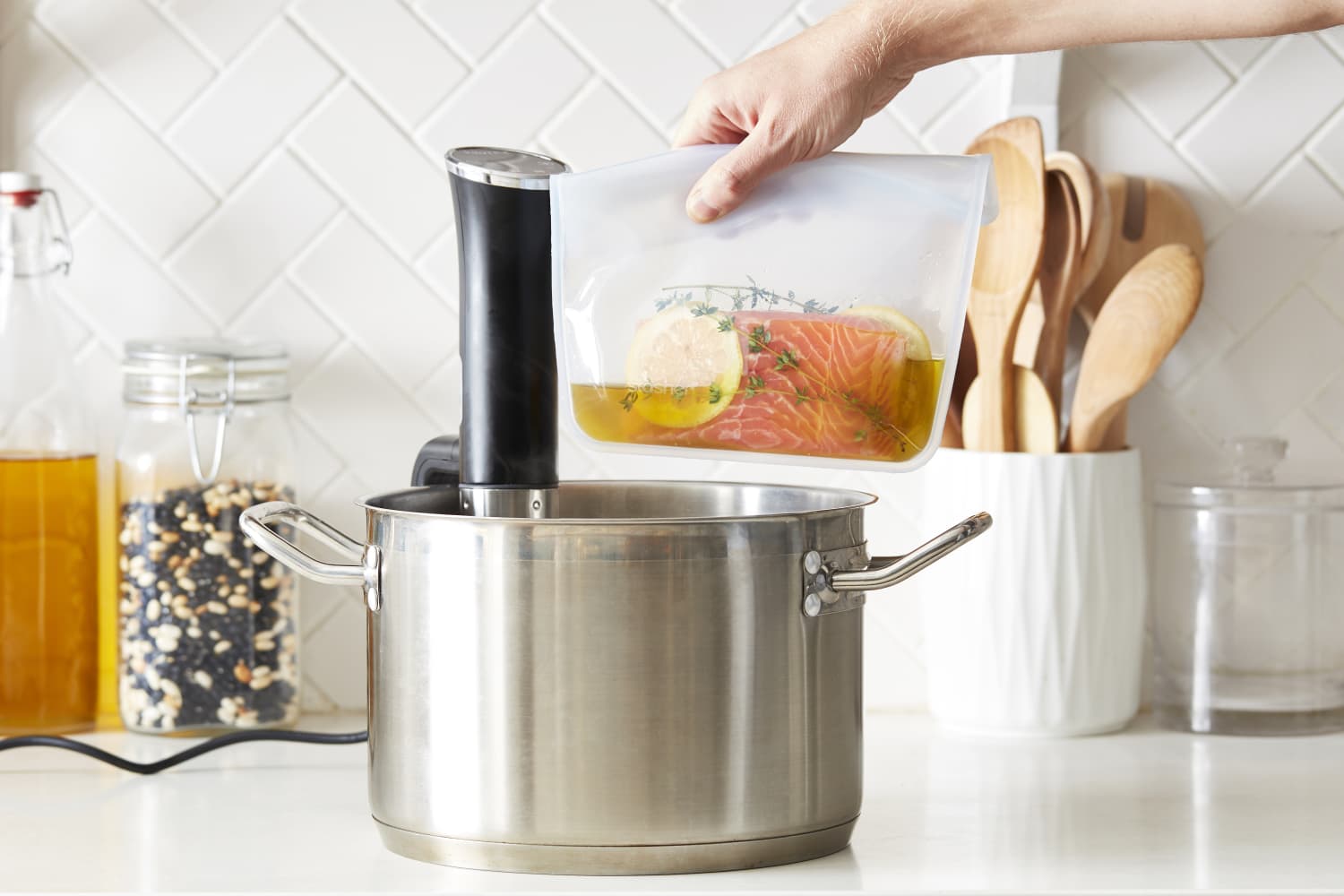 We independently select these products—if you buy from one of our links, we may earn a commission.
Maybe you held out on buying a sous vide machine (also called an immersion circulator) because you thought it was just going to be a passing trend? And now you're tired of hearing your brother-in-law talk about how the only way he'll eat steak is if he's had the time to sous vide it? You want to experiment at home! But you don't know the first thing about buying a sous vide machine? We looked to see what machines other food sites had to recommend (and what people were buying on Amazon), and then weighed in with our own two cents.
What Is Sous Vide Cooking?
For those of you who clicked on this but are still unsure what sous vide cooking is, let's take a quick step back. To sous vide something, you first need to vacuum-seal the food in plastic pouches and then you submerge it, and cook it slowly in a temperature-controlled water bath. (You need a sous vide machine to control that temp.) This warm water cooks the food slowly and at a low temperature. Sous-vide cooking results in perfectly cooked food (most usually meat or eggs) with intense flavor.
Anova Precision Cooker Nano
The Best Sous Vide Machine, According to Wirecutter
The folks at Wirecutter have tested dozens of sous vide machines over the last six years and ultimately picked this machine for a few reasons. They liked that it's small and affordable, and that its consistently accurate temperature control is right up there on the level with more expensive machines. They also liked its intuitive touchscreen interface, the Bluetooth app, the fact that the machine beeps when the water comes to temperature, and that it's otherwise pretty quiet.
The Best Sous Vide Machine, According to Cook's Illustrated
The team at Cook's Illustrated gave the Joule a perfect score for accuracy and cooking, and took away just half a star for speed, versatility, and ease of use. It doesn't have a display, so you have to use your smartphone to work it, but the editors note that the app is intuitive and easy to use. They really liked that there is a large distance between the minimum and maximum water lines, meaning you can tackle a long cooking project without having to worry about refilling the pot. Also notable: the machine's magnetic bottom, which sticks to metal pots and keeps the device upright.
The Best Sous Vide Machine, According to Serious Eats
Over at Serious Eats, the team was impressed by the Joule's ridiculously small (and good-looking) design. Testers said it heated water quickly and quietly, and was incredibly accurate. Of course, they also pointed out that you need to pair your smartphone (or tablet or Alexa-enabled device) with it in order to use the device, but said it's easy enough to do.
The Best Sous Vide Machine, According to Epicurious
Testers at Epicurious also loved the magnetic bottom on the Joule, its sleek space-saving design, and its ability to heat water quickly. They said the Joule, which is powered by 1,100 watts, took 15 minutes to heat water to 149° while a similarly priced 900-watt machine took more than 20. If you're wondering, this Joule is $200 and the other model picked by Serious Eats and Cook's Illustrated is $250 because the former has a plastic cap on the top instead of a stainless steel one.
Anova Precision Cooker Nano
The Bestselling Sous Vide Machine on Amazon
This Anova model (also Wirecutter's top pick) is the bestselling sous vide machine on Amazon with more than 8,500 reviews, 86 percent of which are five stars. Happy customers note that it's easy to use, can run for more than 30 hours without needing a water bath refill, and fits nicely into drawers when not in use. It's also worthwhile getting this lid and container, which fit the Anova perfectly and will make for easy cooking.
Kitchn's Thoughts on the Best Sous Vide Machine
Although many Kitchn staffers have played with (and loved) the Joule, we recognize that $200 (or $250) is a lot of money to spend. Especially when you can spend way less than that on the Anova Precision Cooker Nano and still get a machine with an intuitive user experience that churns out consistent results.
Know that the Anova Precision Cooker Nano isn't the most powerful (it's only 750 watts), so that means it will take longer for the water to heat up (compared to sous vide machines with a higher wattage). But once the water is ready, the Nano really does keep water at a consistent temperature for as long as you need it to.
Do you have a sous vide machine at home? Which one do you have? Tell us about it in the comments below!