Products You May Like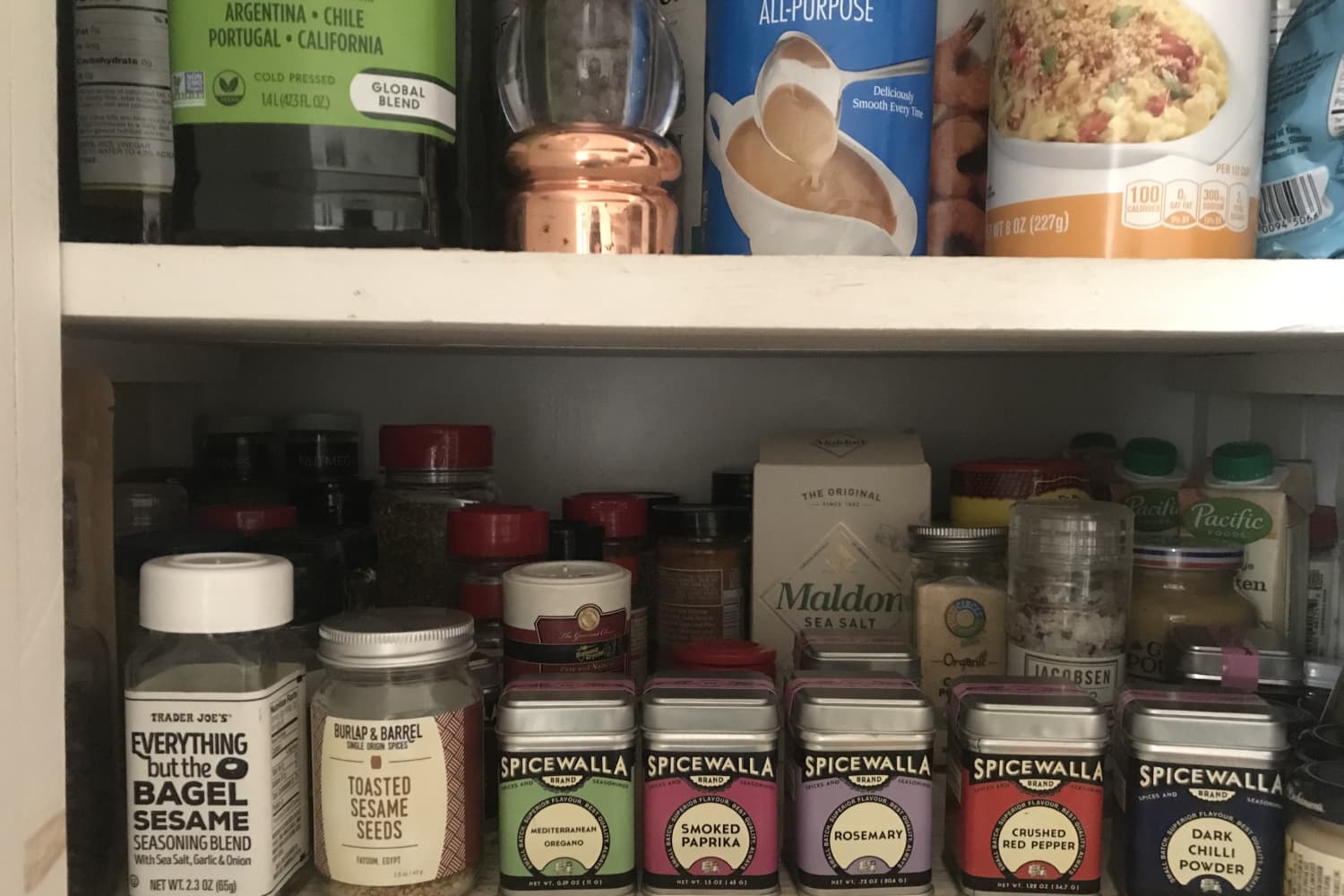 We independently select these products—if you buy from one of our links, we may earn a commission.
While I remain forever grateful to have a pantry in my kitchen, I would like to take a second to talk about how awkward it is. (How awkward is it? More awkward than I'll be when I finally start going to social events again!) Seriously, though: The previous homeowner had it installed on the corner that rounds from the dining room/kitchen to the downstairs powder room. The pantry (really just a tall cabinet) sits catty-corner, which is odd enough, but then when you open it, things get even weirder.
The door opens only to reveal a narrow access point to the shelves, which extend fairly far back and also to the left and the right of the opening. The shelves themselves are also not adjustable. It's all fine. Weird, but fine. But also very dark.
Anything that's not front and center on the shelves essentially lives in some sort of black void. I have to use the flashlight on my cell phone in order to see anything. And far too often, I end up buying something I already had just because I couldn't see in there to find it.
For years, I had been threatening to buy to some self-adhesive, battery-powered puck lights. (A threat to who, I do not know.) I finally just did and, boy oh boy, am I mad at myself for not having done it sooner!
After reviewing some options, I ordered this five-pack on Amazon and there's lots to love about the lights. For one, they're battery-powered (three AAA batteries in each), which means I didn't have to do any sort of wiring. They're also self-adhesive, so all I had to do was peel the sticker off the back and pop these into place. They're also touch-activated, so I just push them on when I'm looking for something and push them back off when I'm done. And they're small but bright and a total steal.
I put two on my spice shelf, which happens to be the darkest and also where I end up buying the most duplicates. And just look at the difference they make! (I spaced the other three out among the remaining shelves.)
I've had them in place now for a few weeks and my only complaint is that I didn't put them in sooner. What was I waiting for? Even if your pantry is only half as awkward as mine (or not awkward at all!), I highly recommend these. Because being able to see what you have is, well, a pretty key part of cooking.
Do you have a pantry? What's your biggest gripe about it? Tell us in the comments below.