Products You May Like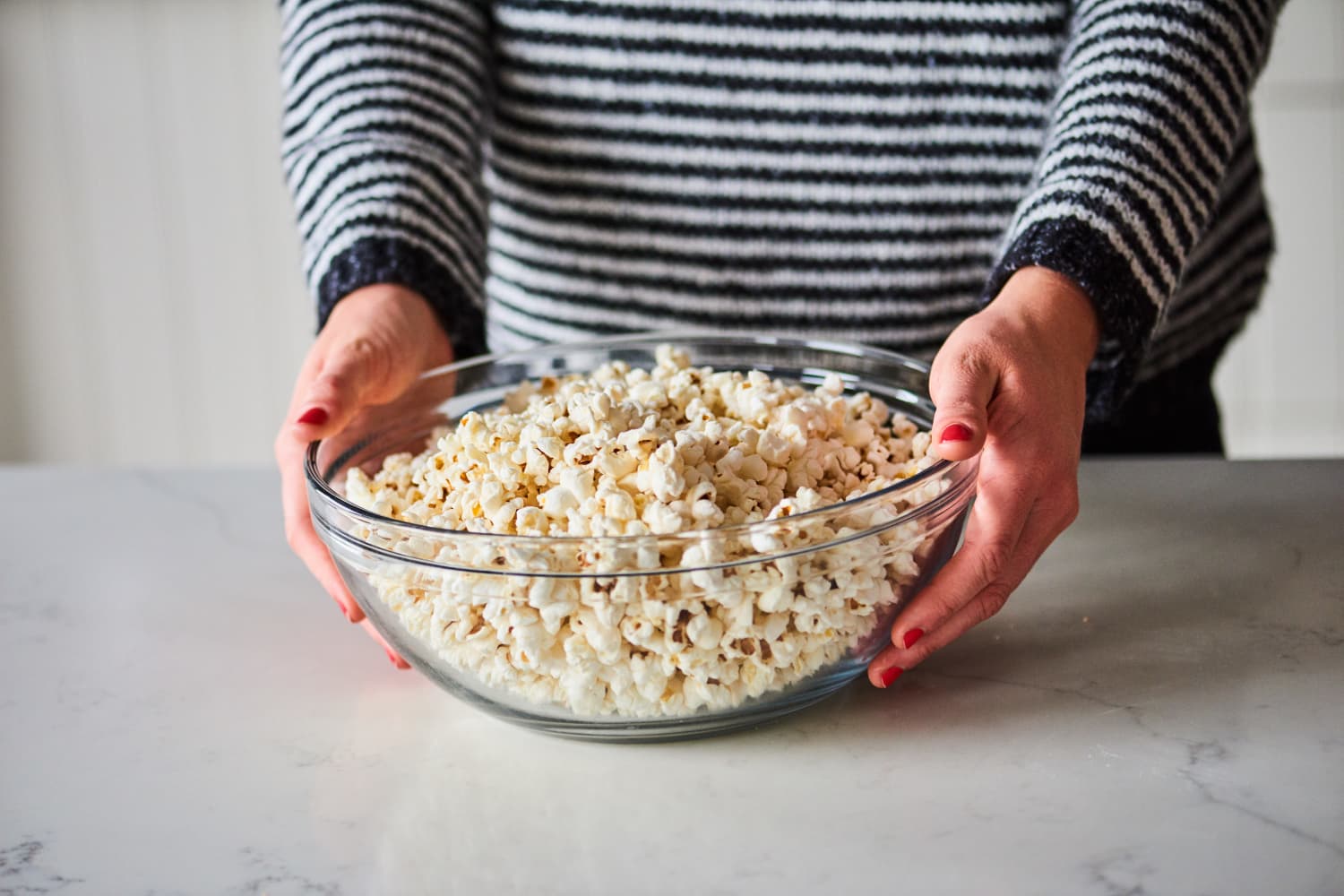 We independently select these products—if you buy from one of our links, we may earn a commission.
Be honest: Have you ever gone to see a movie just because you want to eat the popcorn? It's cool. We've all done it. And we've all also absolutely eaten popcorn for dinner at home.
While you don't technically need anything special to make popcorn — and you can totally just make the microwaved bagged stuff or even buy the premade bags at the grocery store — there are lots of popcorn makers out there. So we decided to take a look at the best ones. We looked to see what other sites had to recommend and what popped up (hehe) again and again in shoppers' carts. Then, we weighed in with our own two cents. Let's take a look — but first, here's a crash course on the three main types of popcorn makers.
1. Cuisinart Hot Air Popcorn Maker
The Best Popcorn Maker, According to Good Housekeeping

The testers at Good Housekeeping looked at all three types and ultimately picked this as the best overall popcorn maker. They liked how simple it is to use, the fact that it's easy to clean, and that it makes up to 10 cups of fluffy popcorn (without any oil or butter) in less than three minutes. Pro tip from GH: "Make sure to empty out the base so that any unpopped kernels don't stick around and burn the next time you use it."
2. Nordic Ware 3-Quart Microwave Popcorn Popper
The Best Microwave Popcorn Popper, According to Cook's Illustrated
Testers at Cook's Illustrated have recommended this popper since 2007. They like its simple design (basically just a microwavable bowl with a lid) and that the bowl doubles as a serving vessel. You do have to wash the two pieces by hand, but Cook's Illustrated says they get clean in an instant.
3. Cuisinart Pop and Serve
The Best Popcorn Popper, According to Reviewed

Over at Reviewed, this microwavable popper consistently produced the best popcorn in the least time. Testers also noted that the collapsible bowl is sturdy enough to hold its shape as a serving bowl — something that other silicone bowls failed to do. Other pros? The small handles (which are helpful when the base is hot to the touch), the always evenly popped kernels, the well-vented lid, and the fact that it's dishwasher-safe.
4. Dash Hot Air Popcorn Popper
The Bestselling Popcorn Machine on Amazon

Amazon's bestselling popcorn popper couldn't be more adorable if it tried. It pops up to 16 cups of popcorn at once but doesn't take up a ton of storage space. The included measuring cup doubles as a butter melting tray (it heats up on top of the machine while the kernels pop) and the machine also comes in red or white. Reviewers who left five stars noted that it pops nearly every kernel that you pour in and it does so quickly.
5. Colonel Popper Popcorn Maker
Kitchn's Thoughts on The Best Popcorn Maker
Although we love the old-timey look of air poppers and stovetop poppers, they take up a lot of space. And because you don't really need a popcorn maker at all (you can just do it in a pot on the stove or in a paper bag in the microwave!), those are both pretty hard to justify. That said, if you do eat (or want to eat!) a lot of popcorn at home, it's not a bad idea to have a special tool to help you make it at home.
So we tried a dozen different microwave popcorn poppers (yes, 12!) and ultimately picked this one. We actually liked it a little more than the Cuisinart one that Reviewed liked for all the same reasons: the bowl is extra sturdy, the handles make for safe microwave removal and couch travel, it rarely leaves any unpopped kernels behind, and it folds up for storage.
Do you make popcorn at home? What do you use? Tell us in the comments below!