Products You May Like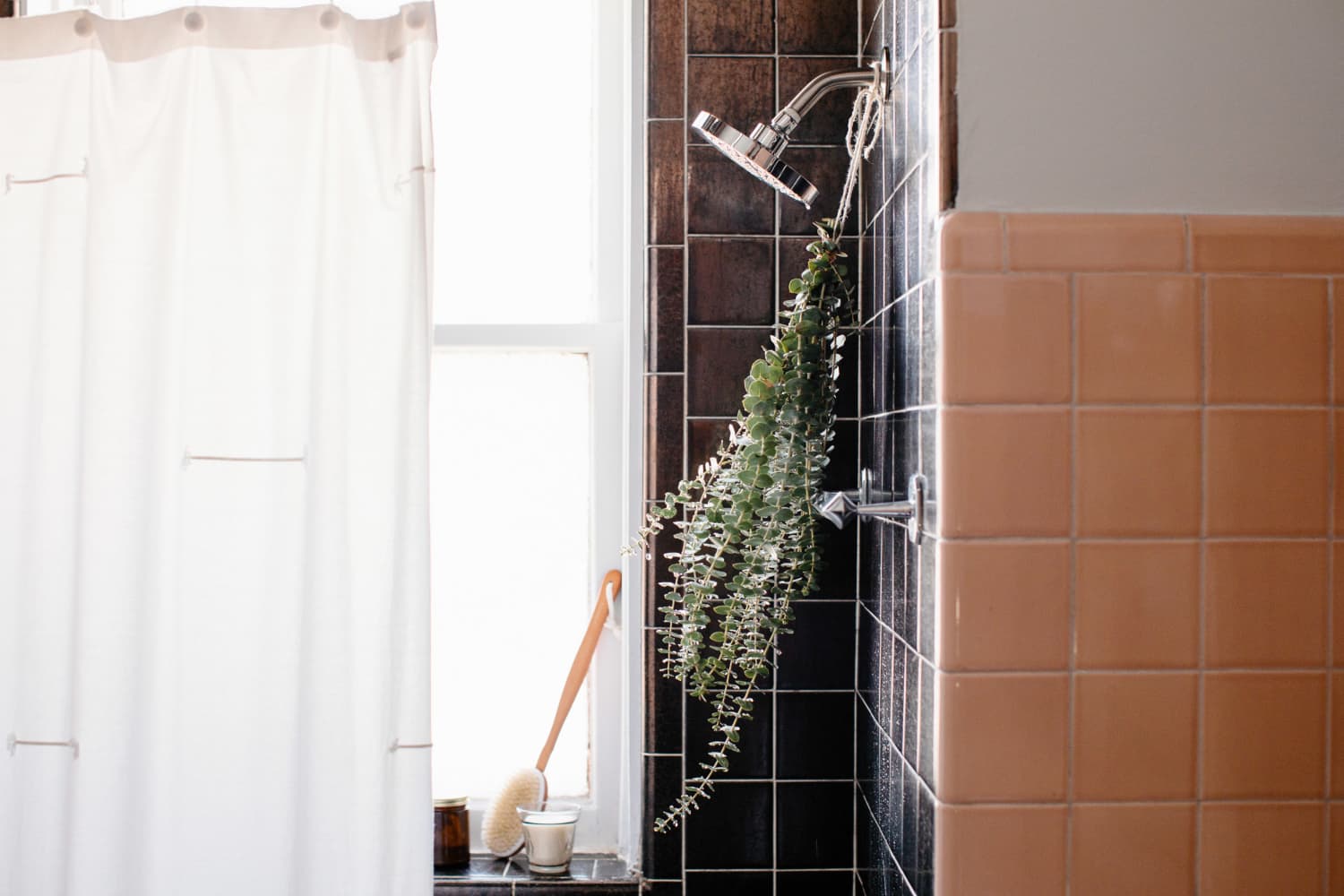 When it comes to bathroom upgrades, you don't have to spend a lot of money to make an impact. There are plenty of ways to refresh the space for less than $100, but by far my favorite upgrade is a $3.99 investment I make every week at Trader Joe's. In addition to the snacks and frozen goods I stock up on, I make sure to pick up a new bouquet of fresh eucalyptus to hang in my shower. (If my local TJ's is out, the corner bodega sells the same sprigs for the slightly-more-expensive $7.)
It's a popular detail and one you've likely seen on social media time and time again for good reason. It's soothing! It's pretty! It adds a splash of green to your shower. But what many Instagram snapshots forget to tell you is that there is some upkeep involved with swapping your eucalyptus out for a new bunch… and if you're simply hanging the fresh branches up in your shower, you're missing one crucial detail.
Simply put, you need to crush the eucalyptus a bit to help the plant release its fragrant, spa-like oils.
As detailed by The Cut's Beauty Director Kathleen Hou, the method is simple, and adds less than a minute to your prep time. She recommends using a rolling pin or a wine bottle to damage the leaves a bit — "Do this over a newspaper or cutting board, or else it will get sticky," she advises — and then hang them as you normally would. Hou uses a rubber band to affix her eucalyptus to her showerhead, while I've repurposed a thick grosgrain ribbon that matches my fixtures.
Step 1: Source some eucalyptus.
You don't need a lot of it (though I simply hang the entire bunch because I have nowhere else in my apartment to put it). Trader Joe's typically sells baby blue eucalyptus — I've found that branches with larger leaves tend to be more fragrant than smaller branches, but both work.
Step 2: Prep your workspace.
As Hou mentioned, it's important to work in a way that contains the eucalyptus oil as you crush the leaves. I've found that leaving the eucalyptus in its cellophane packaging helps mitigate the mess, as does laying a garbage bag on top of your counter or work space. As for your tool of choice, you can use a rolling pin, a wine bottle, or anything else that might crush your eucalyptus without damaging the surface under it.
Step 3: Crush your eucalyptus.
Step 4: Hang your eucalpytus.
The trick is to hang it just behind the shower head — the plant will release its oils when it comes into contact with your shower's hot steam, rather than the water. You can use a piece of string, a rubber band, or a ribbon to affix the bunch to its new post. The bunch should last about a week, depending on the frequency of your household's shower schedules.