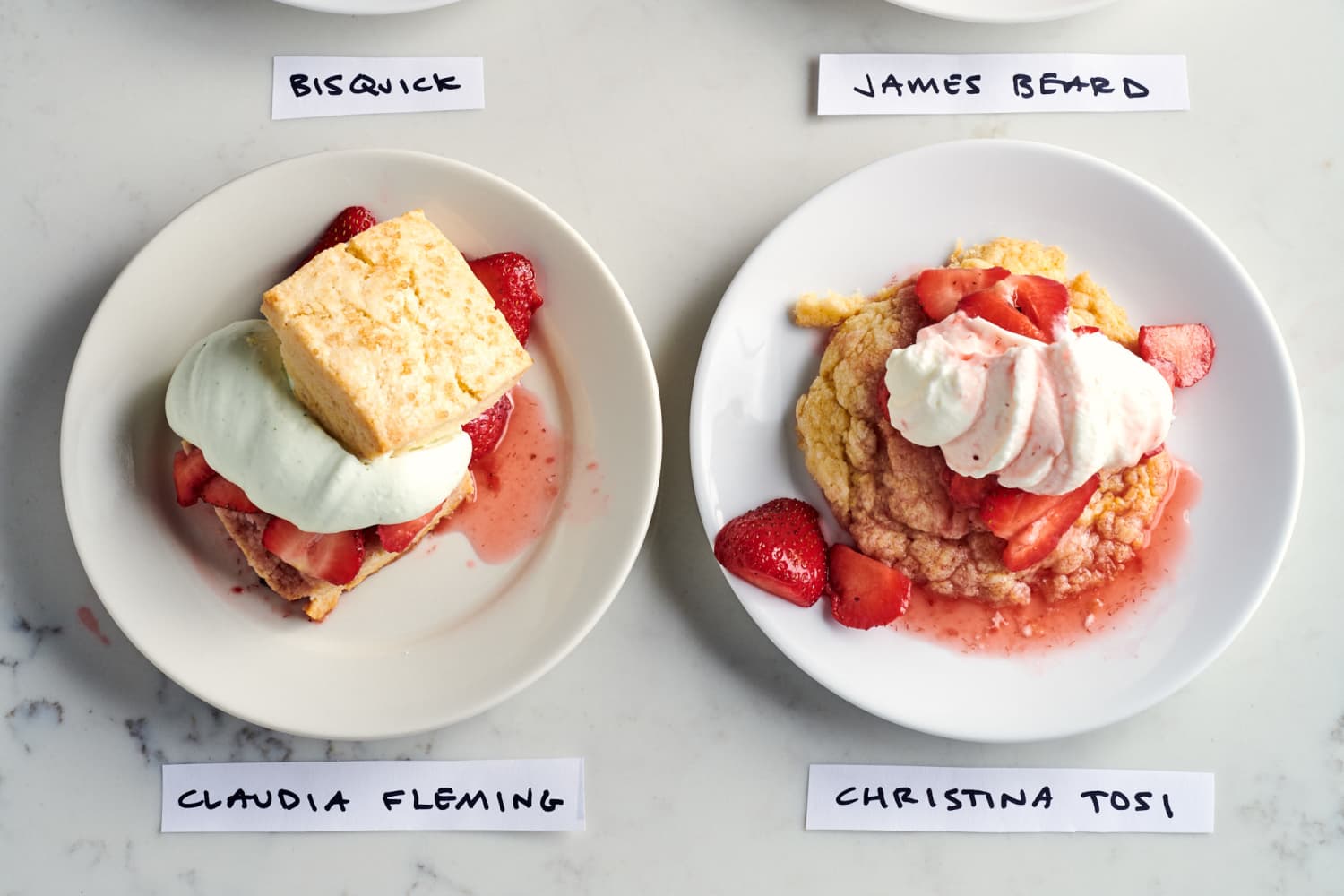 We independently select these products—if you buy from one of our links, we may earn a commission.
There's a magical period of time between spring and summer, when the chilly days are firmly behind us but the sweltering heat has yet to take over. That season is strawberry shortcake season.
Depending on where you are in the United States, strawberry shortcake season can start as early as April, if you live in a warmer state like California, or as late as June in areas of the northeast. Oftentimes, strawberry shortcakes make their debut at Memorial Day barbecues, serving as a delicious reminder that their season is underway.
When I was growing up, the only strawberry shortcakes I ate were the packaged little sponge cakes sold at the grocery store. I distinctly remember helping my dad hull and slice the strawberries, sneaking a few into my mouth when no one was looking. As I got older, I learned just how many varieties of shortcakes there really are, ranging from cakey, scone-like shortcakes to angel food cakes to flaky layered biscuits. I also learned that a really good strawberry shortcake is only as good as the shortcake itself. The better the vessel to hold the strawberries, the better the overall experience.
So when given the opportunity to test out four different strawberry shortcake recipes, how could I say no? I needed to know which recipe would fulfill all of my requirements: a tender, lofty shortcake, bright and juicy macerated berries, and perfectly light and fluffy whipped cream. Here's how it all went down.
To narrow our search down to just four recipes, I eliminated any cake-like shortcakes — layer cakes, sheet cakes, or pound cakes — and focused instead on biscuit-like shortcakes. From there, I chose four that varied greatly in their approach and level of difficulty. Would simplicity reign supreme or would fancy techniques steal the show?
Bisquick's recipe was, of course, the easiest of the bunch. Their extremely user-friendly recipe calls for just five ingredients, and is very highly rated.
Christina Tosi's shortcake was almost as simple, and is the only one to use a raw egg in the dough. I was also intrigued by Tosi's technique of rolling the shortcakes in powdered sugar before baking.
James Beard's recipe utilizes an old-school Northern European technique: incorporating hard-boiled egg yolks into the dough. Would this be the key to tender shortcakes?
Claudia Fleming's recipe was the most technically challenging of the bunch, calling for tarragon-infused strawberries and whipped cream. Hers was also the only recipe to call for an electric mixer or food processor to mix up the dough (the rest are mixed by hand).
How I Tested the Strawberry Shortcake Recipes
I made and assembled all the strawberry shortcakes on the same day, and I made them all exactly as written. I used the same brand of flour, sugar, eggs, strawberries, etc. across the board to ensure an even playing field. I had my husband and 10-year-old daughter do a blind taste test and report back. I also tasted each shortcake plain as well as with the strawberries and cream.
My husband and I were aligned in our rankings; our daughter had other thoughts. Luckily, even my least favorite shortcakes were tasty enough, so no shortcakes were wasted.
1. The Most Disappointing: Christina Tosi's Strawberry Shortcakes
Believe me when I say that this outcome was a shock to me. I was so sure that the Milk Bar queen would set me up for strawberry shortcake success! Unfortunately, I had a very hard time with the shortcake dough — I had to make it three times before I had even partial success. The shortcakes barely rose in the oven, and rolling them in powdered sugar didn't give me the cracked sugar-coated appearance I was anticipating.
With that said, my 10-year-old love these shortcakes, probably because they were the sweetest of the bunch. So while I wouldn't make these again, she was excited to gobble them up.
2. The Speediest Shortcakes: Bisquick Strawberry Shortcakes
Bisquick takes third with their super-simple, easy-to-assemble drop biscuits. Although I could tell these were boxed mix biscuits after just one bite, the deeply creamy flavors quickly took over and I thoroughly enjoyed them. They were a little crumbly, and the strawberries and whipped cream were nothing special, which is why they didn't rank higher.
3. The Best for Impressing Your Friends: Claudia Fleming's Strawberry Shortcakes
This recipe was recommended to me by several of my colleagues, and I had high hopes: Claudia Fleming is a renowned pastry chef and author of the incredibly popular cookbook The Last Course, so I knew I was in good hands.
Unsurprisingly, these shortcakes came dressed to impress! Each biscuit sparkles with sugary crunch, and the tarragon whipped cream is the perfect accessory. I could have eaten the entire bowl of it myself. Unfortunately, making the tarragon-infused syrup that flavors the cream requires a fair amount of work and planning, so these definitely aren't weeknight shortcakes. Plus, the recipe dirties a fair amount of dishes: Unlike the other recipes, you'll need a stand mixer, a saucepan, a blender, and a fine sieve. For these reasons, I didn't crown it the winner.
4. The Creamiest, Dreamiest Shortcakes Around: James Beard's Strawberry Shortcake
James Beard's shortcakes were so good, he should be giving himself an award. His uncommon egg yolk technique — which involves adding finely crumbled hard-boiled egg yolks to the dough — made them the richest and creamiest of the bunch, with great texture and flavor. Thanks to their gorgeous flaky layers and lofty rise, I was blown away before I even took my first bite. In fact, the height and texture of the shortcakes surpassed all the others by leaps and bounds, and even the next day this was the shortcake I kept returning to. The strawberries and whipped cream weren't quite as show-stopping — they're made using pretty standard methods — but they were still undeniably delicious.
Although this recipe was the clear winner of the showdown, if I could Frankenstein my perfect strawberry shortcake, it would be James Beard's biscuits topped with turbinado sugar (rather than the granulated he calls for), his macerated berries with a squeeze of lemon juice, and Claudia Fleming's tarragon whipped cream. That combination would be the only strawberry shortcake I serve for the rest of time.
Do you have a favorite strawberry shortcakes recipe? Let us know in the comments!