Products You May Like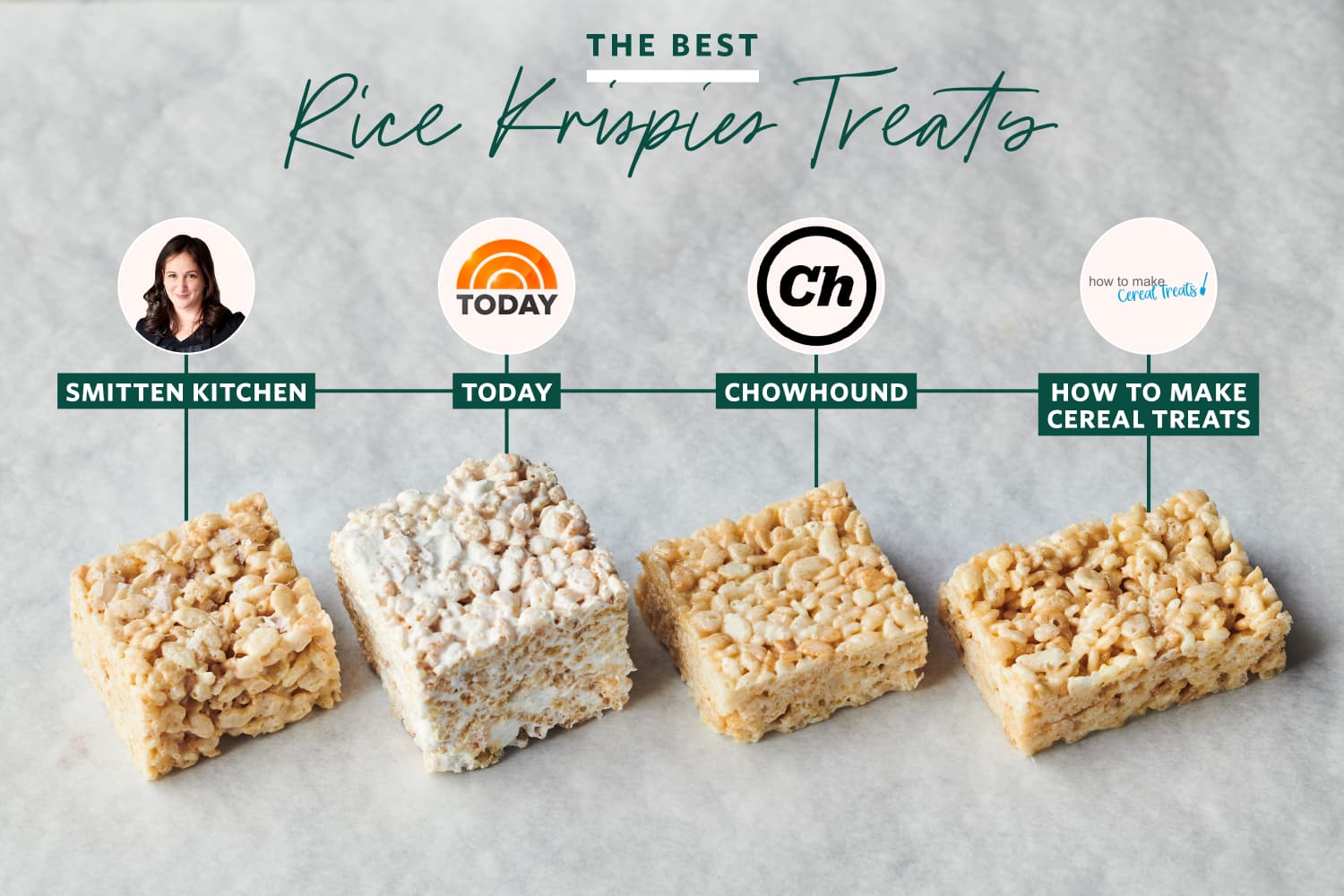 We independently select these products—if you buy from one of our links, we may earn a commission.
When it comes to no-bake desserts, nothing beats Rice Krispies treats. With just three simple ingredients — cereal, marshmallows, and butter — it's a seemingly straightforward dessert, but when you taste a good Rice Krispies treat you'll remember it. The best versions are sturdy yet soft, with a crispy bite that's gooey, sweet, and buttery.
Nearly all Rice Krispies treat recipes are adapted from the original Kellogg's back-of-the-box recipe. Some call for more butter or extra marshmallows. Others include additional ingredients, like vanilla extract, flaky salt, sweetened condensed milk, or marshmallow Fluff. For this recipe showdown, I was determined to uncover the secret to the absolute best Rice Krispies treat. Was brown butter the key? Or is it that jar of Fluff? I headed to the kitchen to find out.
To narrow our search down to just four recipes, I eliminated any that called for any cereal other than Rice Krispies. I also disqualified any treats that had too strong of a flavor profile, such as chocolate or cookies and cream. From there, I looked for recipes that had a unique approach to making the classic no-bake treat.
Smitten Kitchen's popular Rice Krispies treats use brown butter and coarse sea salt for a fast and fancy upgrade. They also came highly recommended to me by many Kitchn staff members.
Chowhound's Rice Krispies treats include sweetened condensed milk to keep the treats soft, along with an additional cup of mini marshmallow, a full stick of butter (the back-of-the-box recipe calls for just 3 tablespoons), vanilla extract, and a generous spoonful of sea salt.
How To Make Cereal Treats' recipe is the most-tested on the internet. The two bloggers behind the site conducted a blind taste test to compare every variable imaginable, like unsalted versus salted butter, European versus American butter, the cereal brand, and of course, the amount of each ingredient. They claim their winning recipe is the best one out there.
TODAY's Rice Krispie treats are geared toward marshmallow fans, with a whole jar of Fluff (which has a texture similar to melted marshmallows) and two bags of marshmallows.
How I Tested the Rice Krispies Treats Recipes
All four recipes were prepared and tasted in the same afternoon. To minimize ingredient variability, I purchased Rice Krispies cereal, marshmallows, butter, and vanilla extract specifically for these tests to make sure the ingredients were fresh and incurred no brand-specific differences. Each recipe was evaluated at four different times. First, I took a bite as soon as they were stirred together (because, let's be honest, we all do that). For the real test, I tasted each one after the suggested cooling time, as well as one and two days after they were made.
1. The Marshmallow-iest Rice Krispies Treats: TODAY's Ultimate Rice Krispie Treats
This is the ultimate Rice Krispies treat for serious marshmallow-lovers. The recipe uses a whole jar of marshmallow Fluff and two bags of marshmallows, making these the stickiest, most marshmallowy Rice Krispies treats I've ever tasted. Because real-deal marshmallows taste better than Fluff, I actually think this recipe would have been just as good — if not better — with a third bag of marshmallows in place of the Fluff. (Plus, it'd be a lot less messy.) So while I appreciated the over-the-top nature of these treats, I won't be making this exact recipe again.
2. The Softest, Gooiest Rice Krispies Treats: Chowhound's Rice Krispie Treats with Sweetened Condensed Milk
If you're looking for Rice Krispies treats you can make in advance (or mail to a friend), this is a great option. Thanks to the addition of sweetened condensed milk, these treats stayed soft and gooey for nearly a week. (Most firm up after just a few days.) While I like the idea of adding sweetened condensed milk to keep Rice Krispies treats from hardening, I found it almost went too far — the cereal got soft, too. If these treats had been crispier, I would have been blown away by this recipe.
3. The Fast & Fancy Rice Krispies Treats: Smitten Kitchen's Salted Brown Butter Crispy Treats
These extra-thick and crispy treats taste special, and are the perfect easy, no-bake dessert if you're looking to impress. While Deb's recipe includes all of the same ingredients you'd find in classic Rice Krispies treats, they're anything but basic. Rich, nutty brown butter has the power to make anything taste fancy, and these Rice Krispies treats are no exception. Plus, browning the butter takes five extra minutes, max.
The only reason these treats aren't receiving a perfect score? The marshmallow-to-cereal ratio is on the moderate side, which left me craving just a little more gooiness.
4. The Clear Winner: How To Make Cereal Treats' Rice Krispie Treats
It seems as if all of that treat testing was worth it, because these are hands-down the very best version of the classic. The ratio of ingredients makes for incredibly well-balanced treats that are perfect in taste and texture. They have a nice marshmallow flavor, just enough sweetness without being overwhelming, and they're soft but the cereal stays crispy. This is the only recipe I'll make from now on.
Do you have a favorite Rice Krispies treat recipe? Let us know in the comments!