Products You May Like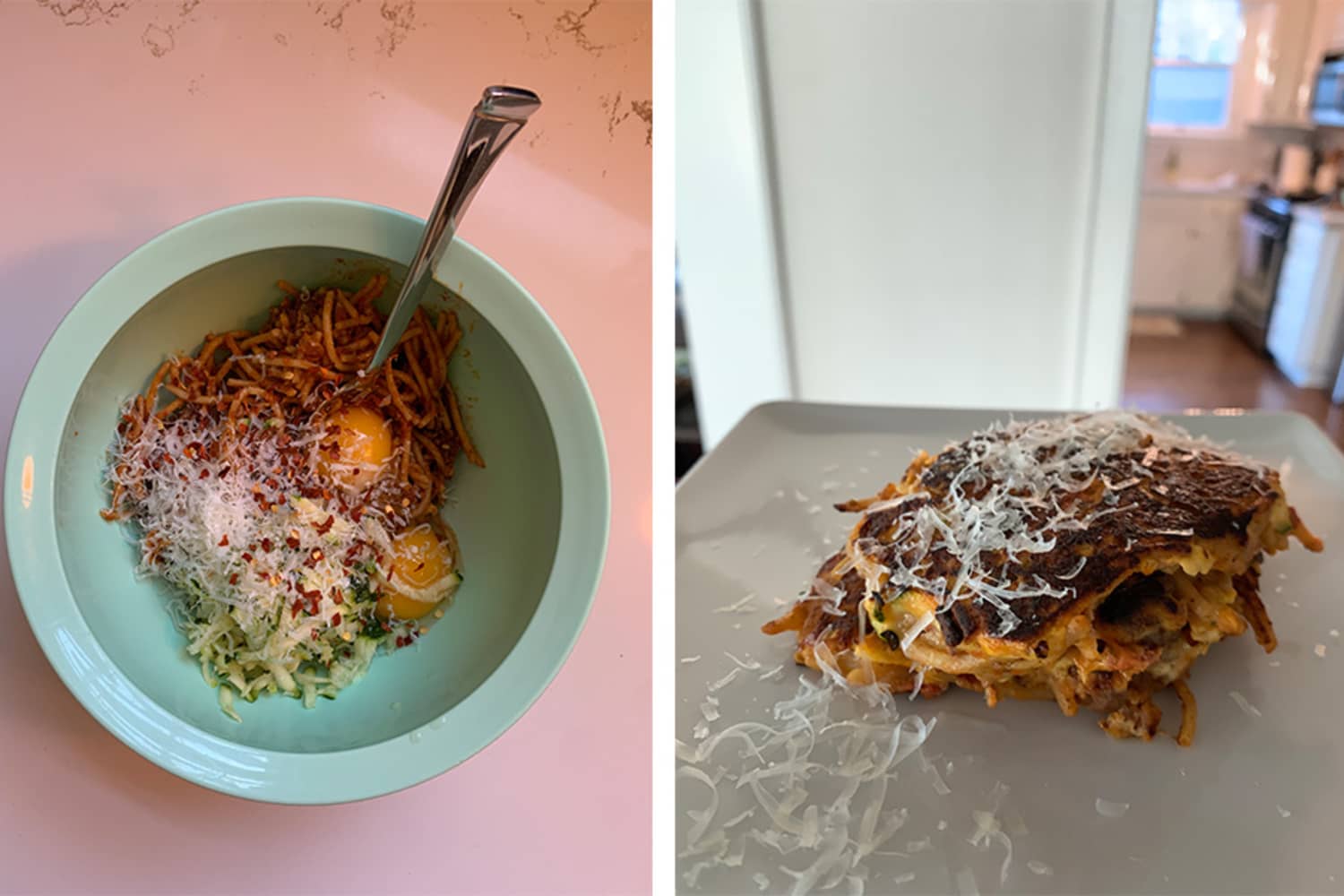 I've always preferred leftover spaghetti (with meat and marinara) cold from the refrigerator to a steaming hot plate of the classic dish. My husband loves the slightly dry, toothsome texture it takes on the next day, too. Much to our extended family's horror, we've even been known to throw a scoop of leftover spaghetti onto a few slices of toasted bread for a spaghetti sandwich.
So when I heard about Chef Stephen Bukoff's signature brunch dish — spaghetti pancakes! — that will be featured on the menu at his upcoming Boston restaurant, Grana, I knew I had to try making them for myself. "The spaghetti pancake is my version of a dish my grandmother would make for me as a child using leftover spaghetti to form a pancake with ricotta and tomato sauce," Bukoff told me over email.
Now, Grana is located inside The Langham, Boston, reopening this spring following a major renovation — so it's safe to assume Bukoff's is going to be a pretty bougie pancake. The version I tried at home is a little more "rustic" (I was fresh out of ingredients like rock shrimp and Italian summer truffle, which Bukoff plans to add to his spaghetti pancakes). But I like to think my take was still restaurant-worthy.
The Basic Ingredients of Any Spaghetti Pancake
If it isn't already obvious, spaghetti pancakes require leftover spaghetti, not fresh-from-the-pot spaghetti. You want the thick texture that comes from chilling the noodles for at least a few hours for the easiest pancake-making experience.
Eggs are an also an essential component — they hold everything together and make the pancakes crispier. Chef Bukoff says you should mix in roughly 1 egg for every 2/3 cup spaghetti (which makes one pancake). He also recommends adding a handful of shredded zucchini (grate, mix with a pinch of salt, let sit a few minutes, rinse, and gently squeeze the water out first), which works as both a binder and a flavor booster. A little grated Parmesan is optional, but a great idea.
From there, the mix-in opportunities in this pancake are vast. The base recipe is so neutral that it's a vessel for flavor. Leftover spicy sausage, cooked mushrooms, fresh kale, flaked salmon? Throw it in and see what you end up with.
Here's What Happened When I Made Spaghetti Pancakes at Home
For my first batch: I whipped up basic spaghetti and meat sauce using lean grass-fed beef, my favorite jarred marinara, some dried herbs, and whole-wheat spaghetti noodles. A few hours later, I used a measuring cup to scoop out about 1 1/2 cups of the chilled leftover spaghetti into a bowl. I mixed in 2 eggs, a handful of grated zucchini, and some freshly grated Parm.
Next, I added a tablespoon of olive oil to a hot pan, portioned out half the spaghetti mixture, and smashed it down into the pan. It took at least 5 minutes to get it golden brown on the bottom, and I found it was tricky to flip due to its large size. After cooking it a few more minutes on the other side, I plated the pancake and took a bite and found it a little too bland.
For my second batch: I added more salt and spices (red pepper flakes, Italian seasoning, garlic and onion powder). I also used half the amount of mixture for my next pancake, which cooked slightly faster and became crisper in my hot pan. The flavor was much better this time around. I whipped up a few more of the small pancakes and covered them in more fresh Parmesan. If I'd had some on hand, I think a little ricotta and some fresh parsley sprinkled on top would have made the dish even better.
What Did They Taste Like?
The pancakes had the taste and texture of a crispy-edged corner piece of baked spaghetti, crunchy on the outside and soft (but not as chewy as fresh spaghetti) on the inside. The zucchini added a little extra softness but no detectable flavor. I tasted more noodles and oil than tomato sauce.
Would I Make These Again?
This isn't the prettiest-looking dish I've ever made, but spaghetti pancakes sure are a clever way to get one more meal out of leftover spaghetti. While the taste didn't blow me away — and I was turned off by the way it made my kitchen smell like fried food — I would make the spiced-up version again, especially if my young niece and nephew were visiting (I think they'd get a kick of of making them with me). Next time, I'd experiment with omitting the zucchini, as my spaghetti "batter" seemed a little too runny as I added it to the pan, and I would add in another handful of cheese to up the gooey factor.