Products You May Like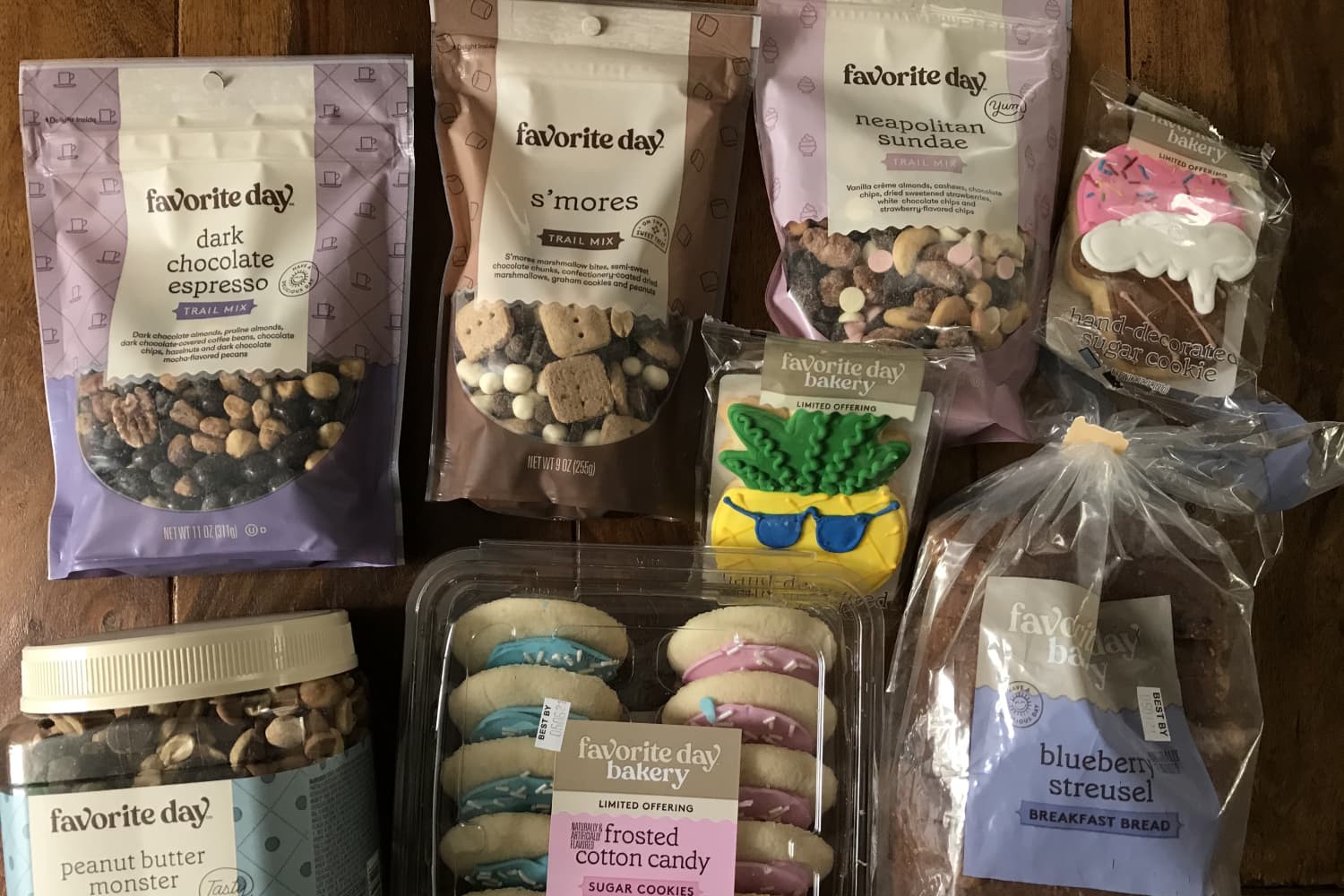 We independently select these products—if you buy from one of our links, we may earn a commission.
I don't want to sound too thirsty or anything but I went to Target three different times before I was able to get my hands on the new Favorite Day line. See, I love Target's private-label brands. All of them: Threshold, Hearth & Hand with Magnolia, Project 62, Good & Gather … the list goes on. So when I heard that the retailer was launching a new line of treats (including bakery items, snacks, candy, ice cream, cake decorating supplies, beverage mixers, and more), I was, well, pretty thirsty to get my hands on the stuff.
Favorite Day was supposed to start rolling out in stores on April 5 and I went on that exact day to find nothing. I returned just to find a few cookies, and then again to find a few cookies and some cupcakes. Today, April 28, I was able to find lots more. Not the full line, sadly (where's the ice cream and cheesecake!?), but a decent amount.
I taste tested as many new Favorite Day items as I could get my hands on and here's what I'll be buying again.
1. Blueberry Streusel Breakfast Bread
This was, hands down, my favorite of the entire assortment. If you've ever eaten a blueberry muffin and wished it wasn't quite so crumby, this loaf is for you. The best way to describe it: a blueberry muffin but in bread form. I toasted up a slice and added a schmear of butter and there it was: my new favorite breakfast! There's also an Apple Fritter Breakfast Bread but I haven't been able to find it yet.
Buy: Blueberry Streusel Breakfast Bread, $3.99 for 20-ounce loaf
This new line includes a LOT of trail mix options. There's Dark Chocolate Espresso Trail Mix, Neapolitan Sundae Trail Mix, Handful of Everything Trail Mix, Peanut Butter Monster Trail Mix, and more. There's bound to be at least one option for everyone. This morning, I was having a bit of a sweet tooth, so I wanted to call out this S'mores Trail Mix. It has semi-sweet chocolate chunks, candy-coated dried marshmallows, graham cookies, and peanuts. I found myself picking out the dried marshmallows to eat on their own — they remind me of raw cookie dough in a textural way and I'm into them!
Buy: S'mores Trail Mix, $4.79 for 9 ounces
3. Cranberry Pistachio Mini Biscotti
If you haven't been feeling fancy enough, in your WFH sweatpants, these mini biscotti can help! I felt incredibly sophisticated while dipping one of these into my "coffee makes me poop"mug. They're more cranberry-y than pistachio-y and I want to eat them year-round. Especially in the fall, which will somehow be here before you know it.
Buy: Cranberry Pistachio Mini Biscotti, $3.99 for 7 ounces
4. Cotton Candy Frosted Sugar Cookies
There are almost as many frosted sugar cookie options as there are trail mix options. Most of them are limited time or seasonal (see: Watermelon Slice Sugar Cookie and Pineapple with Glasses Sugar Cookie), so the selection will likely change. I almost dismissed these cookies because I thought they were HARD sugar cookies but THEY ARE SOFT! (The decorative ones, however, are hard. Nothing wrong with a hard cookie, it's just not my jam.) Anyway, these are soft and sweet, but not cloyingly so that you need to chug a gallon of milk afterward. I love the idea of having these for a baby shower (once everyone is vaccinated) or just an afternoon snack.
Buy: Cotton Candy Frosted Sugar Cookies, $3.49 for 10
Have you seen any Favorite Day items at your local Target? Have you tried any? What'd you think!?