Products You May Like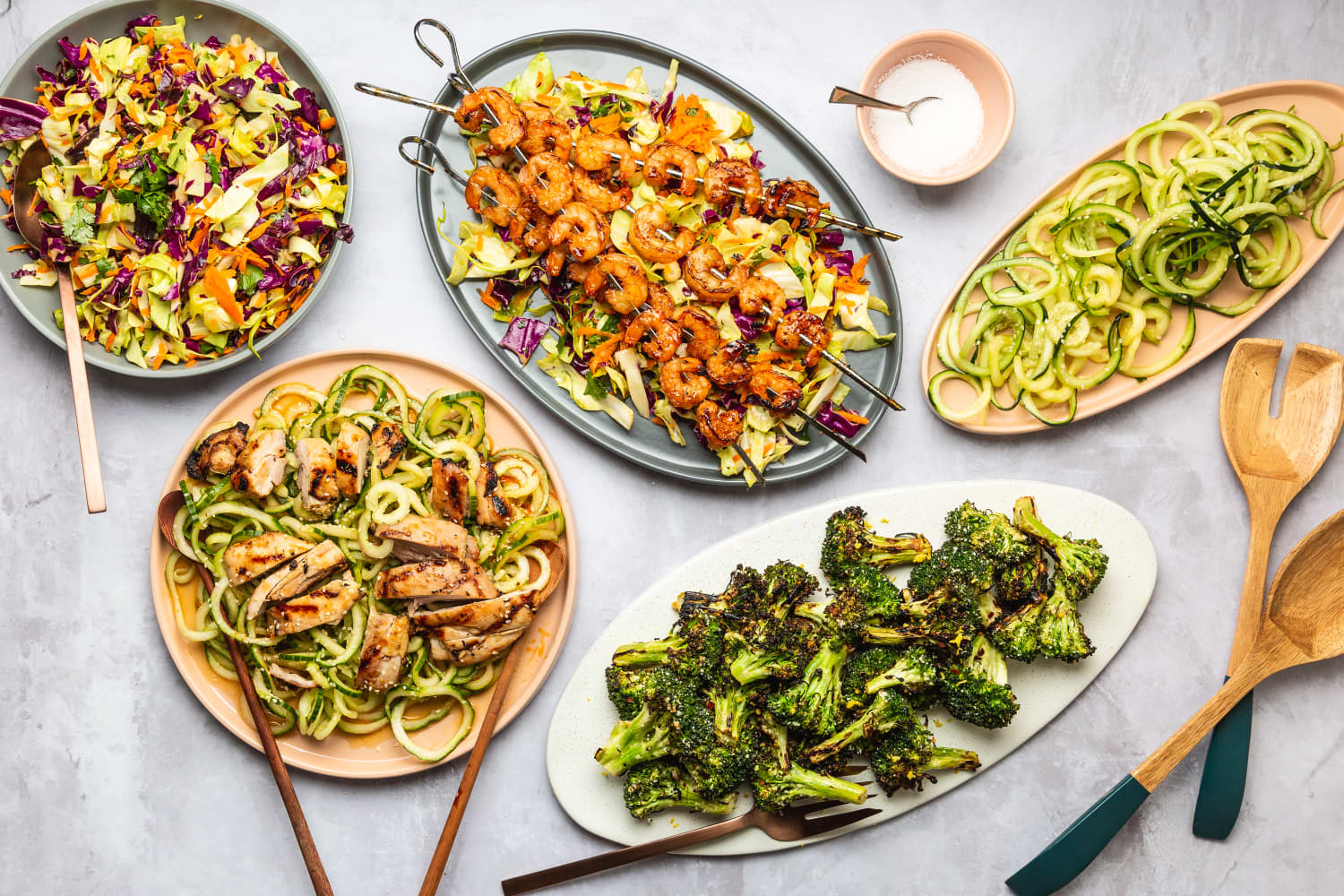 We independently select these products—if you buy from one of our links, we may earn a commission.
We love meal planning and meal prep — we think it's the secret to getting dinner on the table on busy nights — but there are certain techniques and tools that make it notably easier in a way that can feel magical (like, in the way that everything was somehow easier to pull off than it should have been and you got away with something really great). As we move deeper into spring and head into summer, the best tool for both easier weeknight cooking and meal prep is your grill.
Use the Grill to Prep Your Meal Plan
It's easy to prep for the grill. You don't have to add much flavor to foods like chicken breasts, asparagus, and tofu before throwing them onto a smoky grate to cook. You don't need to prepare elaborate dishes or dirty many pots and pans. Just marinate some chicken and veg, or string a few skewers, bang it all in the fridge, and you're done.
Secondly, the actual cooking is easy and satisfying. Just prep your food ahead of time and then during the week, fire up the grill, put your food on, and then strut back in with swagger. You're not eating reheated leftovers; you're eating something fresh from the grill.
Last but not least, when you meal prep for the grill, cleanup is extra easy. We love the cleanup, in fact; just brush down the grill and you're done. No sheet pans or skillets to wash.
Ultimately, the work involved in prepping for a week of meals from the grill (or with some grilled flavor added during prep) is one of the most satisfying, magical approaches to meal prep that we know, and we can hardly wait to share these five meal meal plans with you.
1. A Week of Grilled Dinners Prepped in Just 1 Hour
2. A Week of Keto Meals from the Grill
If you're already following a ketogenic diet or you're thinking of giving it a try, summer (aka grilling season!) is the easiest time to track your macros and keep carbs in check. It's prime time to fill your plate with flavorful marinated meat and crunchy fresh vegetables that happen to be perfect for the grill and the keto diet.
3. A Week of 1500-Calorie Days for the Grill
If you're sticking to a calorie budget, you know it can sometimes be a challenge to keep your meals feeling fresh and fun. One way to make it easier, and switch things up at the same time, is simply throwing some of your meals on the grill.
This meal prep plan is for anyone who doesn't have the time or energy to start from scratch on weeknights, but still wants to enjoy a hot, homemade meal. By chopping the vegetables, blitzing together a sauce, and marinating meat on Sunday, all that's left to do is toss the components onto the grill once dinner rolls around. Oh, and since these easy dinners all come together on the grill, there's barely any mess to clean up at the end of the night.
Get the plan: How I Prep a Week of 1500-Calorie Days for the Grill
4. A Week of Easier Family-Friendly Meals
If you love meal prep but hate all the dirty pots and pans you have to tackle afterwards, you're really going to love grill meal prep. This family-friendly plan is a double win: You don't have to wash a bunch of pots and pans, and the kids can play in the yard while you cook at the grill instead of in the kitchen.
Get the plan: How I Prep Easy Family Meals for the Grill
5. A Week of Easy Summer Dinners