Products You May Like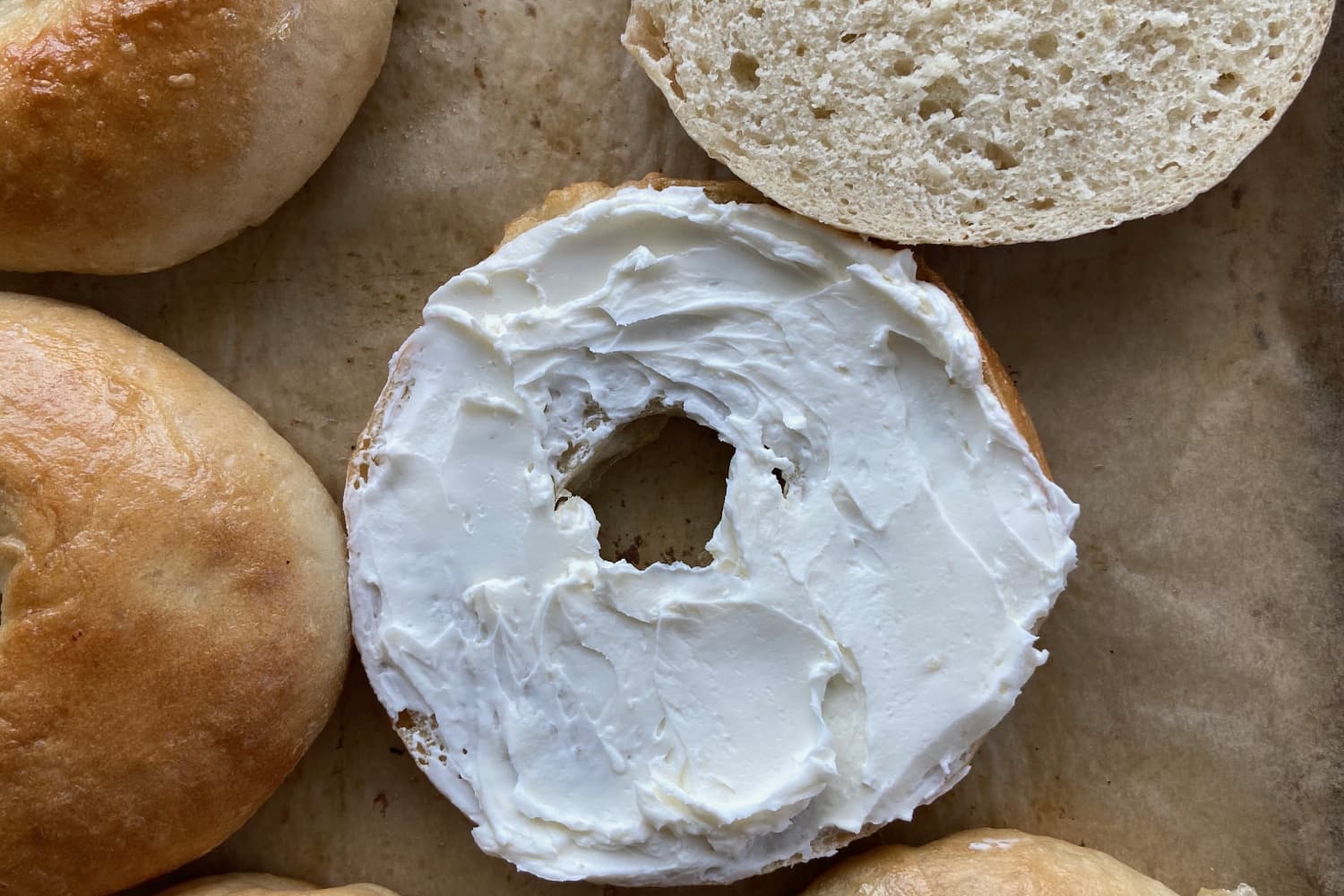 My 9-year old is currently in a very deep love affair with bagels and cream cheese — she'd eat them for every meal of the day if she could. And I get it! A good bagel with a tender-crisp exterior and fluffy but chewy interior is a kind of comfort food I often crave. But while said third grader is happy to eat grocery store bagels, I've really been missing fresh NYC bagels — which inspired my quest to find the perfect homemade bagel recipe. This quest, as most do, led me down a Reddit rabbit hole, and specifically to a beloved recipe known as "Magic Bagels."
This Serious Eats recipe was created by baking savant Stella Parks. Not only does it have a cult following, it promises to stay soft for days — just like the mass-produced bagels my daughter loves. This recipe gets a little technical in asking you to make a cooked paste for the bagels and having you mix the dough in a food processor (with the sharp blade, not the dough blade, no less). It also requires at least two days to make.
I had to know: Is Reddit right? Would these Magic Bagels deliver everything I craved in an NYC bagel and stay soft enough to keep up with the appetite of a pre-tween? Obviously, I had to try it to find out!
At their most basic, bagels are a yeast-risen bread that's boiled and then baked. You'll see many recipes call for bread flour to give them that signature chew, and for boiling them in a malt syrup or molasses-enhanced water bath to give them their signature crust. Serious Eats calls for both of these steps, but also for a few unusual ones.
Before you get to mixing up the bagel dough, the recipe asks you to cook a paste of flour and water. No, this isn't some kind of roux, but rather a baking technique called a yukone. Yukone is used to make tender crumbs on things like cinnamon rolls, because cooking the starches in the flour creates a gelatinization that holds onto moisture. The added bonus of a yukone is that it helps keep baked goods moist, making them taste fresher longer. After cooking, the paste needs to cool completely. Baking genius that she is, Stella suggests moving the paste to a plate and spreading it into a thick layer to help it cool more quickly.
While the yukone cools, you can prep the rest of the ingredients and get out your food processor for mixing. I've made plenty of doughs in my food processor, but never with the blade attachment instead of the plastic dough attachment, so this really caught my attention. To get the signature chew of bagels, gluten development is paramount, and I was worried the blade would hinder that development rather than help it.
Once the yukone is cool, you'll pulse it with the other ingredients in the food processor. Stella says that this should take just 90 seconds but mine took more like 3 minutes to come together. At this point, my dough felt really dry, but I carried on. As directed, I portioned and rolled the dough into rounds, then let them rest for 15 minutes on a parchment-lined baking sheet before shaping. After shaping, the bagels go into the fridge for 24 to 48 hours.
The day of baking, you'll set up a boiling bath of malt syrup and water while you heat the oven to 425°F. The chilled and proofed bagels get boiled for just a few minutes before baking. Stella promises that any bagels that get deflated or misshaped in boiling will puff up to perfection in the oven, but I did not find this to be the case.
My Honest Review of Serious Eats' Magic Bagels
With that said, the freshly-baked bagels were delicious — so much so that I had to hide a few from my daughter to test their shelf life. The outsides were tender-crisp and chewy as promised, and while I found the interiors too cake-like in their fluffiness, my daughter loved them.
Two Tips for Making Magic Bagels
While I won't be making this bagel recipe again for myself, I can understand why some people really want to try it: the bagels taste great, and the name "Magic Bagels" alone is enough to spawn several Reddit threads and devotees. If you do attempt these bagels, try these two tips.
Have you tried Serious Eats' "Magic" Bagels? Let us know in the comments!