Products You May Like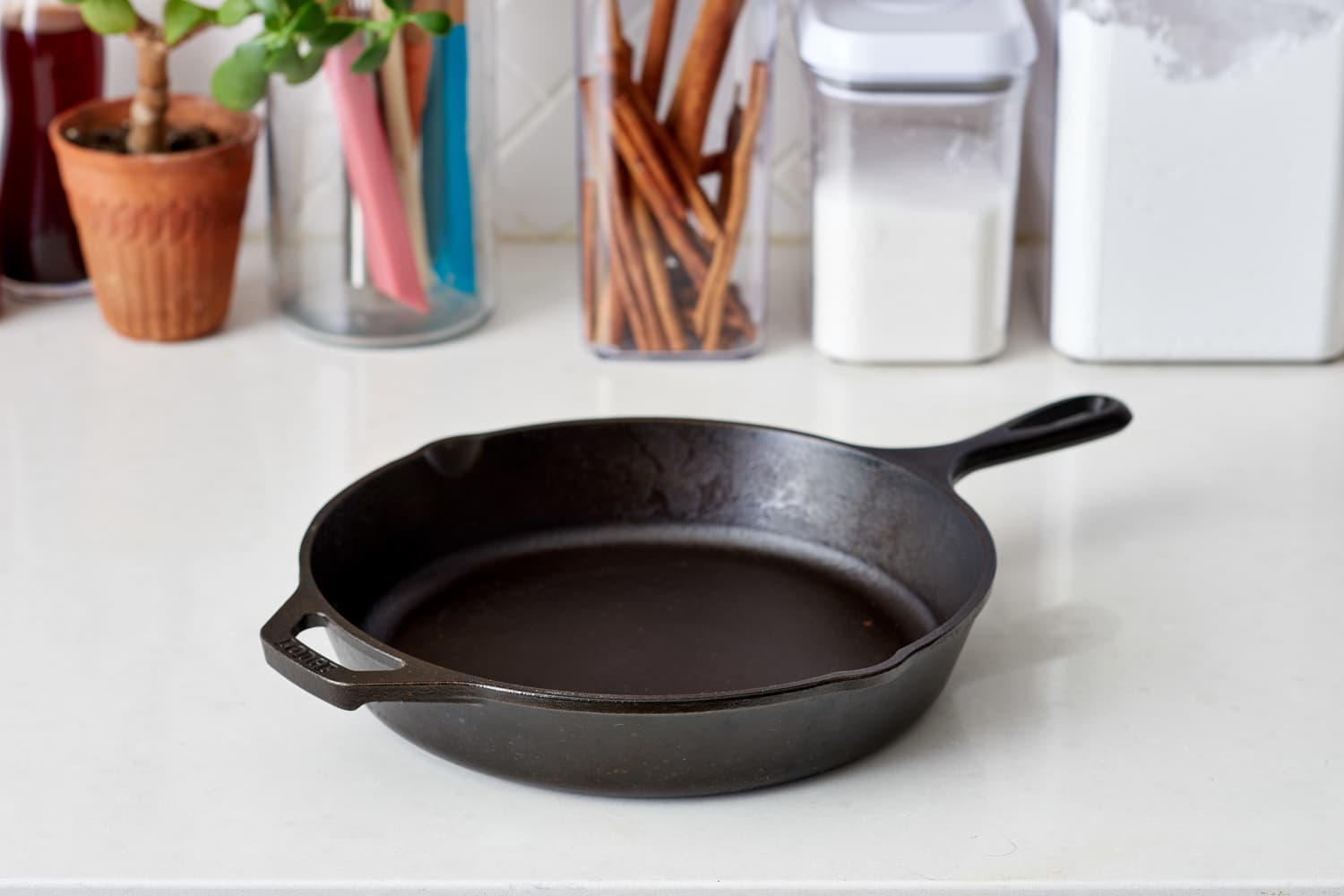 We independently select these products—if you buy from one of our links, we may earn a commission.
I think we could all get to know our cast iron skillets a little bit better. We should sit down with them and ask them about their day and interests. Okay, that last part was a joke, but I am serious: There's a lot that home cooks don't always know when it comes to cast iron. And that's what this post is here for. Here are eight things you might not already know about your cast iron skillet.
1. It doesn't heat up all that evenly.
A lot of times, when people talk about pans, they talk about how evenly they heat up. Cast iron, however, does not heat evenly. It does get super hot and hold in heat longer than other materials (making it great for putting a sear on a burger or a thick T-bone), but it doesn't heat up super evenly. Which brings me to my next point …
2. It absolutely needs to be preheated.
You want to make sure the entire pan is red hot, so you'll need to preheat it. (To check, flick a sprinkle of water into the pan; if it sizzles and evaporates, the pan is hot enough). Tip: To heat the pan evenly, it helps if you move the pan around the burner while it's preheating.
3. It's perfectly okay to clean it with soap.
4. But there are some special cleaning tools you might like.
5. If it rusts, you can still save it.
So your spouse accidentally soaked your pan overnight? Or you rescued an old rusty one from an antique store? You can save it! Bring out the steel wool and give it a really good scrubbing. Then when you've banished all the rust and cleaned the skillet thoroughly, dry it off and rub a very thin layer of cooking oil into the entire surface, inside and outside. Place your skillet on the middle rack in your oven, upside-down, with a large baking sheet or piece of aluminum foil on the bottom rack underneath it to catch any oil that drips down. Bake at 350°F for one hour and then let it cool and you're good to go.
Read more: How To Restore a Rusty Cast Iron Skillet
6. The best way to store it is lined with a paper towel.
How do you store your cast iron skillet(s) when they're not in use? By placing a paper towel on the inside surface, you not only separate nested pieces (which prevents scratches or damage to the inside of your cookware), but you also add a layer that can absorb any moisture that might lead to rusting.
Read more: Store Your Cast Iron with This One Thing to Make It Last Longer
7. You can use it on an electric range.
But keep in mind, that if your cooktop has a smooth glass surface, the flatter the bottom of your skillet, the better the heating results. (You want your pan to make good contact with the burner.) This is true for induction burners as well. Tip: Be careful not to drag the skillet on the surface to avoid scratching the glass.
8. It's perfectly okay to use metal utensils.
Some purists (worriers?) will tell you that you shouldn't use metal utensils with your cast iron because they'll scratch the seasoning. But your seasoning is a lot tougher than you think it is (see my point, above, about the soap!). As long as you aren't, say, going in there aggressively with a knife or scraping at the pan, you can use a metal spatula or spoon and everything will be just fine.
Do you have a cast iron question? Leave it in the comments below!