Products You May Like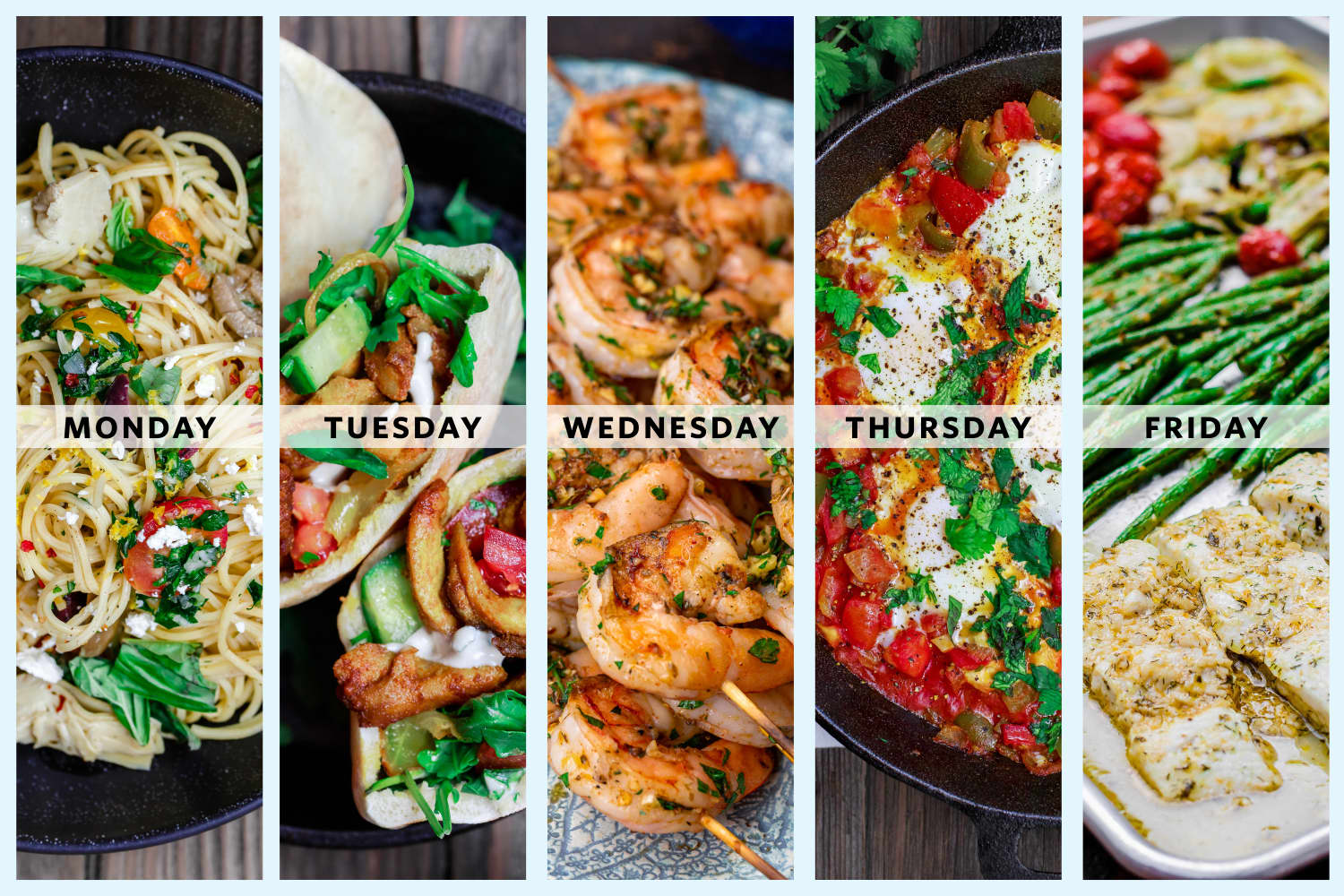 Suzy Karadsheh describes herself as "your Mediterranean girl next door." A native of the Mediterranean coastal city of Port Said, Egypt, the mom of two is no stranger to fielding questions about the Mediterranean diet and how to follow it. And while she has a lot to share on the topic, to her it's simply "eating the Mediterranean way." It's the way she's been eating her entire life, and now the way she cooks for her family.
Karadsheh is a passionate cook who believes in eating with the seasons, cooking with whole foods, and sharing food around the table. She focuses on creating meal plans with a balanced mix of meatless meals, wholesome lean proteins, and seafood that all go big on flavor.
Here, she shares a week's meal plan with us, and tells us how she does it.
5 Family-Friendly Mediterranean Dinners
Monday: Mediterranean Olive Oil Pasta
In a typical spaghetti aglio e olio, the pasta is simply coated in garlic and olive oil and, sometimes, garnished with parsley and grated Parmesan. But why stop there? This recipe goes a little bit further by adding a few favorite ingredients like tomatoes, marinated artichoke hearts, feta cheese, and olives. So much flavor! And it comes together in less than 20 minutes.
Tuesday: Loaded Chicken Shawarma Pitas
I'm changing up the #tacotuesday routine for loaded chicken shawarma pitas. No special equipment needed — just your good ol' sheet pan. My step-by-step tutorial shows you exactly how to make this delicious chicken, complete with my homemade shawarma spice mixture which makes all the difference. Serve it in pita pockets with tahini sauce and this lazy Mediterranean salad.
Wednesday: Mediterranean Dinner Bowls with Shrimp Kabobs
These juicy, quick grilled shrimp kabobs are tossed up in a simple marinade with garlic and fresh herbs. You can grill them outdoors or indoors. Turn them into the best Mediterranean dinner bowls with a side of lemon rice (or your favorite grain) and a bright Greek salad!
Thursday: Shake It Up Shakshuka
Got some ripe summer tomatoes? Time to shakshuka! Eggs are gently poached in a simmering mixture of tomatoes, bell peppers, onions, and garlic. A few warm spices and some fresh herbs complete this satisfying one-skillet dish. Serve it with your favorite bread to sop up all the goodness.
Friday: Quick One-Pan Baked Fish & Veggies
We have arrived at #fishfriday, Mediterranean-style! Halibut (or another white fish fillet of your choice, such as cod) plus veggies, are tossed in a bright, Mediterranean-style sauce with lots of citrus, olive oil, fresh garlic, and spices, then baked for about 15 minutes. If you need a little starch to go along with this meal, try Skordalia (Greek garlic and mashed potato dip).
New to meal planning? Start here.
Click below to get more tips, insights, and ideas from our Meal Plan Club crew and readers like you.
Meal planning isn't always easy — especially if you're just getting started. But we're firm believers that it's the secret to stress-free weeknight dinners. We want to help you find inspiration and ease some of the pain points that come with getting dinner on the table night after night, whether you're cooking one or a family of four or five. Every week we share a new meal plan solution specifically customized for you from reader requests or from a guest contributor, for Next Week's Meal Plan!